"Der Simulierte Mensch" ("The Simulated Human")
"Der Simulierte Mensch" ("The Simulated Human")
Thoughtfully situated on the east side of campus, "Der Simulate Mensch" (The Simulated Human) Research Center is the destination for interdisciplinary, clinical research at the Charité and the Technical University of Berlin. The design for the new science center takes inspiration from the makeup of living organisms themselves: meeting rooms and lab space along the perimeter are thought of as cell clusters, a conference room on the ground floor serves as the nucleus, and the façade functions as the protective tissue.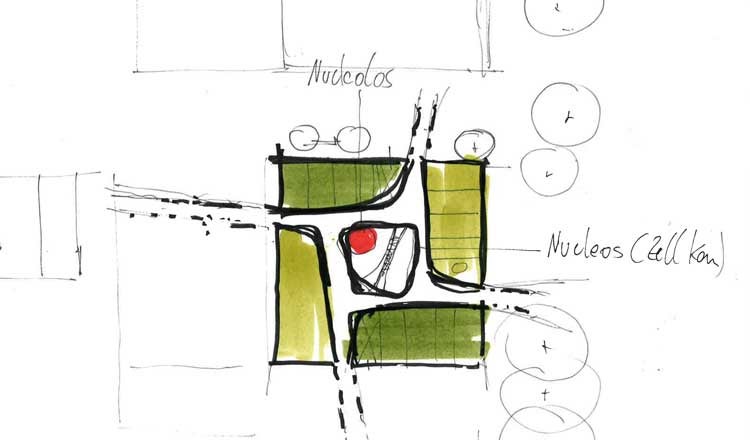 Upon entry, eyes are drawn to the circular staircase spiraling through the building's core. Tucked behind the staircase to the left is a large, enclosed conference room for private meetings. A café on the ground floor invites students of all majors to enjoy indoor and outdoor seating with calming views of the outdoor water feature in the near distance.
Student and faculty space, public and private labs, meeting rooms, and offices are dispersed among the remaining four floors. Glass walls offer views into specialty spaces, including the XR lab on the second floor, distinct with a curved glass corner wall, where students are seen experimenting with advanced technology and greenscreens. Hints of wood on select floors and finishes give the space a warm, modern feel. Meeting areas are stacked vertically along the glass façade facing the courtyards for clinicians, scientists, and engineers to use at their convenience.
Prefabricated elements, mullion-transom, and massive glass windows combine to create a striking façade for the centerpiece of the new campus set to open in 2023.