Article
Greenbuild's HDR-Designed GreenZone Education Centre
Since 2008, Building Design+Construction magazine has built and displayed sustainable modular buildings at the Greenbuild Expo + Conference, and this year HDR had the opportunity to design a 600-square-foot prefabricated education centre. Built by MODS PDX out of Portland, Oregon, it will provide indoor/outdoor workspaces for adult students to learn hands-on construction skills through an environment that supports project-based collaborative learning.
The GreenZone education centre will be displayed and toured at the 2016 Greenbuild Expo + Conference Oct. 5-7 at the Los Angeles Convention Center. Following Greenbuild, in partnership with the U.S. Green Building Council, the education centre will be used by Compton YouthBuild, a nonprofit organization in Compton, California that provides educational and occupational opportunities for ages 16 to 24. It will expand Compton YouthBuild's construction-training program and outreach efforts throughout the community.
The following is a Q&A with Kate Diamond, FAIA, LEED AP, design principal, and Amy Williams, AIA, LEED AP, managing principal, vice president, who led the project for HDR out of the Los Angeles office.
Q: What would you like to see Compton YouthBuild's adult students learn in this space?
KD: I'm hoping that the way we designed the education centre will help further shape how they learn. I want it to expand their ability to do project-based group learning through hands-on construction projects. They can explore reading plans or even design simple structures in this technology-rich classroom. It is set up to allow the teacher to present in a traditional way, but more importantly, the design allows for the teacher to roam between student groups around each table so he/she can demonstrate how the concepts can be actively applied. By providing lockers in the classroom, we hope that students will be able to work on projects that take more than a day to complete and can be stored between classes. Finally, the immediate indoor-outdoor connectivity extends the classroom outside and will reinforce the experience of moving from design into real construction.
AW: I am hopeful that they will learn valuable tools and skills to build their confidence along their life journeys. Simple things can make a difference in an individual's ability to reach his or her greatest potential. This building is a simple thing, and I believe it will have a positive impact on the individuals whom it will serve.
Q: What makes this project different from other projects you have worked on throughout your career?
KD: The community it's serving. I love the idea that the adult students in Compton are going to be getting the best possible education. They deserve it. This education centre won't be in a wealthy neighbourhood. It's going to be in a neighbourhood that doesn't expect this kind of quality. I like to think that we will make a difference in their lives.
AW: The size and the program presented creative challenges for the team. Most of our projects at HDR are large and complex in nature. This project is small, but given the diversity of materials to incorporate and the stakeholders involved, we had to manage continuous change. Continuous change is difficult within a streamlined schedule, but thanks to our flexible team and, most importantly, our skillful project manager Paul Rizzo, we were able to balance the changes and keep the vision intact.
Q: What have you learned from this project?
KD: It has reinforced the need to continue to explore how we can help give back to our communities. All too often architecture and the sustainable movement have been a bit elitist — we typically work on important projects for the people who can afford our services. This project serves a community that typically can't afford these services. It not only supports Compton YouthBuild's quality educational goals, but it sets up these students to become the next generation of activists in the green movement and advocates for social justice.
AW: I was reminded of the need for flexibility in design. The best designs are dependent upon concepts rather than individual materials. A concept comes to life through the interaction of different pieces and forms a holistic result. This project took numerous iterations, but each one resulted in a better solution than the one that came before.
Q: How does this project reinforce HDR's commitment to sustainable design?
KD: This project achieves the triple bottom line of true sustainability—illustrating how social equity and the economics of job creation are just as important as utilizing sustainable materials and achieving overall resource conservation. We're taking the luck we've had as a company and as individuals and we're giving back, which feels good. It has created opportunities for a lot of people at HDR to contribute, which feels good, too. It's a beautiful project all the way around.
AW: Sustainability is a part of every project we work on. This project allowed us to collaborate across disciplines, architects, engineers and energy specialists to achieve truly progressive solutions to reduce energy consumption and construction's impact on the environment.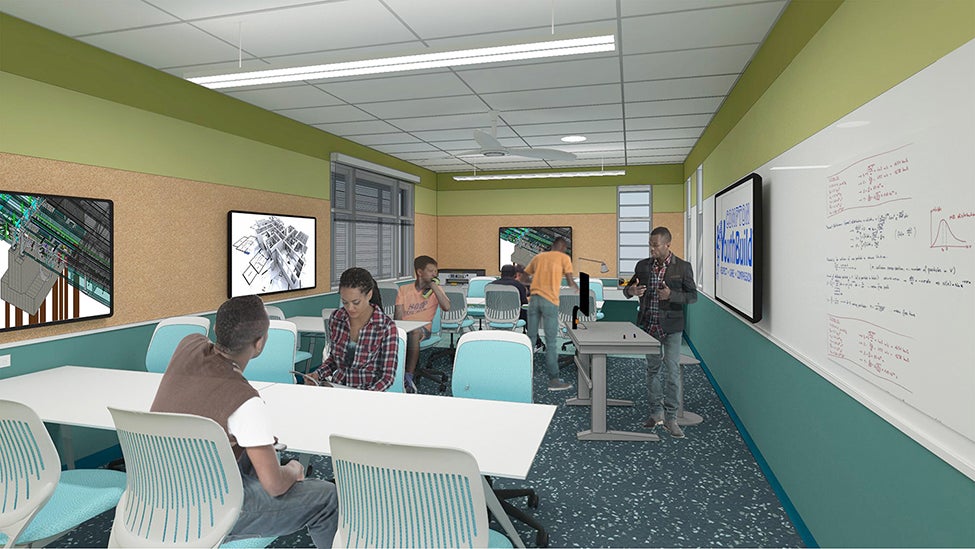 Other HDR team members included: Tyson Fiscus from Omaha; Ivan Avila, Emalee Tromello, Zhi Wei, Fatimah Al Asad, Vartan Chilingaryan and Paul Rizzo from Los Angeles; Andi Burnham, Jim Wermes, Alan Moore and Tim Schnepf from Phoenix; and Nellie Enriquez and Tom Tan from San Francisco.