Article
Reimagining a Community Hub in Chicago's 20th Ward
"How do you turn an abandoned bank building into a rejuvenated civic anchor?"
HDR's Chicago architecture studio aimed to answer that question when they were selected as one of fifty firms to participate in the Chicago Architecture Foundation's (CAF) "Between States" exhibition, which opened on September 19. 
The exhibition is part of CAF's multi-year 50 Designers/50 Wards investigation, which is looking at how both designers and residents can participate in identifying growth opportunities within all of Chicago's neighbourhoods. It is timed in conjunction with the second edition of the Chicago Architecture Biennial, the largest architecture and design exhibition in North America.
The year's theme — "Between States" — challenged each of 50 Chicago-based design teams to select a single, physical asset within the city that they believe could benefit from a redesign. They were then asked to propose a way to change the state of said asset into a rejuvenated civic anchor.
HDR's Chicago architecture studio chose to design and share concepts for a new library/community centre and transit station in Chicago's 20th Ward.
The Proposed Solution
In Chicago's underserved, but rebounding, Woodlawn neighbourhood (20th Ward), an abandoned bank building sits next to an aging Chicago Public Library branch and the Cottage Grove "L" station, the CTA's Green Line terminus.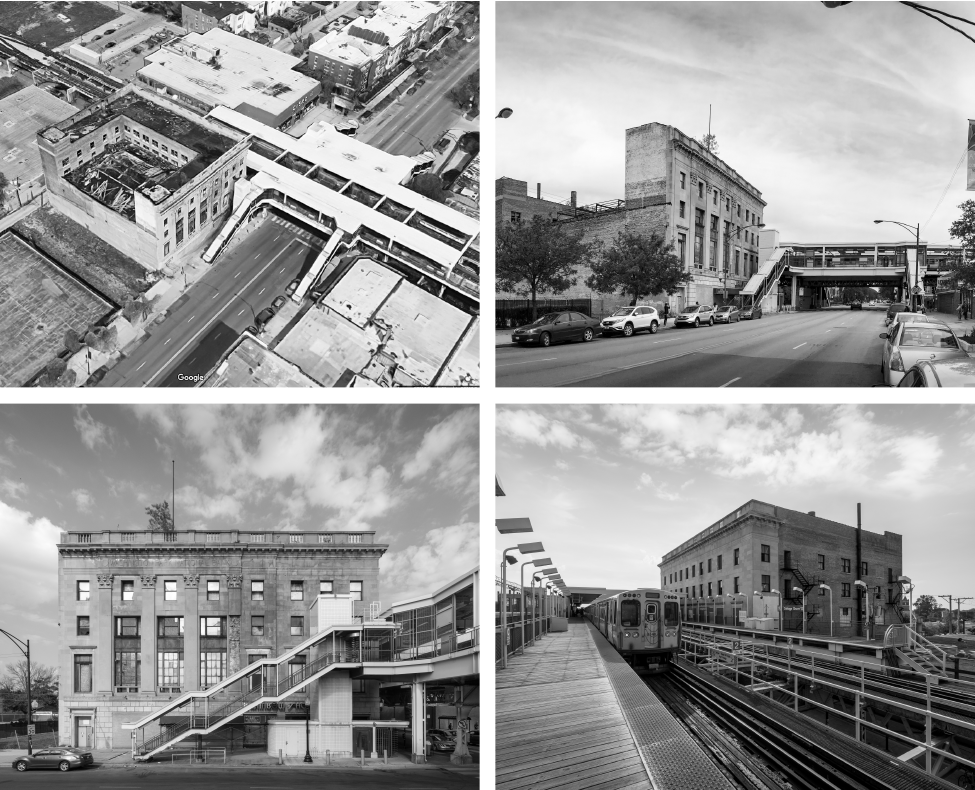 With a boost from the future Obama Presidential Center, Woodlawn is experiencing new growth and will need new resources including ways to give residents access to and training on technology. With today's banking done online and libraries no longer just a place to store books, this is an opportunity to rethink how these systems work together. What if the library becomes a place to meet neighbours or learn the newest technology for job advancement? Maybe the train station is more than a place to stand and wait, but rather a site for community events? What if an abandoned building could be transformed into a vibrant social hub, opening onto the "L" instead of turning away from it?
In HDR's proposed solution, a new type of library geared towards technology, learning and gathering breathes life into a former bank building.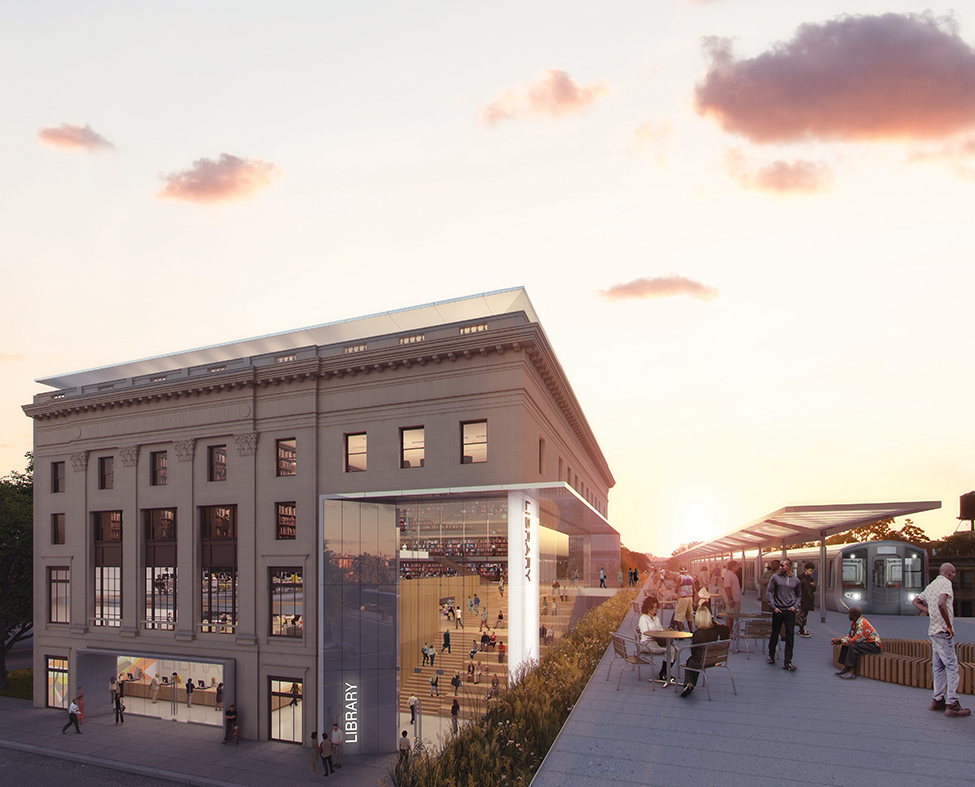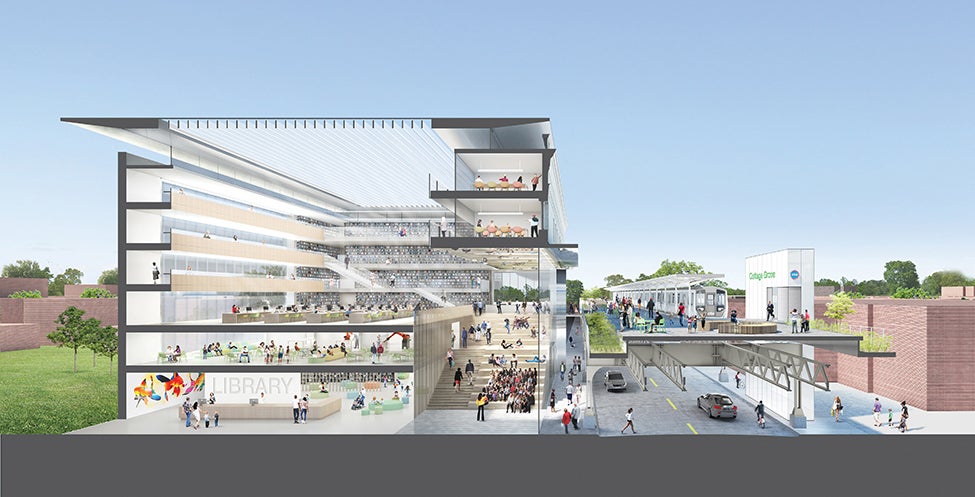 The large stair with integrated seating for presentations leads up the to the old banking hall reimagined as a large community reading room where knowledge — not currency — is exchanged. The train platform is reimagined as a floating park and reading garden, a new gateway to Woodlawn.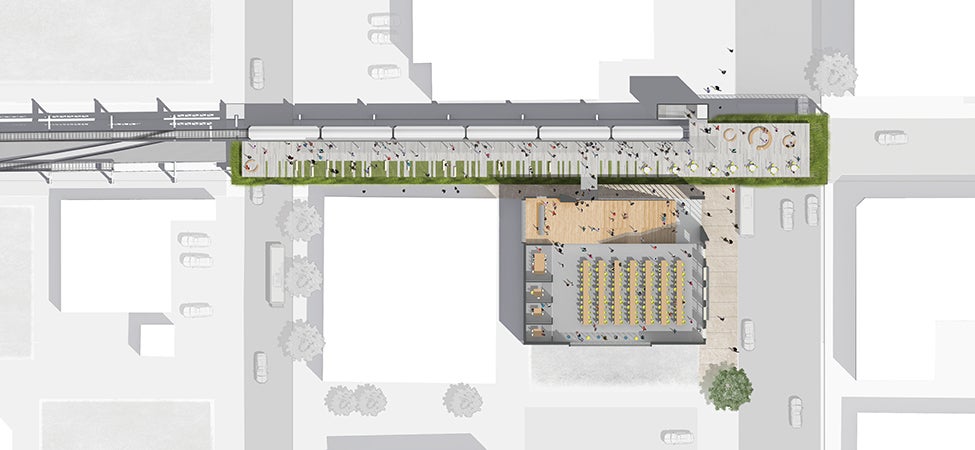 HDR's proposed design solution is featured alongside 49 others developed by Chicago-based firms across the city at the Chicago Architecture Foundation. The exhibition ends January 7, 2018.