NEWS
HDR Welcomes Matthieu Grady as Design Principal in Vancouver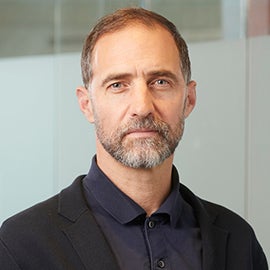 Matthieu Grady has joined HDR as design principal based in the firm's Vancouver, British Columbia, studio. Grady has more than 21 years of experience working for firms around the world and will be instrumental in advancing HDR's delivery of strong, grounded, smart and human-centred design for its clients and their end-users.
In his role as design principal, Grady will champion design excellence across all types of projects and scales and throughout all phases of development.
"Opportunities for design excellence exist everywhere, from the first business development discussions to the specifications and installation of hardware," Grady said. "My days will be spent interacting deeply with teams, iteratively studying design excellence opportunities, and motivating and empowering everyone at HDR to create world-class design work."
Grady is an ardent advocate for the value that architecture brings in cultivating the deep changes needed in our culture and society today. "I believe that hyper-contextualized projects have the best chance of adding meaningful and impactful additions to our cities and lives," he said. "I am most passionate about architecture that is shaped responsively and intelligently by the unique factors of the site, context and environment within which a project sits. I am especially passionate about how this type of contextual architecture can impact our increasingly critical environmental crisis."
Previously, Grady has worked alongside globally recognized design firms like Jean Nouvel, Morphosis, and Diamond Schmitt, among others. A "generalist" architect, he has worked on the design and delivery of a wide range of award-winning, world-class projects in the commercial, industrial, institutional, corporate and retail fields throughout North America, Europe, the Middle East and North Africa. Notable projects include the Abu Dhabi Louvre Museum, the 300m Phare Office Tower in Paris, the Chateau La Coste Winery in Southern France, and the Emily Carr University of Art & Design in Vancouver.
Grady is active in academics, teaching classes and studio at various post-secondary institutions in both Canada and France. He is frequently invited to participate in reviews, thesis committees, lectures and general activities at a number of universities, most often at University of British Columbia, but has been active at the Ecole Camondo, and Ecole de Versailles in Paris as well as the University of Toronto, Carleton University and McGill University.