NEWS
HDR's Opacity Monograph Elevates Design Excellence and Discourse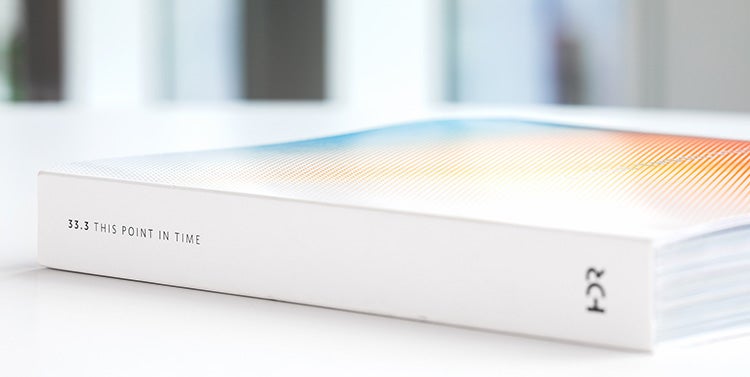 HDR has recently published 33.3 This Point in Time, an architectural monograph rich with beautiful imagery, compelling infographics and thought-provoking essays. The publication signals the completion of the first four-year cycle of the firm's 12-year Opacity initiative, a program conceived with a singular purpose: to foster design excellence by inviting respected outside critics to review work submitted by HDR design studios around the world.
Edited by architectural journalist Jenna M. McKnight, the 428-page monograph looks to the past, present, and future of the architecture profession.
Six essays by esteemed writers, educators and critics provide a critical exploration of the architecture profession at this moment in the profession's history: Mimi Zeiger on Context; Alissa Walker on Form; Susan Szenasy on Materials; Aaron Betsky on Program; Katie Gerfen on Space; and Chrysanthe Broikos on Sustainability. Like the Opacity initiative itself, essays are intended to encourage the kind of critical discourse that prevents design firms from becoming complacent and falling in step with the status quo.
The book also looks inward by exploring the project work that was recognized by Opacity jurors from 2016 to 2018, organized by the essay's six themes. It highlights studios and professionals within the greater HDR design practice.
"HDR is composed of many distinct threads that are woven together to form a powerful collective," said Doug Wignall, FAIA, president of HDR's architecture practice. "The Opacity program celebrates the diversity of this collective, while underscoring the shared goal of design excellence. This monograph reinforces the richness of this global culture and the work it inspires beautifully."
About HDR
For over a century, HDR has partnered with clients to shape communities and push the boundaries of what's possible. Our expertise spans more than 10,000 employees in more than 200 locations around the world — and counting. Our engineering, architecture, environmental and construction services bring an impressive breadth of knowledge to every project. Our optimistic approach to finding innovative solutions defined our past and drives our future.