NEWS
Two HDR Healthcare Projects Recognized in 2022 Healthcare Design Showcase Awards
Waldkliniken Eisenberg in Thüringen, Germany, has won the Award of Merit and the Pavilion at the Hospital of the University of Pennsylvania was recognized as a Finalist in the 2022 Healthcare Design Showcase Awards. This marks back-to-back Award of Merit winners for HDR.
This annual program honours the very best design and architecture in the healthcare industry. Jurors from several organizations, including The Center for Health Design, the International Interior Design Association and the American Society of Interior Designers evaluate submissions and present awards.
"The two projects honoured this year represent our global health practice's commitment to architectural design that is both uplifting and beautiful, while also highly functional and efficient for those who deliver care within," said Hank Adams, AIA, FACHA, EDAC, HDR's global director of health. "I'm proud of our project teams who approached two different typologies in two different parts of the world and have advanced the boundaries of the human experience in both care environments."
Award of Merit: Waldkliniken Eisenberg
Nestled into the edge of Germany's Thüringen Forest, the circular Waldkliniken Eisenberg appears to be anything but a hospital; however, behind the wooden battens and timber façade, high-quality orthopedic medical care is delivered in harmony with the forest, connecting both patients and caregivers to nature. The project, designed by HDR in collaboration with architect Matteo Thun, elevates concepts usually associated with high-end hospitality spaces. Its unique z-shaped rooms with private areas and common gardens are accessible to patients. Transparency is prioritized in both form and function.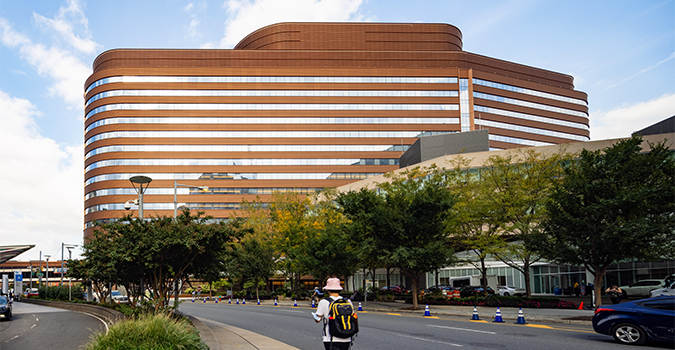 Finalist: The Pavilion at the Hospital of the University of Pennsylvania
Designed by PennFIRST, an integrated project delivery team including HDR, Foster+Partners, BR+A, LF Driscoll and Balfour Beatty in partnership with Penn Medicine's clinical and facilities experts, the Pavilion at the Hospital of the University of Pennsylvania is a state-of-the-art inpatient facility and a new institutional and architectural icon for Penn Medicine on its extensive academic medical campus in West Philadelphia. The building is sustainable, efficient, uplifting and sensitive to its surroundings, responding to the needs of people — material and spiritual, measurable and intangible.