Envisioning the Future of Healthcare Delivery
In an effort to open the doors to what's possible in healthcare, Healthcare Design Magazine in 2018 launched the Breaking Through competition challenging healthcare designers around the world to set the rules aside and create a future vision of healthcare delivery. Our Mobile Acute Service Hospital team reached the finals held live at the Healthcare Design Conference & Expo in Phoenix, Arizona.
Five additional HDR teams submitted projects recognized by the competition that envision a future where access to care is no longer an issue:
Schools + Health: Elementary School-based Health Network
Primary care and wellness services are currently composed of many individual components with little integration. Schools + Health imagines a future with a fully connected healthcare network that integrates health, wellness, community, education and primary care into one all-inclusive, school-based health network.
The school-based network supports the concepts of Whole School, Whole Community, Whole Child as developed by CDC and ACSD.
Schools + Health proposes one network that services the community of students, families, teachers and staff of an elementary school. The Health Hub is at the core of the network and provides physical spaces that link the school and the community, both physically and digitally, to support health, well-being and primary care services.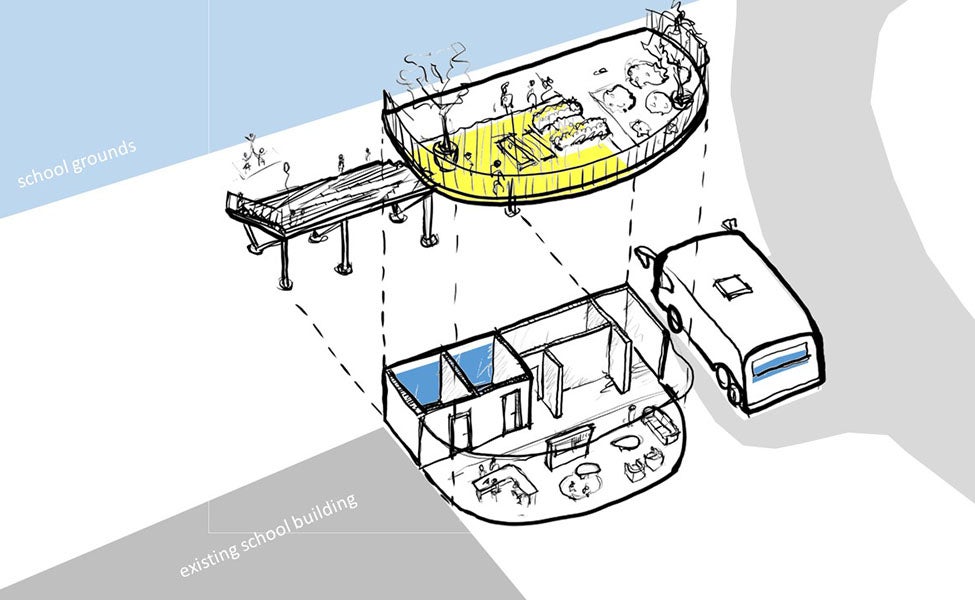 Continuum
Half of the world's population can't access basic healthcare services. The current distribution of systems is limited, not equitable and needs to respond to medical, research and technological advancements.
Fast forward to 2030. Customization and technology are now integrated into our personalized health services. Artificial intelligence translates and interprets global, cross-specialty and individual genomic information as data is collected, transferred and shared among global research centers and healthcare providers. This proposition disrupts the status quo to make healthcare accessible, deployable and reliable, reducing its cost and increasing its quality.
A system of mobile pods will be globally deployed and will adapt to various scales and different populations' needs. The universal cloud of health data is continuously feeding the global network of pods, creating an integrated data system. This continuum of holistic care and technology serves as the framework for a comprehensively optimized care system for all populations.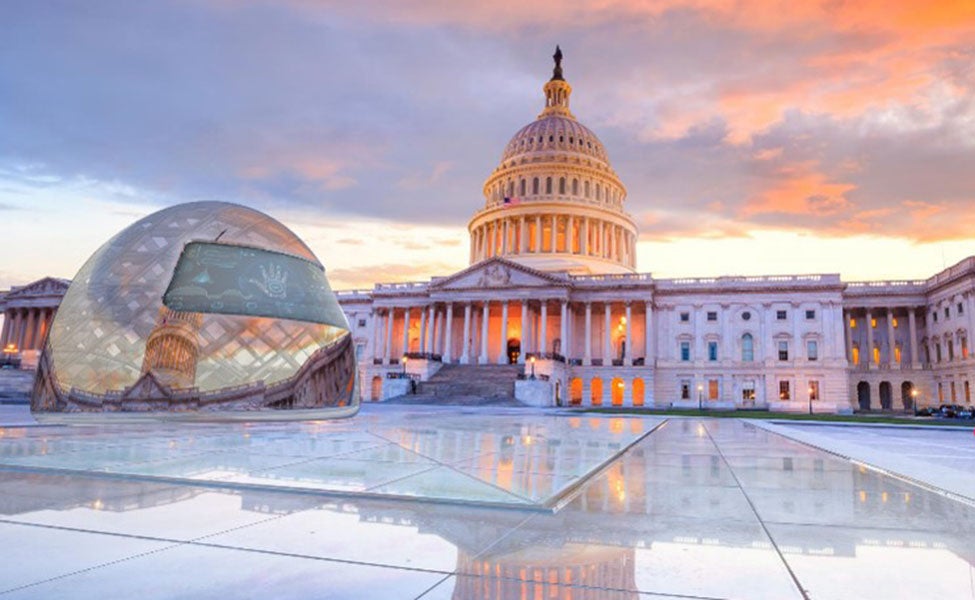 The Vitruvian City
Decentralizing healthcare to foster health: The vision of the Vitruvian City is to fill the much-needed gaps in community care through a distributed network of health hubs, starting where they are needed most. The health hub network, in a partnership with the City of Seattle and Parks district, will build prefabricated structures quickly and inexpensively within the community garden network, which provides 34 tons of fruits and vegetables to food banks each year.
Connectivity: A network of autonomous buses connects people to neighborhood health hubs, and then to more robust facilities when needed. A health docent on the bus provides counseling and guidance. A network of kiosks provide data to those without smartphone connectivity.
Regenerative design responsive to change: The health hubs foster and support healthy living practices. The modular nature of the design allows for periodic updates to match shifting community needs, or reuse in the future.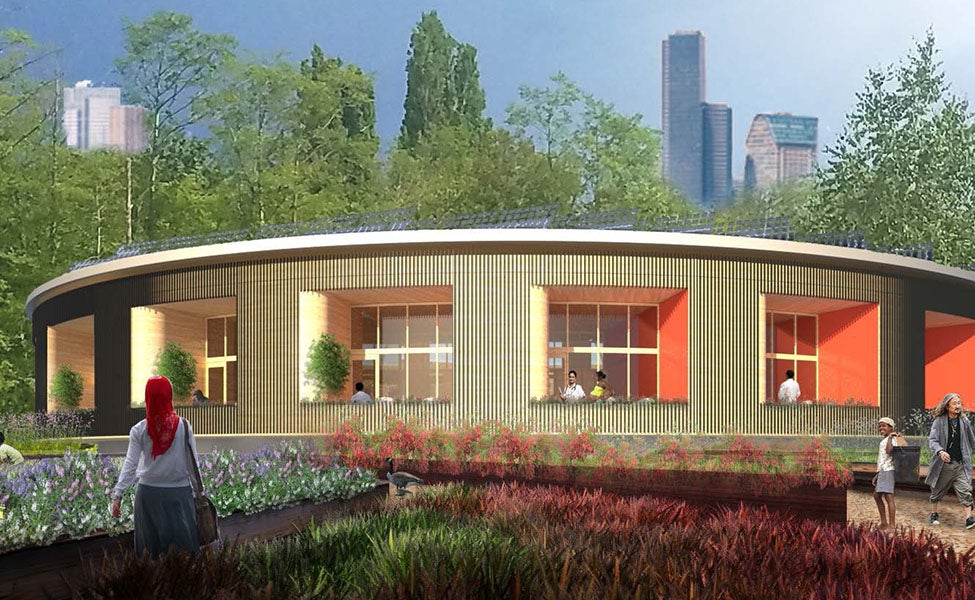 The Access Project
Fifty-seven million Americans live in rural areas and a majority of them are "aging in place." This puts a high demand on healthcare in rural areas compared to urban centers. Meanwhile, the U.S. is experiencing a shortage of medical providers, compounding the demand for medical care in rural areas.
To address this imbalance, The Access Project utilizes a pod and hub system. Transportation pods on high-speed networks carry rural patients to urban hubs, simultaneously providing primary care, screening and EMT technology. Pods dock at the hub, adjacent to appropriate medical resources. The pods provide patient privacy and limit the spread of infection.
Clinic Kit
Access is an ongoing challenge in healthcare. Providers are searching for ways to create the right space, at the right location, with the right level of care. Facility infrastructure costs are rising. We are at the bridge point between full-technology integration and traditional medicine. There is a gap between the individual and the current delivery model and we feel this is the space for design improvements.
The Clinic Kit is an online kit of parts that is customized, has a light structure connection to the location it is in, is designed with shipping and assembly in mind, and can be put together with low-cost labor. This idea makes access to anywhere in the world possible, and allows for adaptability to change in the future, whether that is location, size or configuration.