In The Media
Built to Last, the Basnight Bridge Begins its 100-Year Life
The Marc Basnight Bridge, completed this year, provides residents and visitors on North Carolina's Outer Banks a more durable structure designed to last for generations. The bridge, designed and overseen by HDR engineers, serves as a critical hurricane evacuation route in a region known for harsh weather and challenging conditions and replaces an aging bridge that required nearly constant maintenance.
The new 2.8-mile-long bridge, designed with a 100-year service life, faced a number of challenges, including a highly dynamic environment. Simple, but proven and reliable structural elements — piles, pile caps, girders and bents — emphasized durability, economy and constructability.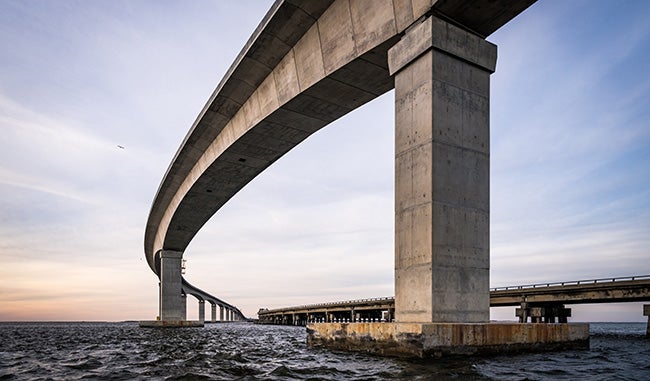 To achieve a lasting structure, the $252 million bridge also incorporates concrete piles jetted and driven as deep as 130 feet below sea level. Their required depth was verified in the field using a first-of-its-kind method to determine long-term pile axial capacity after significant scour loss.
Read more about the bridge's design, the challenges the designers and geotechnical engineers overcame, and the elements used to ensure it will serve residents for a century to come in the September 2019 issue of Civil Engineering magazine, a publication of the American Society of Civil Engineers.