Blog
Reading Between the Lines: Volunteer Work Leads to Laughs, Laptops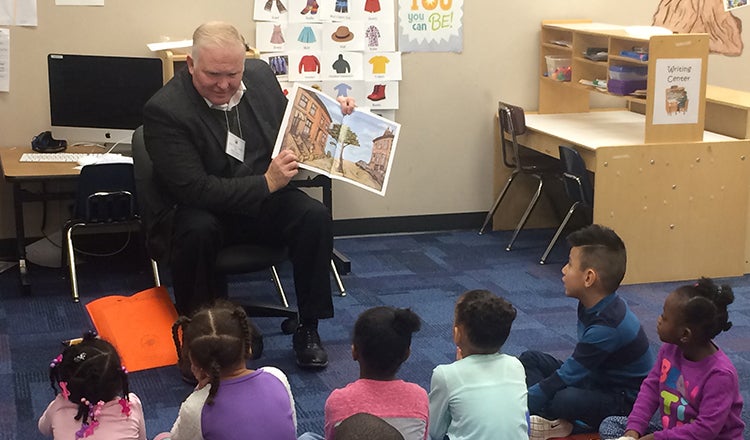 Based on his resume, you wouldn't picture Jerry "Indy" Gandy at the front of a kindergarten classroom singing "Head, Shoulders, Knees and Toes." After all, he's a 32-year veteran of the U.S. Air Force and works risk management at HDR.
But get to know Indy and you'll soon realize that the classroom setting is a perfect fit.
If you stop by his office and ask about his collection of stuff, he'll show you one of his dozens of trinkets — each paired with a special memory. He'll tell you about his 3-year-old grandson or his decade of coaching softball. Many of the items remind him of his days in the Air Force and time spent with his family.
It quickly becomes clear why he loves his volunteer work with Partnership 4 Kids, an Omaha-area nonprofit that uses mentorship and goal-setting to help underserved students create a foundation for success. Indy has worked with P4K for three years reading to kindergarten and pre-kindergarten students. Recently, the relationship he's built with the organization has resulted in an $18,825 HDR Foundation grant to P4K to fund a laptop library. The new laptops will allow students to apply for scholarships, complete classwork and learn valuable technology skills.
"The volunteering is very fulfilling," Indy said. "You get to see the joy on the kids' faces — they are genuinely excited to see you."
Indy spent his active duty military career flying F-15 Eagles and serving as a Wing Commander and Base Commander. He later ran mission assessment and analysis at U.S. Strategic Command before landing at HDR in 2016. In that time, he's seen firsthand the needs in our communities and has been happy to volunteer his time.
"I know we have only one nonrenewable resource in this life — our time,'" Indy said. "That's why it's important to volunteer with organizations you care about."
For Indy, that time is spent with Partnership 4 Kids. The HDR Foundation grant will help P4K reach low-income and first-generation college students in need of a personal computer. The lending library will allow technology access to 112 P4K scholarship recipients and 119 high school juniors and seniors. P4K's impact speaks for itself: With 91 percent of its students coming from families at or below the poverty line, 92 percent graduate high school. It's a cause Indy is proud to support.
Eight times each school year, he heads to the elementary school. He gets a book and an instructional guide beforehand, then spends an hour and a half with the children. The sessions are interactive, and Indy likes to generate a few laughs — even if that means a little singing and acting out the story.
"I like to be free with the kids," Indy said. "I try to meet people in their space, and in this case, it's the kids. What some don't realize is that I benefit from this as well, just seeing the smiles on their faces."
The P4K grant was one of seven in the HDR Foundation's 2017 large grant cycle, which totaled $327,247 — the largest grant cycle to date.
"I'm really proud of our community," Indy said, "and everything that HDR's been able to do. I'm thankful for this grant, and I know Partnership 4 Kids is, too."