NEWS
Mulgrave Senior School wins 2016 A4LE Pinnacle Award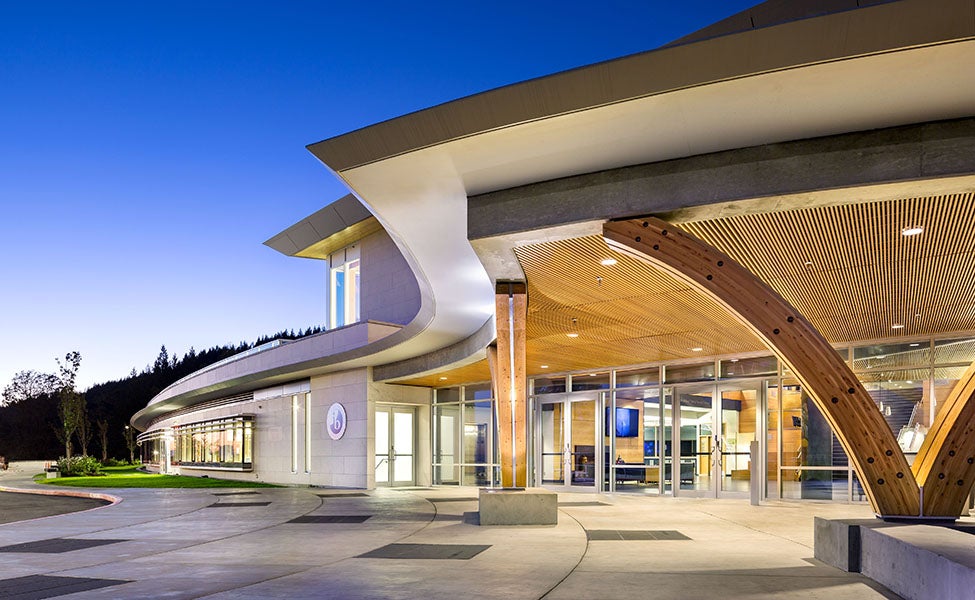 The new Mulgrave Senior School in West Vancouver, British Columbia, designed by Vancouver's HDR | CEI Architecture, has been honored with the 2016 Pinnacle Award from the Association of Learning Environments, Pacific Northwest Region.
The annual award is the highest honor given by the chapter, recognizing facilities that provide outstanding learning environments for students among submissions from Northwest U.S. and Canada. The award was selected based on the evaluation of a facility's learning environment, physical environment and capacity for community integration.
A jury comprised of education and design professionals lauded Mulgrave for its strength in all three categories.
"Mulgrave Senior School displays many of the principles of the 21st Century Learning methodology — both learning and teaching. The facility scored very highly in the learning environment criteria by providing a variety of open, collaborative and stimulating educational spaces,"

Judy Shoemaker, Past President and board member, Association for Learning Environments, Pacific Northwest Region
Bright & Aesthetically Engaging Design
The 42,000-square-foot Senior School includes a bright and spacious new main entrance atrium, a "Great Hall" dining room, a roof garden with an outdoor theater space, art exhibition area and innovative module-based approach to classrooms.
"We are honored that our project has been recognized with this award. It was designed to achieve a university campus feel within a secondary school context, and we incorporated many features to emphasize learning and engagement inside and outside the classroom."

Rod Windjack, Project Principal at HDR | CEI
Flexible Classrooms & Stimulating Social Spaces
The classrooms at Mulgrave Senior School support various learning styles through flexible configurations, with smaller collaborative areas and larger group spaces that are responsive to a variety of pedagogical styles. Learning spaces are equipped with flatscreen monitors, projection screens and projectors to facilitate flexible instruction and learning.
Wide, non-linear arteries — rather than straight corridors — surrounded by niches and nooks offer a number of options for students to collaborate, talk, relax or work independently in safe, supervise-able spaces.
Shoemaker noted: "The variety and flexibility for learning and engagement was really well met. If methods of learning and pedagogy shift over time, Mulgrave School can be easily reconfigured."
Many Sustainable Features
A fully accessible green roof provides stormwater retention and roof insulation, and serves as an outdoor play area and learning space. The green roof creates green space in what was previously a hard surface.
A low-profile, tiered amphitheater creates seating that looks onto a temporary stage location with a spectacular background view of Burrard Inlet and beyond. Extensive natural light, passive ventilation and solar hot water heating provide further sustainable elements along with a comfortable interior environment.