NEWS
Los Angeles Studio Welcomes Three New Architects
Dean Lee, Eric Douville and Jamieson Fajardo have recently joined the Los Angeles architecture studio.
Dean Lee, AIA, Senior Project Architect, is passionate about problem-solving and teaching others the process through which solutions are discovered. A licensed architect for more than 10 years, Dean has worked on many award-winning projects, and is proficient in building types ranging from religious to arts and entertainment, commercial and residential. In his spare time, he enjoys hiking, swimming, bike riding, attending church, coaching and playing basketball with his family.
Eric Douville, AIA, NCARB, Architect, is most looking forward to the complex nature of the work and collaborating with his new colleagues at HDR. He is passionate about bringing design into unexpected areas of the built environment and approaching technical challenges as a designer. "I really appreciate the process behind getting a great design built. I look forward to being part of that every day," he says. Among Eric's accomplishments are serving on design teams for ground-up projects including a university nursing school building, a mixed-use student housing project and an elementary school. Off-the-clock, Eric enjoys spending time with his wife and dog, discovering new breweries, mountain biking and camping.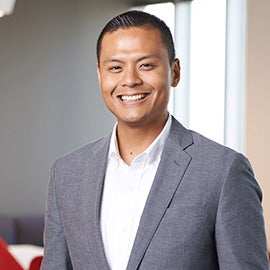 Jamieson Fajardo, AIA, Project Architect, believes that design can solve "all problems that help people live, work, create, learn and heal." Having worked on architecture and interior design projects in the hospitality and commercial markets in the past, he is looking forward to learning about the complexities involved in designing healthcare buildings. In his spare time, Jamieson enjoys short weekend trips, cooking, swimming and dancing with his 4-year-old daughter.
"These talented individuals allow us to round out our high-performance Los Angeles team in support of growing markets including education, science, technology, health and civic."

Amy Williams, Managing Principal