NEWS
Michael Schmedt to Lead Transportation Geospatial Services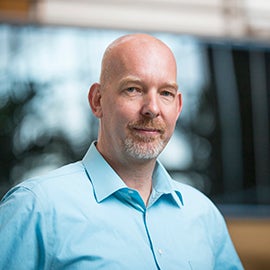 HDR's Michael Schmedt has been promoted to transportation geospatial services director. Prior to his promotion, he was a GIS manager in Orlando, Florida. He has been with HDR since 2011.
Drawing on nearly 20 years of experience, Schmedt will lead program development and service delivery for geospatial and geographic information system services across all transportation sectors, including highways and roads, transit, aviation, freight rail, ports & maritime, and federal.
Among Schmedt's recent professional achievements are two innovative planning tools: TransFuture (scenario) and TransPed (bike and pedestrian). He collaborated with Virginia Department of Transportation to create its Smart Scale Dashboard, a mobile-enabled project tracking dashboard to promote transparency, accountability and performance.
Schmedt said he sees untapped potential for geospatial services within the transportation industry. "We're on the cusp of a paradigm shift. Emerging technologies, such as autonomous and connected vehicles, and smart cities, will fundamentally change the way we live, work and move goods. These evolving developments provide great opportunities to incorporate geospatial solutions into the decision making process to help our clients prepare and respond to future needs."
Schmedt is a GIS Certification Institute professional. He has gained extensive knowledge of the use and customization of industry-standard GIS software from the Environmental Systems Research Institute. He has influenced a number of large and intricate GIS projects through his work developing innovative decision-support systems, custom mapping tools and complex thematic maps. He has also led spatial analyses and environmental impact assessments.
About HDR's Transportation Experience
Our award-winning transportation practice is known for solving our clients' most complex mobility challenges across all modes of travel. We are helping with multibillion-dollar programs ranging from managing the Council Bluffs, Iowa Interstate rehabilitation program and the San Diego Mid-Coast Corridor transit project to designing the I-4 ultimate P3 project in Florida and the new Governor Mario M. Cuomo  Bridge in New York. In addition to planning and engineering, our experts help clients advance projects and programs across the infrastructure life cycle with strategic funding, economic analysis, public engagement, real estate services, program/project controls, risk management and operations and maintenance.
About HDR
For more than a century, HDR has partnered with clients to shape communities and push the boundaries of what's possible. Our expertise spans 10,000 employees, in more than 225 locations around the world — and counting. Our engineering, architecture, environmental and construction services bring an impressive breadth of knowledge to every project. Our optimistic approach to finding innovative solutions defined our past and drives our future.