NEWS
New Human Health and Performance Laboratory Opens at Johnson Space Center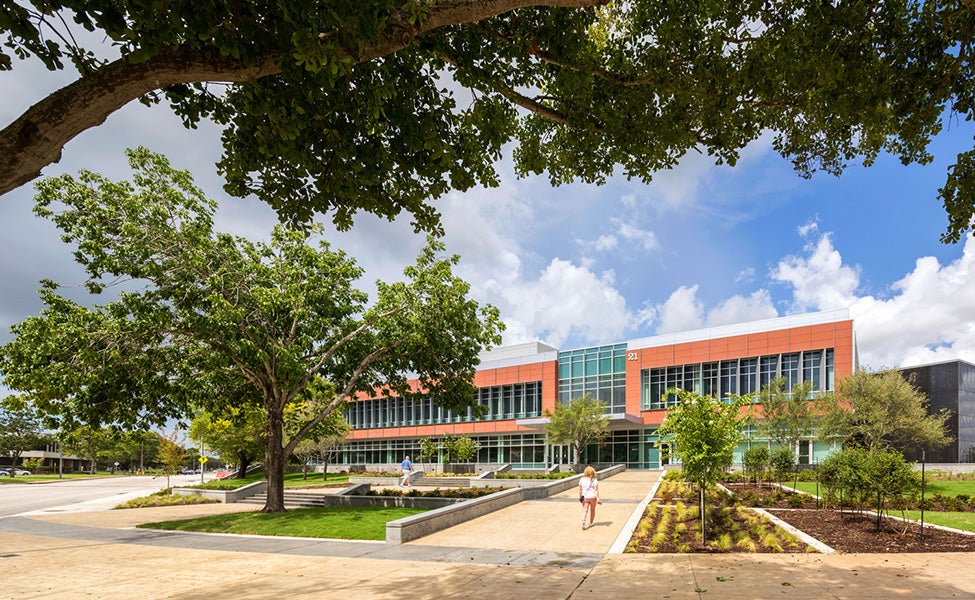 The Johnson Space Center (JSC) at NASA officially opened the doors to the new Human Health and Performance Laboratory (Building 21) at a ribbon-cutting ceremony at the end of July. The ceremony was presided over by JSC Center Director, Dr. Ellen Ochoa.
The 118,000 SF biomedical laboratory facility, designed by HDR based on NASA technical requirements, is the new home for the JSC Human Health and Performance Directorate, the primary agency organization focused on enhancing astronaut health and performance while mitigating the human system risks associated with spaceflight. This new facility efficiently consolidates and replaces multiple aging and obsolete existing facilities at JSC into an integrated design to enhance collaboration, creativity and coordination among scientists, clinicians and engineers. The building reflects NASA's renewed global emphasis on human exploration of deep space.
"This [building] is the heart of NASA's biomedical research and operations for human spaceflight, and where innovations will originate to address important astronaut health risks resulting from exploration beyond low-Earth orbit," said Judith Hayes, chief of the Biomedical Research and Environmental Sciences Division within the Human Health and Performance Directorate. "It is here where our extraordinary scientists will further our understanding of space physiology, behavioral health and space vehicle environments in support of astronaut health, safety and performance."
HDR designed the building to meet the NASA vision for a reconfigurable, flexible facility so that it can adapt to meet constantly evolving human spaceflight mission and exploration needs of the Agency. The NASA Human Health and Performance Directorate offers a unique mixture of long-term research and ongoing mission operations that focus on diverse specialties associated with physiological, environmental and behavioral effects of spaceflight related to hazards such as microgravity, radiation, closed habitats and isolation.
"As architects and engineers, we can imagine no higher professional achievement than to design a facility that fundamentally supports and enables the brave astronauts who journey beyond Earth's atmosphere and also houses the dedicated scientists, researchers and innovators who keep these space explorers healthy, safe and mission ready," said HDR project manager Dennis Patrick in his remarks during the ceremony.
The three-story building's site placement at an angle to both the street and the square grid of the JSC campus optimizes solar orientation and marks a bold departure from the existing campus as do the building's exterior materials, colors and texture. The exterior landscape design features evoke the celestial geometry of the solar system and the dynamic movement of the planets and moons orbiting around the sun. 
"The north-side wall is covered in contrasting black glossy and flat black stone, designed to mimic a DNA sequence," commented Joel Walker, JSC's director of Center Operations, highlighting some of the architectural elements he was most struck by. "The crosswalk from Building 45 to Building 21 also contains a DNA artistic representation in keeping with the theme of the building."
The building's layout supports functional efficiency and flexibility of core laboratory functions which are connected together with office, communal, support and staff amenities that enhance the health and well-being of the occupants. Wet chemical process and environmentally stringent scientific spaces are contained within the two-level bioanalytical laboratories in the south wing, with larger human performance and high-bay laboratories in the north wing. These two wings are connected in the middle by a two-story structure with administrative and collaborative spaces. The facility features a highly organized, efficient and secure support and storage so that utility operations and functions do not detract from valuable prime laboratory spaces and so that scientific and mission operation protocols are not compromised.
The building has been designed to achieve a LEED Silver Certification per the USGBC and incorporates many innovative technological, sustainable and energy efficient features.
About HDR
For more than a century, HDR has partnered with clients to shape communities and push the boundaries of what's possible. Our expertise spans 10,000 employees, in more than 225 locations around the world — and counting. Our engineering, architecture, environmental and construction services bring an impressive breadth of knowledge to every project. Our optimistic approach to finding innovative solutions defined our past and drives our future.