NEWS
NorthStar Foundation Holds Dedication of HDR Leaders & Achievers Classroom
Students Create Classroom with Help from HDR Volunteers
What started as a dream became a reality for high school students at NorthStar Foundation in Omaha, Nebraska, with the dedication of the HDR Leaders & Achievers Classroom at NorthStar on June 20.
Scott Hazelrigg, president of the NorthStar Foundation, welcomed the students, their families and special guests and then turned the program over to the students. They told the story of how the classroom came to be and introduced the NorthStar Board of Directors, speakers and guests. A ribbon cutting and tours of the new classroom followed the program.
The HDR Foundation awarded a $66,664.10 grant to the NorthStar Foundation in December 2016 to create the classroom for the high school students, which the students designed with help from HDR volunteers. Sheppard's Business Interiors & Steelcase donated the furniture and Lockwood Development donated construction services. Combined, the total project cost was nearly $100,000. Construction began in May.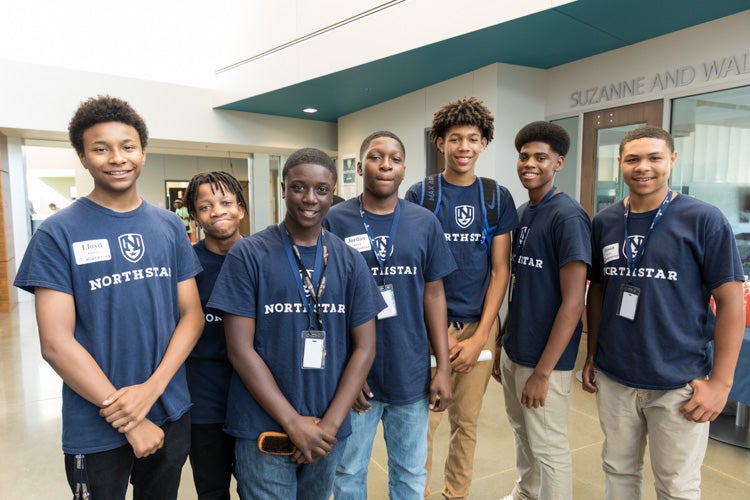 NorthStar is an afterschool and summer program for boys in North Omaha, which focuses on serving students originally from 5th to 8th grade and now serves 4th to 11th grade boys. The first generation of students aged out of the program but they didn't want to leave. In line with its mission, NorthStar elected to let them return because the program is centered on expanding the boys' education and helping them prepare for success in the future. However, there wasn't space for the high schoolers to call their own.
That's where the HDR Foundation came in. As a way to give back to the community and to encourage STEM careers, HDR employees have been volunteering with NorthStar for more than two years, using hands-on activities to teach the boys about architecture, engineering and science. So, HDR volunteers helped the boys design their own dream space, a plan they would pitch to the NorthStar Board of Directors. The plans included converting an existing storage area into a multipurpose high school room equipped with a study space, lounge area, and activities, including video games.
 "As a long-term partner in the delivery of STEM programming for NorthStar students, we are pleased to support the construction of the HDR Leaders & Achievers Classroom," said Eric Keen, president and chief operating officer for HDR, Inc., and also president of the HDR Foundation. "We see partnership with NorthStar not only as a positive means of engaging our community and our staff team, but also as an opportunity to invest in talented young men in North Omaha and to build their awareness, interest and involvement with future careers in engineering and architecture. The HDR Leaders & Achievers Classroom represents both the result of this impactful program partnership and will allow for its continued success for the growing number of great young men involved at NorthStar," Keen said.
After a month of activities, the plan was in place. The NorthStar boys gave their presentation to the Board of Directors, who approved the design. The HDR Foundation unveiled immediately a giant check in a surprise presentation.
About NorthStar
In 2007, NorthStar was created to focus on the critical, unmet needs of North Omaha's young men, beginning in fourth grade, with the goal of helping them grow into healthy, educated, employed contributors to the community. NorthStar is the only gender-specific, after-school program for boys in Greater Omaha. NorthStar's mission is to change young men's lives through programming that supports, challenges, inspires, and instills a life rooted in education, self-discipline and service to the community.
NorthStar completed the construction of a comprehensive after-school program campus in May 2014. Through this effort a 38,000 square foot program facility and a full-size, multi-purpose athletic field was constructed at 49th and Ames Avenues.
In August 2014, NorthStar launched its first full year of after-school and summer services. In that first year, an average of 100 boys –in grades 5-9— participated onsite daily in NorthStar programs. By the end of 2016-17, NorthStar will have engaged over 400 boys in grades 4-11, with average daily attendance exceeding 200 students, through its after-school and full day summer programming.
About the HDR Foundation
The HDR Foundation was founded in 2012 and has provided more than a million dollars in grants to local organizations – fueled by donations from HDR employees. We provide grants to 501(c)(3) nonprofit organizations, federally recognized tribal governments and to political subdivisions. Our giving is targeted to the communities in which our employees live and work, and to organizations where HDR employees are highly active. Grant recipients are also required to align with HDR's area of focus, which include education, healthy communities and bettering the environment.
About HDR
For more than a century, HDR has partnered with clients to shape communities and push the boundaries of what's possible. Our expertise spans 10,000 employees, in more than 225 locations around the world — and counting. Our engineering, architecture, environmental and construction services bring an impressive breadth of knowledge to every project. Our optimistic approach to finding innovative solutions defined our past and drives our future.