NEWS
Spero Academy Breaks Ground at New Home, Designed by HDR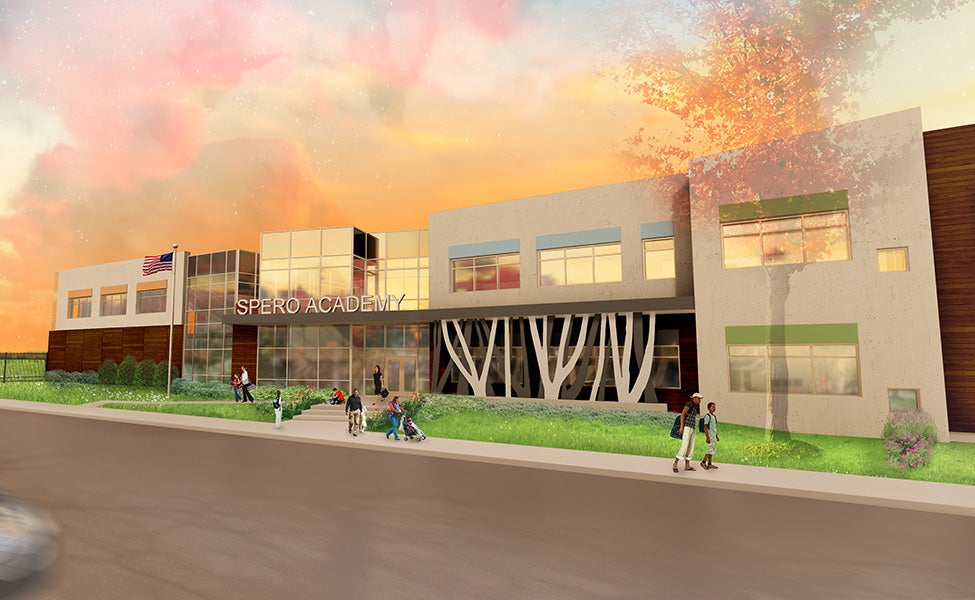 On Tuesday, August 22nd Spero Academy celebrated an important milestone – the groundbreaking at the site of their new home. The public K-6 elementary charter school is located in northeast Minneapolis and provides programs benefiting students with various forms of special needs. It will move into a new building, designed by HDR, for the 2018-2019 school year.
Replacing a small rented space just a few blocks away, the newly constructed building will help accommodate planned programming expansion intended to meet growing demand for the Academy's services.
"We are thrilled to finally have this opportunity to literally lay the foundation for the future of our school," said Director Chipp Windham.  "We have worked extremely hard over the last year to realize this dream of securing a location and constructing a new facility for our current students and the many more that will find hope at our school."
The new building will be located at the northeast corner of California St. and 27th Ave. in northeast Minneapolis. HDR brought unique expertise in both K-12 and behavioral health design to the project.  Their design process was informed by emerging research and best practices on spaces for children with special needs and focused discussions with Spero Academy staff related to ideal learning environments for the student population.  Key features of the final design include:
A two-story main entrance with ample exterior glazing that brings in daylight, provides views to nature, and creates a sense of connectivity to the surrounding community
A floor plan that distinctly separates high-stimulus zones (e.g., gym, cafeteria, entrance) from low-stimulus zones (e.g., classrooms, media lab, speech room) with transition zones in between, allowing students to recalibrate their senses as they move from one zone to the next
A subdued color palette with soft gradations of color in low stimulus zones and slightly more vibrancy in high stimulus zones
Building materials, interior finishes, and equipment thoughtfully selected to limit off-gassing, creating healthier indoor environments for students
"While the history of Spero Academy has been one of successfully working to provide quality programs that support education for students with special needs, we could not be more proud of the future of our school, which will not only support those programs, but allow for an enhanced and expanded menu of programs for our student population," said Donna Piazza, Spero Academy Board chairperson.
For the HDR team, the project represents a unique opportunity to give back to both a city and a cause they are passionate about. "It is only so often you are given the opportunity to use your design skills to create a space that will have a lifelong impact on the lives of children and help facilitate the growth of an organization with a mission as exceptional as Spero Academy," said Ed Vidlak, HDR's director of education. "The personal passion in our Minneapolis studio for this project is very strong. I know the new school will be something that makes all of us proud."
About Spero Academy
Spero Academy is a public K-6 elementary charter school located in Northeast Minneapolis. Through a continuous progress and a responsive environment, Spero Academy cultivates a high standard of academic and personal excellence, while creating a sense of respect, responsibility and community. In session 11 months out of the year and averaging a 1:4 educator/student ratio, Spero Academy's mission is: To provide students with a personalized and adaptive education to grow academically, emotionally, and socially. For more information visit spero.academy.
About HDR's Education Experience
We work alongside educators and academic institutions to create great educational experiences that elevate humankind and empower us all to change the world. We've designed a vast array of spaces for all learners, from pre-kindergarten through college and university. Our portfolio includes constructed and renovated facilities of various sizes and scope. These spaces support new and emerging models as they relate to teaching, research and administration.
About HDR
For more than a century, HDR has partnered with clients to shape communities and push the boundaries of what's possible. Our expertise spans 10,000 employees, in more than 225 locations around the world — and counting. Our engineering, architecture, environmental and construction services bring an impressive breadth of knowledge to every project. Our optimistic approach to finding innovative solutions defined our past and drives our future.