NEWS
HDR Honored with Awards for Two Projects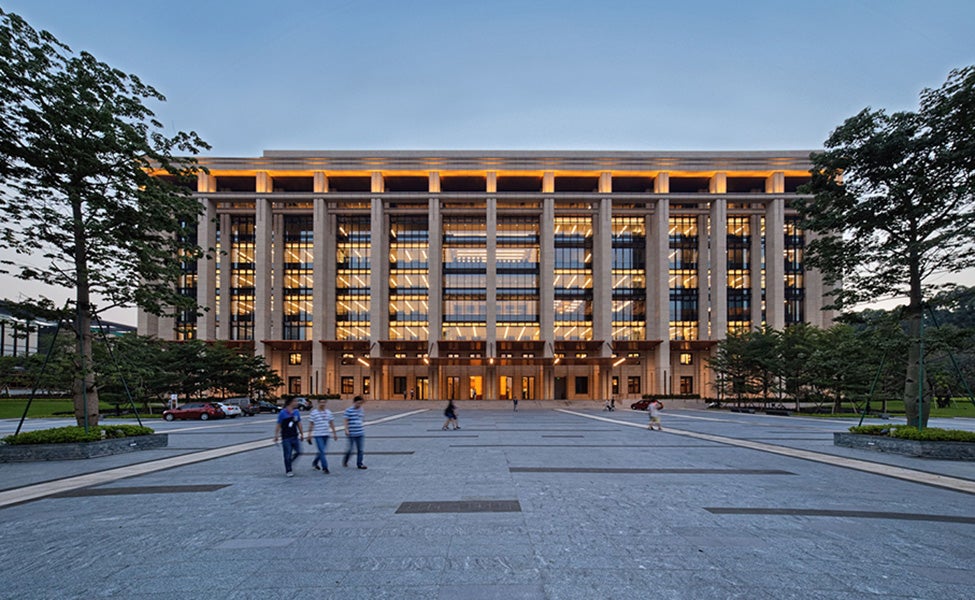 HDR team members have received two awards of recognition from Huawei, a leading global information and communications technology solutions provider, for their efforts on two important Huawei projects. These awards are in addition to two previously announced awards, also from Huawei.
The "Best Designer Individual Award" was presented to Diego Samuel, design principal for the Huadian Research Building B1 Renovation Project Center. The B1 Research & Development renovation transforms what had been a R&D facility, into its global headquarters for its financial group. The redesign creates a new building envelope based on classical architecture, with proportions rooted in the golden ratio. The existing building form was reimagined as a cohesive, symmetrical form with an atrium at its center. Inside, the existing nine-story atrium was divided into two: one public atrium on the lower floors, and another above, topped with a translucent dome with Neoclassical details.
The 950,000 gross square foot (88,258 m2) building includes three main space types: key public spaces (entry lobbies, atriums and cafes); office spaces (enclosed offices, meeting rooms, collaborative areas and open office zones); and conference center (large and medium conference rooms and a training center). The renovations were completed in mid-2017 and the building has been extremely well received by employees and leadership. The B1 project is being used as the benchmark for future buildings planned on the same campus.
Design Team: Diego Samuel, Brian Kowalchuk, Wei Wang, Peter Aloisi, Shiguang Chen, Marc Sohayda, Marian Jacobs, Michael Andrewsky
The "GuiAn Huawei Cloud Data Center Citation" was awarded to the Huawei GuiAn Cloud Data Knowledge Center. This cutting-edge knowledge center in GuiAn includes a data center, electronics labs and offices, educational facilities and employee dormitory, totaling over 1,614,586 gross square foot (150,000 m2).
Located in southwest China with its dramatic karst mountain landscape and temperate climate, the design seeks to educate the next generation of Huawei employees in the context of a cutting edge cloud data center. Organized around the mountain that anchors the development, the building forms define a series of terraced courtyards and avenues that recreates a classical urban landscape. These same courtyards facilitate the direct free air cooling system that sustains the computing environment. A series of secure, connected and modular data halls forms a base to the classically styled university buildings which are organized with commanding views of the lake in the foreground. This architectural gesture is a physical expression of the company's commitment to the community and the training of future leaders.
HDR has been recognized by Huawei for its commitment to design excellence and ability to conquer many challenges and difficulties such as the design standard difference between US and China and the time difference in three locations.
Design Team: Wesley Chou, Scott Boyer, Chengbo Wang, Shiguang Chen, Anthony Cortese, David Kurten, Tom Ditoro, Phil Beadle, Jieer Ren
About HDR
For more than a century, HDR has partnered with clients to shape communities and push the boundaries of what's possible. Our expertise spans nearly 10,000 employees, in more than 225 locations around the world — and counting. Our engineering, architecture, environmental and construction services bring an impressive breadth of knowledge to every project. Our optimistic approach to finding innovative solutions defined our past and drives our future.