NEWS
HDR/Dewberry Team Selected by Savannah Corps of Engineers to Provide Civil Works Services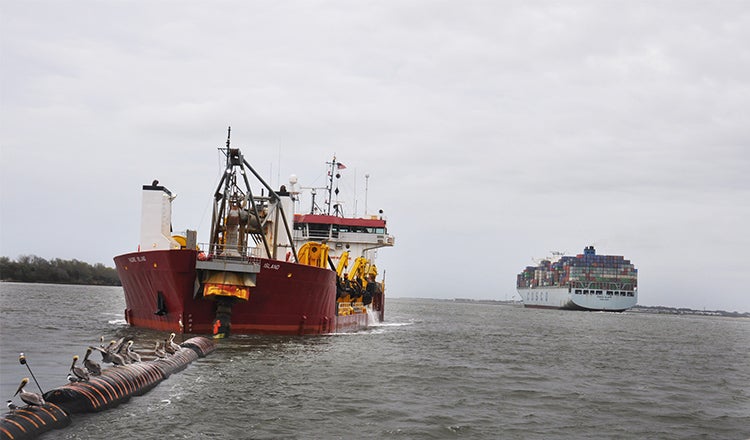 The Savannah District of the U.S. Army Corps of Engineers recently awarded a General Design, Civil Works Projects Indefinite Delivery Indefinite Quantity contract to the H D CW Joint Venture, led by the consulting firms of HDR and Dewberry. Through this contract, the joint venture team will provide architectural and engineering services for federal civil works projects throughout the district as well as other districts within the USACE South Atlantic Division and other locations as needed. The three-year contract includes a two-year optional extension and will not exceed $15 million.
The joint venture team, composed of small business subconsultants, anticipates a variety of work types under this contract including estuarine, water quality, and hydrologic and hydraulic modeling; design of new and rehabilitation of existing civil works facilities such as flood risk reduction projects, navigation channels and ports, and water quality improvement projects; preparation of operation and maintenance manuals; and construction phase services.
"We look forward to the opportunity to support the Savannah District's civil works program," said Duane Gapinski, P.E., HDR's USACE client leader. "Our team will leverage its extensive experience and expertise to provide that support across the entire spectrum of the Corps' civil works mission. We look forward to helping the Corps provide solutions to water resources challenges in the Southeastern region."
"We are excited for this opportunity to serve the Savannah District," said Dewberry Deputy JV Manager Tony Buitrago, P.E., PMP. "Our JV team collectively brings more than 100 years of experience providing engineering solutions for our clients, from planning to construction phase services. From day one, we are ready to leverage this experience in support of the Savannah District civil works mission."
About Dewberry
Dewberry is a leading, market-facing firm with a proven history of providing professional services to a wide variety of public- and private-sector clients. Recognized for combining unsurpassed commitment to client service with deep subject matter expertise, Dewberry is dedicated to solving clients' most complex challenges and transforming their communities. Established in 1956, Dewberry is headquartered in Fairfax, Virginia, with more than 50 locations and 2,000+ professionals nationwide. To learn more, visit www.dewberry.com.
About HDR
For over a century, HDR has partnered with clients to shape communities and push the boundaries of what's possible. Our expertise spans more than 10,000 employees in more than 200 locations around the world — and counting. Our engineering, architecture, environmental and construction services bring an impressive breadth of knowledge to every project. Our optimistic approach to finding innovative solutions defined our past and drives our future. For more information, please visit www.hdrinc.com.