NEWS
Andy McCoy Promoted to Lead Computational Fluid Dynamics Practice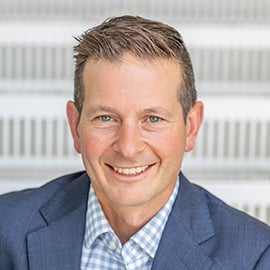 Andy McCoy has been promoted to lead our computational fluid dynamics practice within our dams, levees and civil works program.
Based in Des Moines, Iowa, McCoy will provide strategic and technical leadership in our standards of practice for CFD, as well as serve as a subject matter expert for both internal and external clients. With deep knowledge of numerical modeling and computational hydraulics, he will work across the company to help with client applications and their related technical initiatives. Additionally, he will support teams on risk management, proper allocation of resources and quality review. 
McCoy has over 22 years in the industry, 17 with HDR, and is a recognized expert in solving civil engineering problems with numerical modeling. His experience includes more than 15 different modeling software programs. McCoy has authored numerous peer-reviewed journal articles and conference proceedings in these areas.
He has used his enthusiasm for solving problems with the most innovative methods to help clients across government and industry groups, including federal and state governments, power generating utilities, dam owners, municipal governments, railroads, commodity groups and private development.   
"Andy brings a passion and wealth of experience for advanced hydraulic analysis to our team," said Bob Beduhn, dams, levees and civil works sector director. "We are looking forward to having Andy continue to advance our technical and computing capabilities in computational fluid dynamics."  
McCoy is a professional engineer and received his bachelor's, master's and doctor of philosophy degrees in civil engineering from the University of Iowa.