NEWS
Chris Casey Joins HDR as Civic Principal, Texas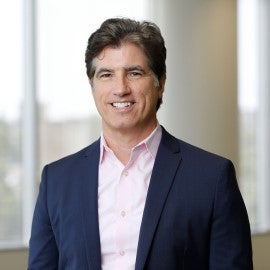 Chris Casey, AIA, NCARB, LEED AP, has joined HDR as civic principal in the Houston, Texas, architecture studio. In his new role, Casey will focus on building relationships within city, county and state agencies, as well as the developer community, to expand HDR's architecture practice in the public and private sector and further establish the HDR brand throughout Texas. This will include relationships within HDR's market sectors, such as engineering, justice and transportation, that already serve public clients.   
"When you help a public client build or improve their dream facility, it makes a positive impact on the entire community and everyone benefits," Casey said. "That's rewarding to me. It's my passion to work on projects that are supported through public funding."
Casey brings more than two decades of architecture leadership experience, last serving as vice president of Huitt-Zollars, Inc. Over the past 15 years, he has developed a deep understanding of the challenges, responsibilities and opportunities inherently associated with publicly funded projects. "Public projects can seem fairly broad and endless in nature, but they entail any project a city, county or state agency would need," Casey said.
"Casey was tapped for this position because he is a skilled communicator with established relationships who has dedicated his career exclusively to serving public sector clients," said Jim McConnell, AIA, OAA, HDR global director, civic architecture. "He has been responsible for the planning, programming and design of more than 150 projects in 20 states, including city halls, police and fire departments, parks, libraries, administration buildings, operations facilities and more."
Casey earned his bachelor's in architecture from The Ohio State University and Master of Architecture from Rice University. He is an active member of the American Public Works Association, Texas Municipal League and Texas City Management Associations. He participates in a mentoring program for high school students interested in pursuing architecture, engineering and construction careers and mentors architecture students at his alma mater, Rice University.