NEWS
HDR's Biosolids Project Earns Envision® Silver for Sustainable Infrastructure
Company's 10th Envision-Verified Water Project and 19th Overall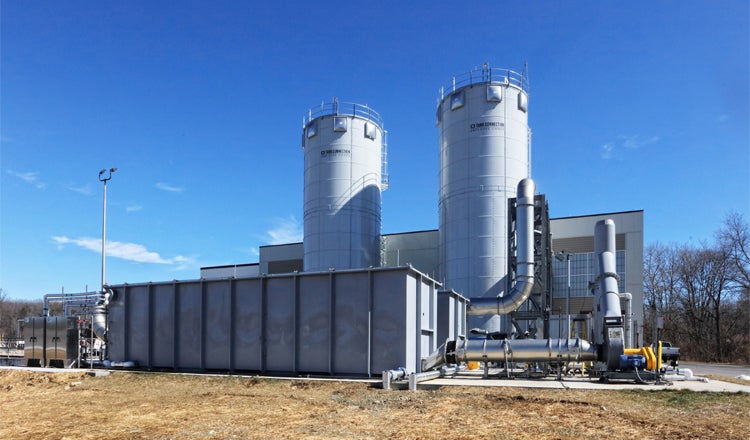 A project in Howard County, Maryland, has achieved a special distinction for contributing to sustainable infrastructure.
The Little Patuxent Water Reclamation Plant's biosolids processing facilities are being upgraded according to county recommendations. That guidance calls for replacing advanced lime stabilization of undigested primary and waste activated solids with anaerobic digestion, and direct heat-drying. While both practices produce Class A municipal biosolids, anaerobic digestion and direct heat-drying produce a more versatile product suitable for direct sales to citizens for use.
By using Envision on this project, the county is affirming its commitment to sustainability and improving the sustainable performance of its infrastructure assets. Howard County worked closely with HDR and Clark Construction to deliver this project.
"We decided early in the planning process that we would not only rehabilitate the treatment processes for improved function and performance, but we would construct it in a socially and environmentally conscious way," said Art Shapiro, Howard County Bureau of Utilities' chief.
The Envision sustainable infrastructure framework contributes to positive social, economic and environmental impacts on a community during the planning, design and construction of infrastructure projects. Key factors in the Little Patuxent project include:
Sustainable growth and development: This project implements new methods into the treatment process, creating jobs and increasing local productivity throughout the project's life. This $93.5 million effort expects to result in more than 1,000 jobs in multiple sectors throughout the service area. Furthermore, the project improves the quality of the wastewater and solids treatment, thereby improving community livability, productivity and employment opportunities.
Beneficial uses for waste products: A detailed biosolids market study was conducted by Material Matters, Inc., a consultant hired by the project team to research potential end uses for the new Class A dried biosolids waste product. The study entailed reaching out to over 15 potential customers in three different markets to understand the chemical and physical characteristics preferred or required by each. They also developed a product utilization sheet to advertise uses of the biosolids — marketed as thermally dried exceptional quality biosolids — from the LPWRP. They can be used as soil blenders, fertilizer blenders and sod/turf production, making them much more versatile than the biosolids produced by the prior lime stabilization process at the plant. This will, in turn, improve the long-term viability of the county's biosolids management practices. 
Use of recycled and regionally sourced materials: From the earliest planning stages through construction, the project team prioritized use of recycled and regionally sourced materials and minimized the amount of material sent to landfills.
Reduced excavated materials taken off-site: More than 80% of the materials excavated for this project were kept on-site in stockpiles, with the intent to reuse for topsoil and fill.
MEDIA CONTACTS:
Institute for Sustainable Infrastructure
Dyan Lee, Director of Marketing and Communications
(202) 218-6748
lee [at] sustainableinfrastructure.org (lee[at]sustainableinfrastructure[dot]org)
HDR
Jennifer Ninete, Senior Sustainability Consultant
(402) 399-1104
jennifer.ninete [at] hdrinc.com (jennifer[dot]ninete[at]hdrinc[dot]com)
PROJECT ORGANIZATION INFORMATION:
About Howard County: Howard County is located in the heart of central Maryland between Baltimore and Washington. It is currently home to 110,370 households and boasts a thriving, vibrant economy and welcoming business environment, with proximity to 50 federal agencies, universities, Fortune 500 companies, technology, defense and health care companies. For more information, visit https://www.howardcountymd.gov.
About ISI and Envision®: Envision is the product of a collaboration between ISI, founded by three national engineering associations: American Society of Civil Engineers, American Council of Engineering Companies and American Public Works Association; and the Zofnass Program for Sustainable Infrastructure at Harvard University Graduate School of Design. For more information, please visit www.sustainableinfrastructure.org.
About HDR: For over a century, HDR has partnered with clients to shape communities and push the boundaries of what's possible. Our expertise spans more than 10,000 employees in more than 200 locations around the world — and counting. Our engineering, architecture, environmental and construction services bring an impressive breadth of knowledge to every project. Our optimistic approach to finding innovative solutions defined our past and drives our future. For more information, please visit www.hdrinc.com.