NEWS
HDR's Emily Hyland Promoted to Power, Waste and Industrial Strategic Communications Director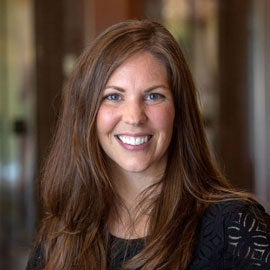 HDR promoted Emily Hyland to serve as strategic communications director for the power, waste and industrial markets. Backed by a team of 130 practitioners in 24 areas, Hyland will partner with clients to identify and plan innovative, tailored strategies that manage risks associated with implementing community-focused infrastructure programs.
"Working with clients facing immense social, environmental and economic challenges throughout my career has opened my eyes to the incredible power strategic engagement has on our client's success — on individual projects and on their organization's reputation within the communities they serve," Hyland said.
For more than eight years, Hyland has matched Ameren's needs with HDR's strategic communications team to deliver transmission projects and support customer communication for the utility's Smart Energy Plan, a forward-looking plan investing in smart-grid technologies and renewable energy. From public outreach support on greenfield transmission lines to collaborative decarbonization public relations strategies, Emily and her team support clients from Hawaii to New Jersey crafting inclusive engagement strategies.  
"Emily is known for her ability to bring together collaborative, impactful teams that help clients execute community-facing projects," said Bill Barnhart, HDR power director. "She facilitates lasting relationships with clients and colleagues across multiple markets and specialties."
With ongoing challenges related to the COVID-19 pandemic, resiliency-based drivers and social equity considerations, the way HDR engages with its communities has changed. Hyland is actively helping clients pivot to virtual and safe in-person engagement methods, and designing communications to include underrepresented and hard-to-reach populations.
An advocate for sharing industry best practices, Hyland leads training sessions and presentations for Electric Utility Consultants, Inc. She also serves as the executive director of the Minnesota Resource Recovery Association, a professional organization established to support sustainable solid waste management and recovery in Minnesota.
Hyland holds a master's degree in strategic communications management from Concordia University-St. Paul, and a bachelor's in environmental studies from Gustavus Adolphus College.
Connect with Hyland via LinkedIn or Emily.Hyland [at] hdrinc.com (Email).