NEWS
Parametric Design Offers a Profoundly Different Approach to Bridges in HDR's Latest Experts Talk
HDR's latest installation of its Experts Talk series introduces Michael Roberts, SE, P.E., P.Eng., who describes the game-changing power of parametric design for signature structures.
Public expectations for improved aesthetics in infrastructure are driving change away from cut-and-paste bridges, creating challenges for owners to meet these expectations under competitive budgets and constrained schedules.
Parametric design establishes a living workflow that is intelligent, handles intentional and iterative change very efficiently, and helps improve designers' and owners' capabilities to see the bigger picture, earlier. The efficiency and technical rigor of a parametric design approach opens up new design configurations that may have been challenging or impossible to execute any other way.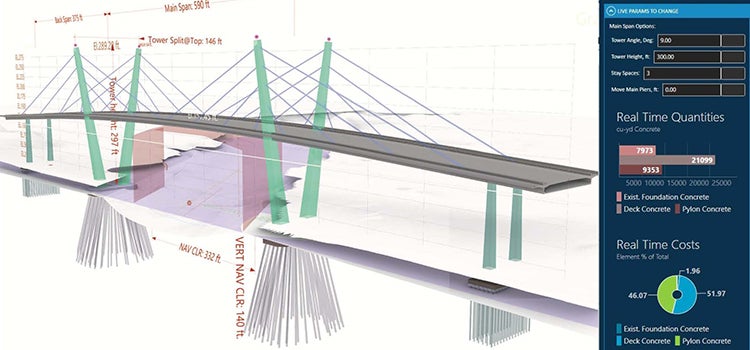 "Parametric design streamlines workflows, iteration, and rework — especially on that non-linear spaghetti-interchange or ambitious architectural vision — thus improving quality and design solutions," Roberts said. "I believe that these tools and way of designing are the most exciting and powerful change to our industry since CAD took over from vellum. These tools are the key to understanding structural form, function and design possibility."
Read the whole parametric bridge design interview.
HDR's Experts Talk interview series shines a light on various aspects of transportation infrastructure design and delivery. Each subject matter expert offers unique expertise and insights about new and ongoing trends, emerging technologies and the human side of infrastructure.
Previous Experts Talk interviews on bridge design include:
About HDR
For more than a century, HDR has partnered with clients to shape communities and push the boundaries of what's possible. Our expertise spans more than 10,000 employees, in more than 200 locations around the world — and counting. Our engineering, architecture, environmental and construction services bring an impressive breadth of knowledge to every project. Our optimistic approach to finding innovative solutions defined our past and drives our future. For more information, please visit www.hdrinc.com.