NEWS
Researcher Francesqca Jimenez Named a Healthcare Design "Rising Star"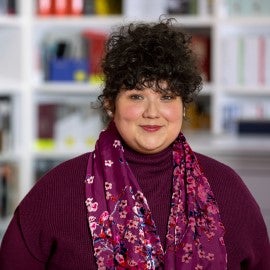 HDR researcher Francesqca Jimenez has been named a 2021 Healthcare Design Magazine Rising Star. The magazine grants the awards to individuals involved in healthcare design for fewer than 10 years.
"I am honored to be included among HCD's 2021 Rising Star award recipients," Jimenez said. "It is a privilege to work for an organization and in an industry that values research to move healthcare design forward. The past couple of years have been fraught for us all, but especially for frontline health workers and staff. Their courage, compassion and sacrifice must not only be met with our deepest gratitude but matched by our commitment to improving their work environments and creating spaces everywhere that support health equity."
Based in HDR's Seattle office, Jimenez has contributed to many industry-recognized projects and is quickly becoming a prolific author and speaker in the field. She has published several influential peer-reviewed papers on healthcare design and contributes to healthcare projects in regions around the world.
Recently, Jimenez played an influential role for the new Virginia Commonwealth University Adult Outpatient Pavilion, where she led inquiry and engagement with patients to inform and develop new patient experience design strategies. Jimenez also played a leading role in a multidisciplinary study for the New Zealand Ministry of Health's development of an academic health precinct in Dunedin.
"Francesqca is incredibly deserving of this award," said Jeri Brittin, Ph.D., HDR research director. "A powerful intellect, compassionate facilitator and exemplary team player, Francesqca brings extraordinary value to our HDR teams and to thought leadership in the industry. I am so proud of Francesqca's accomplishments, and I feel honored to work with her every day."
Jimenez's has previously spoken on various aspects of healthcare design, including at the European Healthcare Design Congress, Environmental Design Research Association conferences, and the Academy of Neuroscience for Architecture conference.
She holds a Master of Science in Applied Research in Human-Environment Relations from Cornell University's Department of Design and Environmental Analysis, with a minor in organizational behavior; and Bachelor of Arts in Psychology, English, and Women's Studies from the University of California-Los Angeles.