NEWS
SK Hynix Completes New Semiconductor Fab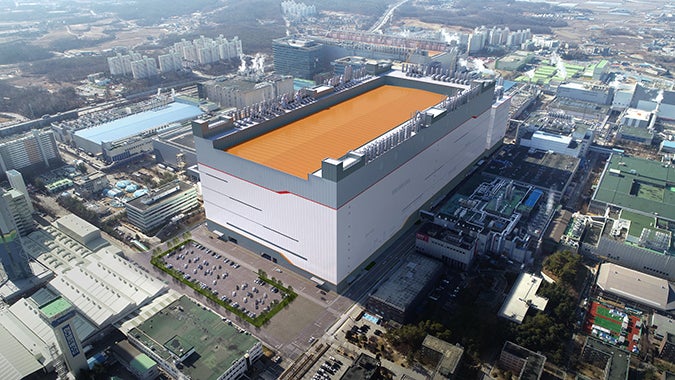 Earlier this year, SK Hynix celebrated the completion of M16 – a new semiconductor fabrication plant ("fab") at their headquarters in Icheon, Korea. HDR provided consulting services on the project.
M16 is noted for introducing extreme ultraviolet lithography equipment for the first time in SK Hynix's history. The company plans to produce 1a nm DRAM products by the second half of this year by utilizing the EUV equipment. M16 is a complex manufacturing plant where cutting-edge infrastructure such as dedicated space for EUV equipment and advanced pollution reduction facilities are concentrated.
SK Ecoplant, SK Hynix's in-house contractor, engineer, and architect, brought HDR onto the project due to our deep expertise in semiconductor planning and environments and our ability to develop fast-paced, innovative solutions for rapidly evolving, complex technology facilities. We provided site master planning services to develop, evaluate and rank multiple options of how best to situate M16 and its related support buildings on the tight Icheon campus. We also visited the site to collaborate with SK Ecoplant and review baseline drawings to identify and list specific design changes, rooted in industry best practices, which would result in lowering the cost and/or schedule to build M16. 
M16 is the third and final building in SK Hynix's "Future Vision," a plan announced in 2015 to build three new plants in ten years. M16 was completed well ahead of this goal. At the ceremony, SK Group Chairman Chey Tae-won indicated that the completion of M16 marks both the end of one plan and the beginning of another. In 2019, the company announced plans to invest $105.6 billion (120 trillion won) to build four semiconductor fabrication plants after 2022, when the site formation is expected to be completed at the new cluster site in Yongin.
About HDR
For more than a century, HDR has partnered with clients to shape communities and push the boundaries of what's possible. Our expertise spans more than 10,000 employees, in more than 200 locations around the world — and counting. Our engineering, architecture, environmental and construction services bring an impressive breadth of knowledge to every project. Our optimistic approach to finding innovative solutions defined our past and drives our future. For more information, please visit www.hdrinc.com.