NEWS
Two HDR Healthcare Projects Featured in 2021 Healthcare Design Showcase Awards
The Guilin Medical School Affiliated Hospital has won the Award of Merit and the Grand Island Regional Medical Center was recognized as a finalist in the 2021 Healthcare Design Showcase Awards.
This annual program honors the very best design and architecture in the healthcare industry.  Jurors from several organizations including The Center for Health Design, the International Interior Design Association and the American Society of Interior Designers evaluate submissions and present awards.
"The Healthcare Design Showcase awards are an annual benchmark for the healthcare design industry and the best of the best compete for this honor," said Hank Adams, AIA, FACHA, EDAC, global director of health at HDR. "I'm proud of our project teams who push the limits of what's possible architecturally in healthcare environments, and who always focus on how the built environment can elevate the human experience."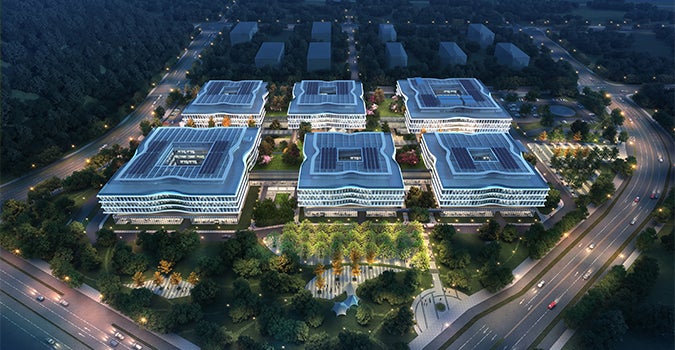 Award of Merit: Guilin Medical School Affiliated Hospital
At over two million square feet, the 1,700-bed Guilin Medical School Affiliated Hospital's aesthetically advanced design merges nature and culture with healthcare, education and research programs. Famous for its landscape, limestone karst mountains and fragrant flowers of the Osmanthus trees, the city of Guilin's unique culture guided the design and planning of this healthcare campus, resulting in a holistic healthcare journey that blends eastern and western medicine to define a new path toward the future of healthcare.
Read more about Guilin Medical School Affiliated Hospital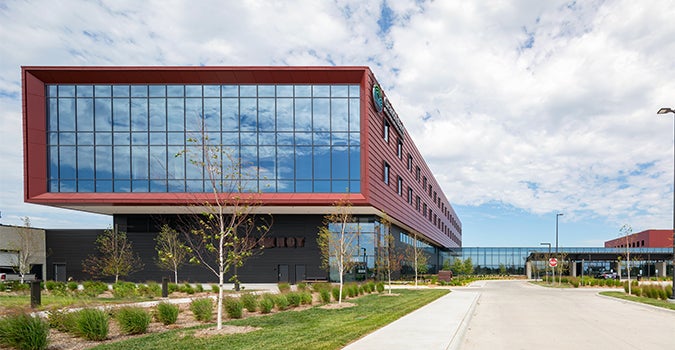 Finalist: Grand Island Regional Medical Center
Set within the central Nebraska landscape, the Grand Island Regional Medical Center was established to serve as the anchor to a new health- and wellness-focused development serving the community surrounding Grand Island. The architectural design of the 173,000-square-foot, 64-bed hospital was inspired by the region: The building's clean modern lines combine with a material palette that references the rich vernacular of Central Nebraska. The red, open-joint metal panel system conjures up familiar images of the classic red barn, while a ledgestone-patterned precast base establishes a foundational plinth that mimics the area's fieldstone walls.