NEWS
David Murray Joins HDR as Education & Science Principal in Philadelphia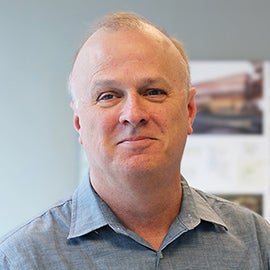 David Murray, AIA, NCARB, has joined HDR as a principal for the education and science sector in the East region of the United States.
Based in Philadelphia, Murray will work with peers in the region to drive the overall direction of the education and science sector in the east. His role will entail strategic planning, business development, building client relationships, leading pursuits, and directing project teams. 
"We are very excited for Dave to join the Philadelphia office," said Elizabeth Mahon, managing principal of the Philadelphia architecture studio. "Dave brings great experience in the design of projects for colleges and university clients. His knowledge of this market and interest in developing strong client relationships will help expand the Philadelphia architecture practice."
"We are excited to welcome David to our Philadelphia team and look forward to his project leadership and market insight as we continue to build our program," said Kevin Jelinek, East region education and science director.
With over 30 years of experience, Murray has successfully woven design, technology and sustainability across a wide range of project types including repeat work for corporate, retail and residential clients, but with a particular focus on design for education. He takes pride in his leadership style that fosters collaborative engagement among clients, colleagues and consultants, something that HDR takes great pride in as well.
"I'm excited to be joining the team at HDR's growing Philadelphia office," Murray said. "I look forward to bringing my experience in design and education to the inspiring work happening here."
Some of Murray's most notable work has been at the University of Pennsylvania — where he earned his Master of Architecture — including the Robert Schattner Center School of Dental Medicine and two new residential buildings on campus. He also played a key role in the Marcus Nanotechnology Center and the Clough Learning Commons at Georgia Tech, as well as multiple flagship stores for Apple.
Before Penn, Murray received his Bachelor of Arts in engineering sciences at Harvard University. His work has received over 300 press notices in publications such as Architecture, Architect and Architectural Record, among others.