NEWS
Kristina Johnston Returns to HDR as Interior Design Principal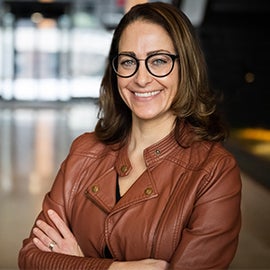 Kristina Johnston, IIDA, CHID, LEED AP has rejoined HDR's design practice in Minneapolis, as interior design principal. In her new role, Kristina will help set the vision for the local interiors practice and provide inspiration and design direction for projects. She will also help execute high standards of design excellence and innovation, as well as an entrepreneurial approach to interior design, as an integrated component of the firm's total design strategy.
A 15-year industry veteran, Johnston began her interior design career with HDR. She left after eight years to explore other opportunities, including design work in private and federal healthcare and workplace, along with furniture specification and installation, and art consulting. She has extensive experience with prominent healthcare clients across Minnesota and Wisconsin.
Her return to HDR, she said, is a culmination of all those experiences and a realization that healthcare design is her passion.
"I am inspired by how design impacts lives," Johnston said. "People motivate and drive me.  As a leader, I believe in empowering people to do what they are passionate about. Most people work best with other people — and great work is a natural byproduct. By honing in on people's passions and skill sets I am able to put together high performing teams that build great trust with both new and existing clients."
"We are thrilled that Kristina has rejoined our growing practice," said Amy Williams, managing principal. "She is well-known for being cutting-edge and collaborative, funny and humble. I am confident that she will contribute greatly to our culture and the creativity of our work."
Johnston is a certified healthcare interior designer through the American Academy of Healthcare Interior Designers and has served on the International Interior Design Association's Northland Chapter Board for more than five years in the roles of advocacy and chapter president. She has also participated in design critiques, healthcare planning modules, and final reviews for the interior design programs at both the University of Minnesota and Dunwoody College of Technology.