NEWS
Sooke Library Receives a Capital Region Commercial Building Merit Award
The Capital Region Commercial Building Awards recognized the Vancouver Island Regional Library in Sooke with a Merit Award for its building excellence in the community institutional category.
The Vancouver Island Regional Library in Sooke creates an iconic addition to Sooke's dynamic growth that promotes a strong civic presence and provides a high-level public amenity for the community.
The building's circular form is inspired by the idea of a log section wrapped with vertical cedar panelling that emulates the texture of tree bark. The building's West Coast character offers a welcoming feel by utilizing heavy timber columns at the entry and wood structure throughout. In support of Sooke's environmental stewardship initiative, the design also embraces green technologies such as electric vehicle charging stations and provisions for future solar energy integration.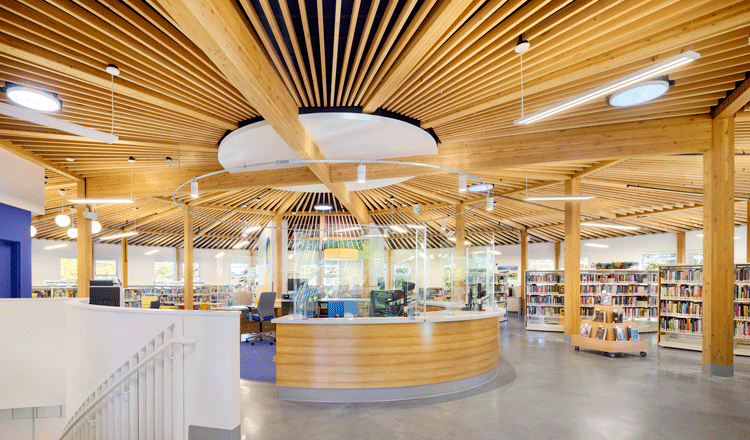 Since opening in June, the library has been bustling with activity as imagined in design.
"From the moment the new branch opened its doors to the public in early 2022, the response from the community has been overwhelmingly positive," said Gaby Wickstrom, Vancouver Island Regional Library board chair, in a Saanich News article about the grand opening.
"I believe the welcoming and inclusive design is the reason behind the project's success," said Juanito Gulmatico, senior project architect. "While the building form is pure and simple, the interior space offers a unique experience beginning upon entry into the spacious lobby, where one is greeted by an expansive gallery wall leading to the main library space. Whether browsing the collections or relaxing in the lounge, users will always be drawn back to the central service desk, which is the heart of the library."