NEWS
Two HDR Healthcare Projects Win 2022 CRSI HONORS Awards
The Concrete Reinforcing Steel Institute has awarded two HDR projects with biennial Design and Construction HONORS Awards in its 2022 awards program: Inova Loudoun Hospital in the Healthcare category and the Hubbard Center for Children Parking Garage in the Transportation category.
Only seven projects receive the prestigious HONORS Award from CRSI recognizing design and construction achievements by owners, architects, engineers, and construction managers across North America. Each selection demonstrates excellence in leveraging reinforced steel as an inherent building material around the world.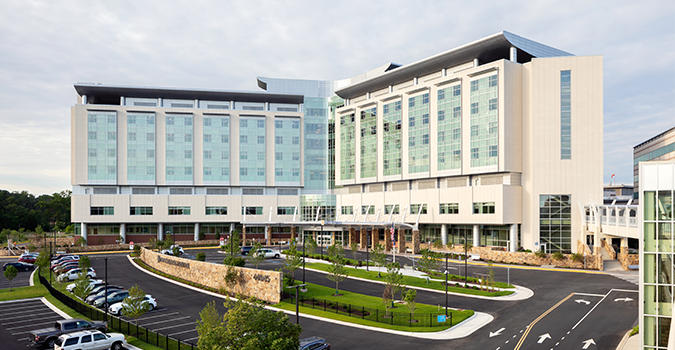 Healthcare: Inova Loudon Hospital
The HDR team collaborated with construction manager DPR Construction, concrete contractor Baker DC, LLC, and rebar contractors Trowbridge Steel Co., Inc. and Baker Concrete, LLC on this nine-story hospital which provided reduced floor-to-floor heights, inherent fire resistance, and stringent vibration control through the utilization of a steel reinforced concrete system. The design of the new hospital found inspiration in the nearby Dulles International Airport, the most iconic structure in Loudoun County, Virginia. The curvilinear cross section along the rooflines, highly rhythmic masonry and glass elements, and a generally vertical orientation recall the nearby landmark.
Learn more about the design of Inova Loudoun Hospital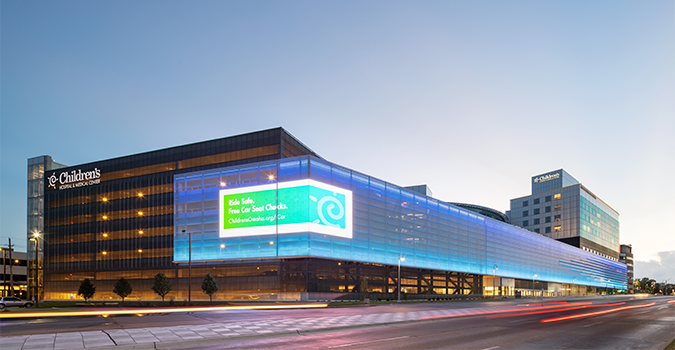 Transportation: Hubbard Center for Children Parking Garage
The seven-story, steel-reinforced concrete parking garage at the Hubbard Center for Children consists of 761 spaces for hospital staff and features a perforated metal skin to provide fall protection and help keep out the elements. A large digital media screen showcases shifting colors, creating a new face for the campus. The HDR team collaborated with construction manager Kiewit Building Group, concrete contractor Daedalus Construction Company, and rebar contractors CMC Rebar and JCJ Structural Group, LLC. The new facility is the most visible and colorful part of Children's, fronting Omaha's busiest corridor and integrating architecturally with the existing facilities.
Learn more about the design of the Hubbard Center for Children