Los Angeles International Airport Automated People Mover
Los Angeles International Airport Automated People Mover
Designing a Better Trip
The Automated People Mover train at Los Angeles International Airport will help relieve traffic congestion, reduce emissions and make travel a smoother and simpler process for tens of millions of passengers per year. 
HDR is the lead designer for the fixed facilities on the $2 billion project, being built by the LAX Integrated Express Solutions public-private partnership team, or LINXS. The APM is the centrepiece of Los Angeles World Airports' Landside Access Modernization Program. It will connect LAX to regional public transportation, provide time-certain access to the terminals and eliminate rental car shuttles, a current source of traffic congestion.
Our scope of work includes the final design of 2.25 miles of elevated guideway and five APM stations with associated elevators and escalators, elevated passenger walkway structures with moving sidewalks between stations and terminals, parking structure improvements, roadway and landscape improvements and a maintenance and storage facility for the system's electric trains.
Awarded the $4.9 billion public-private partnership to design, build, finance, operate and maintain the APM system for 30 years, the P3 developer, LINXS, is a fully integrated team made up of Fluor Enterprises, Balfour Beatty, Hochtief PPP Solutions, ACS Infrastructure Development and Bombardier Transportation USA. HDR is the lead designer for the design-build team, LINXS Constructors, partnering with HNTB as a design sub-consultant.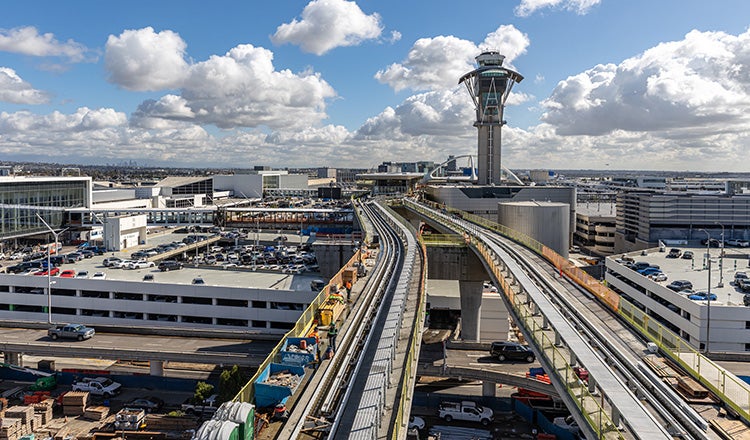 Technical Innovations, Expert Capabilities
The design of the APM includes a number of technical innovations meant to minimise scheduling risks and construction impacts. Using extensive studies of existing utilities, HDR designed guideway columns in areas where the fewest utilities needed to be relocated. In addition, the use of three different guideway construction methods provided flexibility to adapt to specific locations.
HDR's structural design capabilities in cast-in-place and cast-in-place segmental work mean limited traffic impacts at the fifth-busiest airport in the world. HDR also provided station architectural design, roadway design, systems design, power distribution design, traffic design and landscape design services. Our deep bench of experts around the country meant we could mobilise custom teams to tackle each part of this complex challenge, all while meeting a demanding schedule.
Because the airport is a showcase for the Los Angeles area, a major civic investment and a gateway to the city for tens of millions of people each year, its aesthetics are extremely important to maintain. As a result, HDR undertook extensive planning, including hiding conduits inside new columns rather than attaching them to the outside, preserving the clean, sleek look that LAWA wanted.
To ensure that HDR meets the rigorous standards and design criteria, our team made the APM one of the largest BIM projects in the nation, with more than 150 design models, created and maintained by more than 300 designers. HDR is responsible for the oversight of the design team and management of the 3D models, which are used in part to present views for approval to multiple departments ahead of construction. The models, from civil utilities through station structures, are also used in 4D phasing and 5D estimating.
A Historic Investment
When operational, the APM will feature nine trains of four vehicles each, operating in a continuous circulation. Each train will hold up to 200 passengers with luggage and arrive at stations every two minutes during peak periods (9 a.m. to 11 p.m.). LAWA anticipates that the APM will have a peak capacity of 10,000 passengers per hour and up to 85 million passengers a year.
The guideway structure was completed in mid-2022 and the first electric train cars arrived shortly after to prepare for testing of system operations. Airport and civic leaders gathered to mark the occasion, including Los Angeles Mayor Eric Garcetti.
"The Automated People Mover will be so much more than another way to get to LAX," Garcetti said at the ceremony, "it's the piece of the puzzle that will curb the congestion that has been plaguing our airport for decades."