Employee Ownership
Our Employee Ownership Culture
I'm Invested
You can feel it every day — employee ownership shapes our culture.  That means the success of our company, and where we go from here, rests on all of our shoulders. It makes us accountable to ourselves and to each other.  It's our company, and our actions and engagement make the difference.
But if you really want to know what employee ownership means at HDR, our employees say it best. 
Susana Erpestad | Global Director of Federal Architecture
Every one of our employee has their own ownership story. For Susana Erpestad, owning a piece of her company is a lot more than dollars and cents – it's about the culture it creates within HDR, which is something she saw early on in her tenure.
"I bought stock right away," she said. "When you're an owner, it just changes the approach to your work. We own the company, and we are responsible for our success. We have an extra level of commitment to our partners, and that is a very powerful value added to our culture. We all believe in ownership, and we live and operate as owners."
After starting her career with HDR in Phoenix in 2010, Susana now resides in our Arlington, Virginia, office. She's seen the effect of employee ownership in the way we work with our clients and our coworkers.
"Employee ownership elevates the quality of our design work and promotes productivity," she said. "We treat each other as accountable partners because we are all invested in, represent and believe in the company we own. We all care about HDR and the future we hold together."
Susana is invested in HDR, and she's proud to bring that culture to her coworkers and clients every day.
Joey Yang | Advanced Technologies for Surface Transportation Director
You can sense that Joey Yang finds meaning in being part of something bigger than himself.
"Every little success, we feel proud because we feel like we're part of the overall family," he said of working at HDR. "The company really treats every employee just like a family member."
Being part of a team means being there for each other, celebrating each other's accomplishments and sharing the rewards of hard work.
"When we go out and talk to people, we always proudly say, 'Yeah, I work for an employee-owned company,'" he continued.
That pride comes from a culture that brings people across the globe together.
"This culture allows us to do the right things for our clients and for our communities," he said. "It will definitely carry our company – our people – to be successful for many years to come.
"People just love to work at HDR."
Julie Labonte | Global Water Program Management Director
More than 30 years into her career, Julie Labonte still brings enthusiasm every day.
"I'm still as excited and energized by what I do," she says. "But in the end, I think the best decision I've ever made in my career was to join HDR."
Why? Julie says that starts with employee ownership, which she calls, "a game-changer."
"We're the largest A/E firm that's 100% employee-owned," she explains. "At HDR, this is a privilege that we offer every single one of our employees."
That means that through HDR stock or equity, every employee across the globe has the opportunity to be invested in the company's success. That affects how you see yourself and how you act.
"Speaking for myself, I find myself behaving differently, knowing that this is my company," Julie says. "When I stand in front of a client, I'm representing my own company. So I step it up a little bit, right? I'm representing myself, my company."
Dennis Bruce | Principal Economist
To an economist like Dennis Bruce, the power of employee ownership is proven in the numbers.
"ESOPs are known to enhance productivity and profitability by all employee-owners having the same mindset to grow the business and continue to do things better," he said.
This mindset is shared across every job type and office around the world at HDR. In 2005, Dennis joined HDR through part of our first international acquisition. Today, employees in Canada, Australia and Germany can take part in retirement plans that offer a form of synthetic equity, the value of which is equal to the market value of a share of HDR common stock.
"As an investor, it is another means of adding a different type of investment to my retirement portfolio and diversifying by adding to my international holdings," he said. "I strongly believe investing in a diversified manner is important, and there is a role for our company stock in any portfolio mix."
The continued success of our stock not only celebrates the investment of our time, talents and resources, but it is also a symbol of the deep commitment our employee-owners have to HDR. As Dennis explained, that is modeled especially well in our senior leadership.
"Their financial investment demonstrates a commitment to continue to grow the company and, therefore, the share price," he said. "And to continue to do the right things for the right reasons."
Isabella Walsh | Transportation Engineer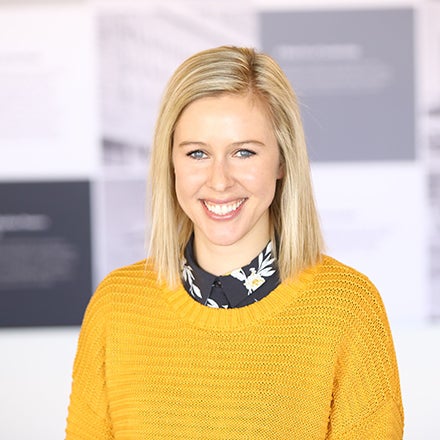 A culture of employee ownership elevates our perspective from to-do lists into tasks that both directly impact the success of the company and each individual simultaneously. Isabella Walsh, transportation engineer and chair of Omaha's young professionals group, is keenly aware of the effect her daily interactions have on her industry, her company and herself.
 "In my day-to-day job, I'm making sure that I'm improving our transportation system," she said. "That's the most important thing."
With her clients' best interests in mind, Isabella knows that her efforts help her company, and as an employee-owner, that also helps her career. She also recognizes how employee ownership shapes a culture that differentiates HDR from other organizations.
"A lot of our benefits come back to employee ownership," she explained. "Because we know it directly benefits our stock, which directly benefits us."
This mindset unifies teams through a shared purpose, and builds trust. For young professionals, the opportunity to take ownership in the organization they work for enhances their career growth and empowers them to invest in their futures.
"It makes it a better place to work," she said. "When a company is employee-owned, it creates a cohesive atmosphere where everyone is working toward the same goal. It's more of a team environment."
Jerome Brown | Quality Office Director
In 2002, Jerome wasn't thinking about retirement — let alone employee ownership. He was young, new to HDR and focused on living life to the fullest.
"Now I'm kicking myself," he said. "You see the results and just think 'wow.'"
Wow is right — and not just when looking at the financial benefits. It's about how each of us operates. As an employee-owner today, Jerome likens it to owning vs. renting a car.
"When you own it, you take care of it differently than a rental," he said. "I think in many organizations, people have the attitude of renters. They are not looking to leave a legacy or impact or nurture others. But when you own it — you treat it like you own it. That's the magic sauce that keeps people here."
All in all, it boils down to one thing, Jerome says.
"We matter. At some companies, you contribute but you might not matter. That's not the case here: You really understand that you matter because you're more than just an employee."
Neil Richards | CCC Professional Services Director
Employee-owners experience collective prosperity and collective responsibility. Neil recognizes that this responsibility guides his decision-making on projects.
"Our staff feel that the individual business decisions we make can have a small but direct impact on our profitability," he said. "We are each spending or saving 'our money' when we make choices."
Employee ownership enables better long-term decision-making throughout the company.
"HDR being privately held and employee-owned allows our leadership to plan with a longer horizon," said Neil. "This certainly helps generate a stable business model that doesn't create the whipsaw of quarter to quarter changes in how we approach our business."
Our employees know that their hard work and investments in HDR have significant impacts on organizational outcomes.
"As an owner, I am keenly aware of how choices I and others make in scoping and contracting work affect our collective financial risk."
Mary Knosby | Water Client Development Leader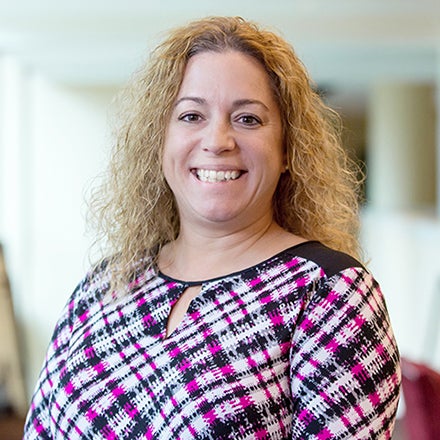 Mary was eager to become an employee-owner right after starting at HDR, having come from a different employee-owned firm in Charlotte, North Carolina.
"Having come from another employee-owned company, I understood the value," she said. "I had been exposed to it. I'm an engineer, so I love looking at the data, and the data quickly shows how successful HDR has been."
Employee ownership also played a part in what attracted Mary to HDR in the first place.
"I liked being a consulting engineer, and with HDR's presence in Charlotte and it being an employee-owned company, I knew I wanted to come here," she said.
Mary now serves as a vice president and our client development lead for the water group in the South Atlantic area. She's grown her career at HDR in part because of the opportunities she's seen as an owner.
"It affects everything — the day-to-day decisions we make, the projects we execute, how we manage our budgets," she said. "I just don't believe it would exist in the same way if we were publicly traded. Our culture really lends itself to everyone being in that same mindset, so it makes it easy."
Jared Harris | Area Manager
Jared joined HDR through an acquisition in 2002 and has been an employee-owner ever since.
He's seen the way employee ownership has shaped our company.
"Just look at the way we treat each other – with respect," he said. "That builds successful employees and comes from the culture of owning your own company. Every time I have to make a decision, I think 'there are thousands of employee-owners depending on the decisions we make.' That brings some tremendous pressure, but we all have a piece of our destiny."
The impact isn't just at the global level, either. It impacts each local office.
"One of the things we talk about is that employee ownership is so much more than financial," he said. "You control your destiny and your outcomes."
Jared also said that a colleague put it well during a strategic planning presentation.
"At publically traded companies, the strategic plans list the financial information upfront and the shareholder information after that," he explained. "Our strategic plan starts with the employees, and the financials follow it. That's representative of our company, too — it starts with each of us, and if we are all doing our part, the financial success will follow."
"Employee ownership has enhanced my experience at HDR because it allows employees to have one more thing in common. Sharing successes creates a unique comradery."
"Employee ownership makes us a better company because you are not working for someone else, you are working for yourself and those around you. This drives a culture of genuine support from across the globe to deliver our best for clients time and again."
"Owning shares of HDR makes me act with a sense of responsibility to myself and others, while performing our best to meet our clients' expectations within a scope of work, project schedule and quality of deliverables that make the design constructable."
"Working for an employee-owned company is the best employment decision I've ever made. It allows us to determine our own priorities and investments, employees share in the profits they helped create, and it changes behavior since we all have a stake in the results."
"I feel like I am my own entrepreneur — I want HDR to succeed just as much as our CEO because it impacts my long-term bottom line. Our success is every owner's success."
"When employees are invested as owners, it becomes more than a job, and the commitment to success is crucial to the sustainability of the company for the future. Employees can shape the culture of the company for the better."
"As someone who likes to break down barriers and interact with people across all levels and geographies in an organization, a broadly held, employee-owned firm like HDR, is the perfect place for me to call home."
"Life is volatile and fragile. Owning a part of HDR gives me a sense of stability and belonging that motivates me to be better, learn more, try harder, speak my truth and it pushes me to be more involved in our company."