New Hospital at UCSF Helen Diller Medical Center at Parnassus Heights
New Hospital at UCSF Helen Diller Medical Center at Parnassus Heights
Designing a Healing Environment for the Future
The new hospital at the University of California San Francisco Helen Diller Medical Center at Parnassus Heights is designed to create an optimal healing environment that addresses social, psychological, spiritual, and behavioral components of health in one place. The holistic focus on the needs of patients reflects UCSF's integrated research, education and care delivery mission at Parnassus Heights. It will be the centerpiece of a comprehensive plan to transform the entire campus that continues to drive innovations in care delivery, discovery and health sciences education and honors the University's longstanding commitment to the community.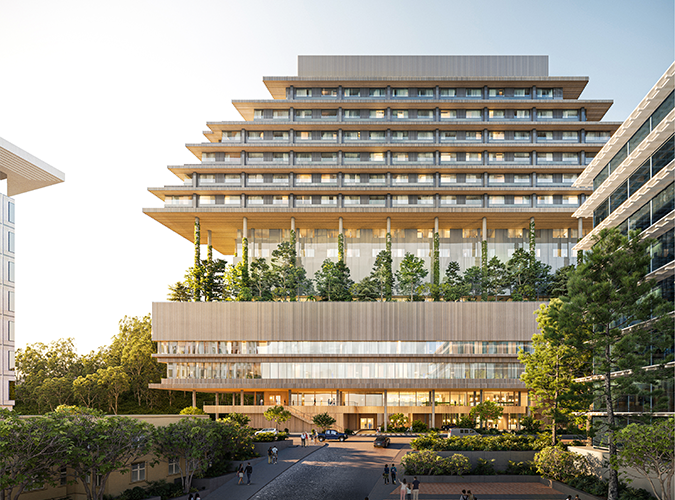 HDR and Herzog & de Meuron are designing the hospital to meet "whole-patient" needs — from leading-edge diagnostic tests, robotics, and therapies to providing light-filled private rooms, natural spaces, fresh air, and human connection — essential to healing.
Set to open in 2030, the new 15-storey hospital will provide much-needed capacity for additional acute, emergency, and intensive care beds and incorporate the latest innovations in medical technology and equipment for advanced complex care. It will bridge scientific research discoveries from bench to bedside leading to accelerated innovative treatments and therapies to benefit patients, while featuring architecturally outstanding and environmentally sustainable design that honors and integrates with the natural beauty of its setting.
Extensive landscaping on the street level and upper levels is an important element of the hospital building design, including a publicly accessible outdoor terrace and proximity to surrounding nature of the Mount Sutro Open Space Reserve.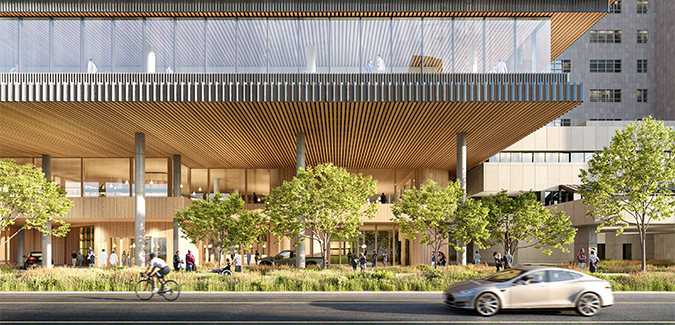 Expanding Care to Serve San Francisco
UCSF has been central to San Francisco's health care sector for more than 150 years. Since its founding after the Gold Rush to provide physicians for the county hospital, to the 1906 earthquake and fire, through the HIV/AIDS epidemic and the ongoing COVID-19 pandemic, UCSF has served San Francisco through every public health crisis and every year in between.
The new hospital will increase capacity to serve emerging patient needs during public health crises, rather than reducing or cancelling non-essential surgeries to make room for patients with urgent needs. Overall bed capacity will increase from 475 beds in 2020 to 682 beds in 2030.
Extensive community feedback over the past two years has helped to inform the hospital design and impact on the neighborhood. Steps are being taken to minimize the hospital's impact on the environment and the neighbourhood during construction through strategies that are specifically designed to address wind, construction noise and other factors.
Environmental sustainability improvement efforts are focused on air quality, carbon emissions, water use, resources, biodiversity and open space, human health, and community well-being.