Article
Disruption, Regeneration & Our Socio-Ecological Systems
Following years of successive crises, the built environment sector's ability to withstand, respond to and recover from disruption is becoming decidedly dependent on our capacity to mitigate risks and push boundaries. In an era of data proliferation, infrastructure demand and exponential advances in science and technology, each period of disruption now presents us with an opportunity to transform the delivery of design.
Today, the seven Cs of resilience — competence, confidence, connection, character, contribution, coping and control — are as integral to human development as they are to the built environment sector. If resilience is defined as the ability of socio-ecological systems to absorb and withstand stressors, then we can look to the seven Cs of resilience to reconnect humans and nature.
A Regenerative Framework
At HDR, for example, our global Regenerative Design Framework is supporting its designers in moving beyond basic high-performance design goals towards net-positive impacts and metric-driven targets for carbon, water, nutrients, air, biodiversity, social and health categories. By visualising and measuring key performance indicators of a project and looking at existing benchmarks, predictive performance levels for a resilient future can be realised.
Ecological Resilience
In Australia, unprecedented river and creek flooding across South East Queensland and the Northern Rivers region has reinforced the importance of disaster preparedness and the urgent need to embed climate resilience into our infrastructure and land use practice.  
We can look to global examples of water-sensitive urban design for tangible nature-based solutions in Australia that consider the interrelatedness between natural, built and human systems. In Atlanta, Georgia, for instance, the HDR-designed Rodney Cook Sr. Park alleviates severe flooding in the area by capturing and storing stormwater. Sustainable design features such as rain gardens that filter storm flow from incoming pipes, stormwater planters, constructed wetland and native plantings have transformed the park into a regional attraction and amenity, which has increased housing prices by 165%.
Similarly, in the flood-impacted area of Washington state's Hamilton Center, HDR employed triple net-zero design — net-zero energy, net-zero water and net-zero carbon — within a circular economy framework to relocate a resilient town above the flood plain and mitigate flooding and biodiversity degradation.
If we applied this thinking to the Northern Rivers, we could not only build the community up to withstand, respond to, and recover from climate change disruption, but at the same prioritise community well-being.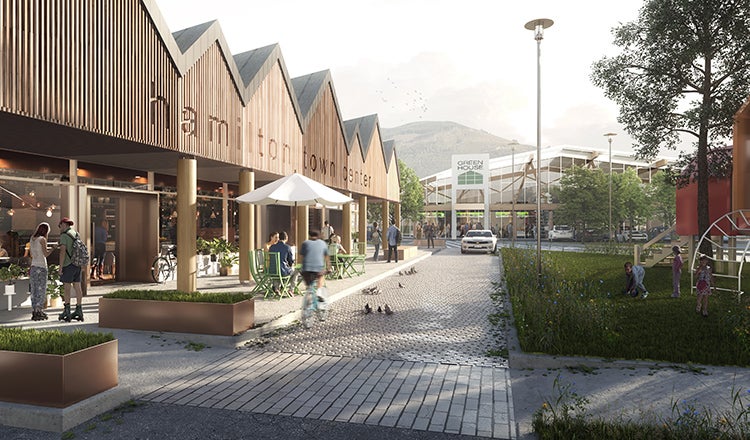 Social Resilience
According to Peter Calthorpe's recent book "Ending Global Sprawl: Urban Standards for Sustainable & Resilient Development," building resilience begins with creating robust communities and wellness-driven neighbourhoods that reverse social isolation, economic inequality and environment degradation.
In south-western Sydney, we took our design dialogue beyond architecture to consider how we could design a mixed-use town centre in Edmonson Park that is an antidote to social isolation in a climate where 33% of adults experience loneliness in their lifetime. Our design team conceived a "public living room" underpinned by permeability, walkability, inclusion and wellness — all woven around a green, pedestrian perimeter that transformed the town from a siloed suburb to a sustainable social patchwork and extension of the home. With more people working from home and cities becoming decentralised nodes, sustainable town centres like Ed Square are critical to our ability to, as a social unit, respond to external stresses and build collective resilience.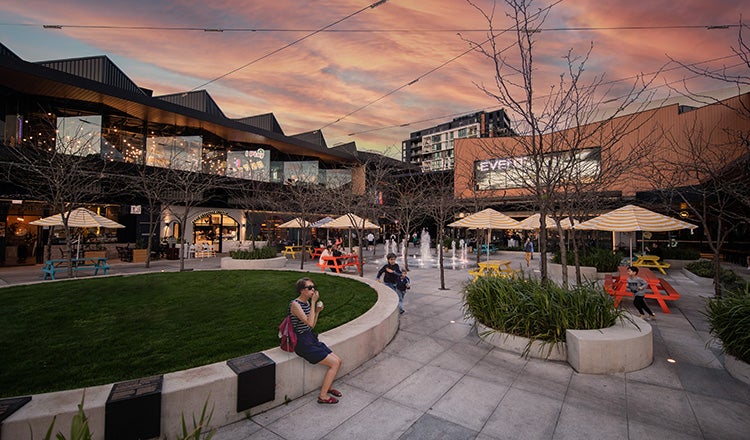 Cultural Resilience
The increasingly acknowledged interdependencies between people, place, culture and Country is teaching us to live more harmoniously with our planet, its natural flows and its rhythms — rather than being a force to be feared.
As part of the masterplan phase of the HDR-designed Temora Hospital Redevelopment project in regional New South Wales, we walked Country at Temora High School to learn about the animate and inanimate inhabitants around the site and conceptualise our learnings into the masterplan and design development. In collaboration with Traditional Custodians and students, we considered how native flora and fauna such as she-oaks (weaving), saltbush (delicate), curved bark (protective), feathers (comfort), and seeds (renewal) can create a nuanced understanding of place and strengthen socio-cultural resilience.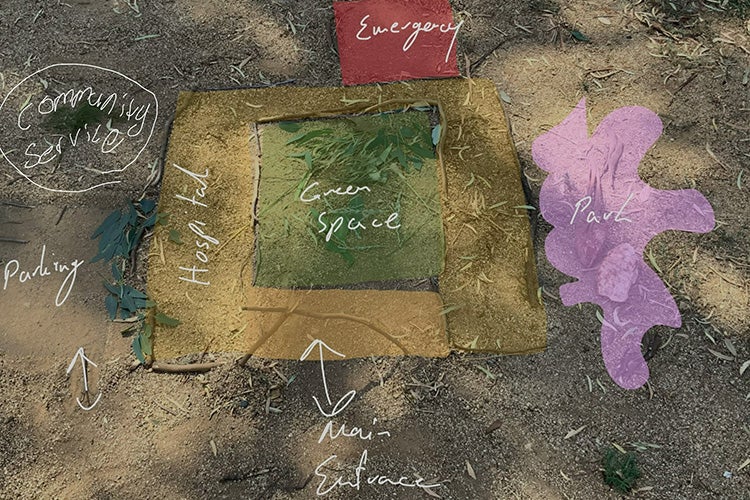 Organisational Resilience
Climate change, rising interest rates and energy prices are disrupting business-as-usual concepts and forcing organisations to review their financial and built-form resilience. At HDR, our clients are adapting to a multitude of climate-related risks, whether that be damage to fixed assets or supply chain disruptions caused by transitioning to a lower-carbon energy supply.
To support this transition, we are currently developing digital twin applications that create virtual replicas of building structures and measure the resilience of an urban environment more holistically. By examining architectural design, structural components and building systems, we can experiment with heating and cooling loads, solid-to-glass ratios and use of embodied carbons across the project lifecycle, all in a digital realm that manipulates parameters and aids regenerative design. The Ontario Line Subway, Sydney Biomedical Accelerator and NEXTDC's Merlot 3 data centre, are a few examples.
The Road Ahead
As disruption becomes the new normal, co-designing for humans and the environment is becoming second nature. With increased competence, confidence, connection, character, contribution, coping and control, we have an opportunity to scale up nature-based solutions across carbon, water, nutrients, air, biodiversity, social and health categories and reconnect humans and nature. If we do this, we can lay the foundations for future preparedness and build long-term resilience for the road ahead.
As seen in the Australian Institute of Architects' Journal of the NSW Chapter, the Architecture Bulletin Resilience Edition.