Article
Saving Main Street
Reimagining Small Town Main Street to Save Underserved Rural Communities
About 60 million people — nearly one in five Americans — live in rural areas and depend on their local hospitals for care. In 2019, 18 of those hospitals closed, bringing the number of rural hospital closures to 161 since 2005. The American Hospital Association estimates that 600 more are vulnerable to closure.
What's putting these hospitals in such a fragile position?  A variety of issues are contributing to it, but urban migration, decreasing patient volumes and the shift from inpatient to outpatient care are primary factors.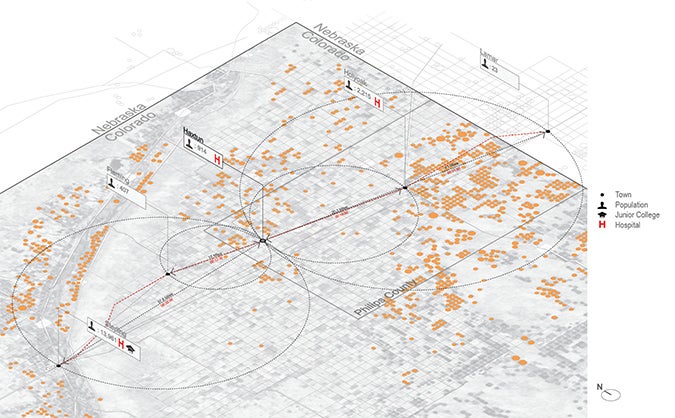 As the son of a healthcare administrator, care delivery has always been a guiding force in my life. And my wife's family is from a small town in Nebraska, which introduced me to the culture of rural communities. Layer those two influences with my own personal passion for design and a steadfast belief in its ability to solve problems, along with my professional work as a healthcare architect, and I felt that investigating and helping to solve the challenges facing rural hospitals today was an opportunity I was especially suited to tackle.
In 2019, I applied for and received an HDR Fellowship grant to study this challenge in depth. The HDR Fellowship program was developed to promote thought leadership and innovation. Each year, three full-time employees are selected to develop applied research projects that advance services we provide to our clients and communities. With a small team of designers as my partners, we worked with the hospital administration and economic development agency in the small town of Haxtun, Colorado, to explore the following challenge:
How can we address the multiple issues of health, wellness, economics and design to create an environment that offers a unique and positive community identity and helps improve the quality of life in rural towns throughout the country?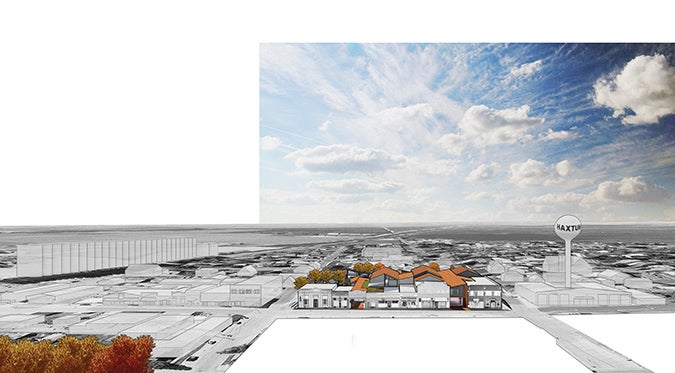 The town of Haxtun is located in northeast Colorado and has a community population of approximately 1,000 people – 100 of those people are employed by the Haxtun Hospital District, making it the community's largest single employer. Not only does Haxtun face the danger of its critical access hospital closing, but it shares others threats that are common to both rural and inner-city communities alike: the trend toward becoming food deserts as the result of rising closures of local grocery markets and the subsequent limited access to fresh fruits and vegetables, issues of poor walkability, and good public spaces for all seasons.
Bringing Main Street Back to Life
When starting this design investigation, my team and I intentionally sought out new ways of thinking about building typologies, their related programmatic elements, and their adjacency to one another. We knew we needed to challenge conventional concepts in order to create a thought-provoking prototype concept that could transform this community - and that could be applied to other rural communities as well.
Our solution: a mixed-use destination with health and wellness as the foundation that serves to generate the population density needed to create an enlivened town centre. This town centre, in turn, is the key to fostering economic and social well-being.
We envision reusing and repurposing existing main street structures, and adding new spaces within the footprint to further activate the space and attract residents and visitors. All medical/clinical services are consolidated, and skilled (long-term care) nursing elements added by moving the retirement facility currently on the town's outskirts back to the town proper. New elements (an auditorium/meeting/theater space, community hall, swimming pool and basketball courts) are introduced to encourage increased traffic and engagement, which in turn provides incentive for traditional services such as pharmacy and café/dining to return to the town's main artery.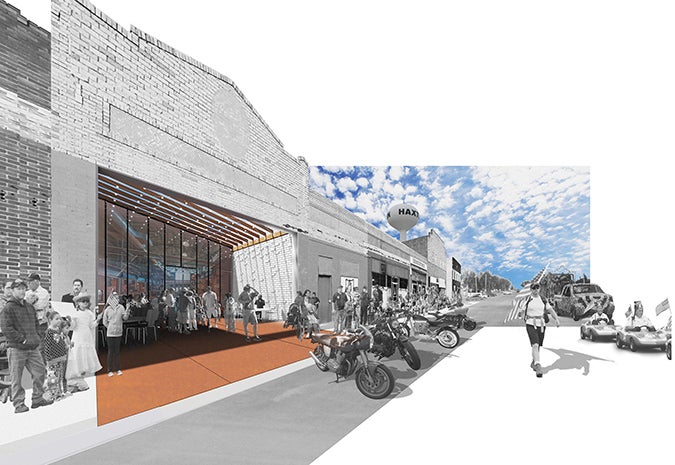 With the hospital as the foundation, population density increases to drive increased economic and social enterprise to the town centre. For example, a pool and recreation facility entices residents interested in health and wellness activities. A new conference space could serve as the community movie theatre on the weekends. Relocating (and integrating) the town's retirement facility to the town centre helps older residents stay engaged with the town's activities, provides access to these new amenities and helps them remain independent longer. These are the kind of ideas that have the potential to generate renewed activity that thousands of small rural communities like Haxtun need to create population gravity, help save their medical centres and, importantly, improve the quality of life for an important component of our national population—similar to the impact of the Rural Electrification Act in 1936.
How do we see this design solution implemented in Haxtun? We've engaged a full city block just west of Colorado Avenue (main street) between Fletcher Street (south) and Strohm Street (north). A series of design interventions will create the connections needed to rejuvenate this town's centre.
A single-story storefront will be removed and in-filled to connect the medical centre to a new auditorium and lobby/event pre-function space.
A new café will be inserted in the space north of an existing flower shop; the hospital/main street pharmacy will occupy the storefront directly south.
A new storefront south of the pharmacy will create a market gathering space tied to Colorado Ave.
Remaining retail space will serve as the home to a community farmers' market and local bazaar.
The original alleyway is now the hospital's main walk-in entry and extends to become the internal focal court of the development, flanked by the gathering space to the south and hospital reception to the west.
The two spaces can be connected to the Gathering Space by opening the Nanawall system that connects the hospital to the retirement centre.
South Logan Avenue will be lined with two mid-size "shotgun" residences for visiting professionals; the centre occupied by outpatient clinics and physical therapy studio.
Retirement residences have views of pool and basketball court; second floor residences enjoy direct, secured access to rooftop garden and green house.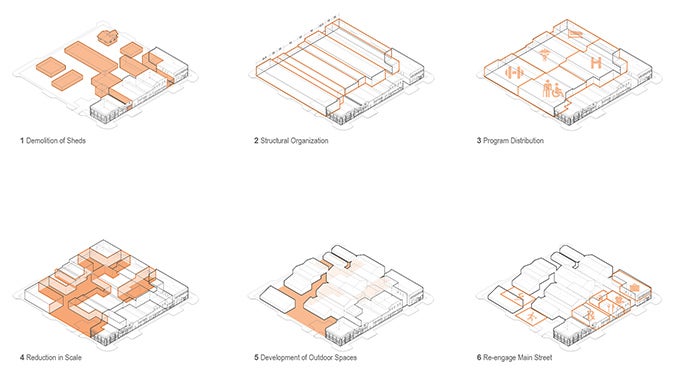 Building forms maintain scale, thus contradicting the conventional appearance of their institutional programs. They provide an ordered transition of the block as it adjusts from main street storefronts (east) to single-family residences (west). Simple forms are defined by the need to maintain buildable structures with limited access to regional skilled labor and material availability.
Through the work of my HDR Fellowship, I've been able to study both the challenges and potential of re-envisioning the main street of rural communities. As design has the power to transform the landscape and communities in many ways, it is my hope that we might be able to use Haxtun as a springboard for other rural community main streets in need.
Recognized by Fast Company's World Changing Ideas Awards. Finalist in three categories: Best World Changing Ideas North America; General Excellence; and Spaces, Places, and Cities.