NEWS
HDR's Jeri Brittin Named HCD's Researcher of the Year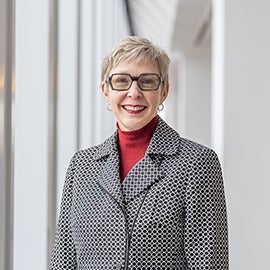 HDR's Jeri Brittin, Ph.D., director of social and behavioural sciences, has been named to Healthcare Design Magazine's HCD 10 in the Researcher category for 2023, a competition that celebrates exceptional professionals across 10 categories each year. Brittin's expertise spans human research in healthcare and other facilities, communities and organisations.
"I'm incredibly honoured to be part of this stellar group of professionals," Brittin said. "It's fulfilling to know that the groundbreaking work we're doing at HDR to help make healthcare environments better for people is valued across the industry."
Brittin has combined a background in design with doctoral training in social and behavioural health to forge a career dedicated to developing human-centred strategies, systems, and environments. Brittin and her team use their expertise, curiosity, and creativity to conduct rigorous research that people can trust. Her work informs strategic, planning, and design decision making focused on behavioural, organisational, and health-related outcomes.
Within the healthcare sector, Brittin has led impactful design research. She has been on the forefront of improving research quality and value in the field, including critical evaluation of prevalent assumptions, openness to relevant expertise from other disciplines, transparency of methodologies and findings, appropriate analysis, and focus on building a credible foundation for further work. Notable accomplishments at HDR include the first use of interrupted time-series analysis in a healthcare design study, allowing for plausible causal inferences about effects of environmental change on outcomes. She also oversaw the development of the HDR CARE Scale, the only validated measure of environmental affordance for caregiving activities in healthcare settings, which fills an important prior measurement gap in environment-behaviour relationships.  
Brittin has participated in the Urban Land Institute's Health Leaders Network and sits on several national committees focused on design and health. She is a frequent speaker and has published numerous papers. Over the past six years, Brittin and her team have won many awards for their work, including ten Touchstone Awards from the Center for Health Design.