NEWS
Pavilion Earns National Recognition in IES's 50th Annual Illumination Awards
The Pavilion at the Hospital of the University of Pennsylvania has been recognised for two awards in the prestigious 50th Annual Illuminating Engineering Society's Illumination Awards for 2023. This program recognises exceptional interior and exterior lighting projects that balance functional illumination of space with the artistic application of light to enhance the occupant's experience.
Award of Merit for Interior Lobby & Public Spaces and Clinical Areas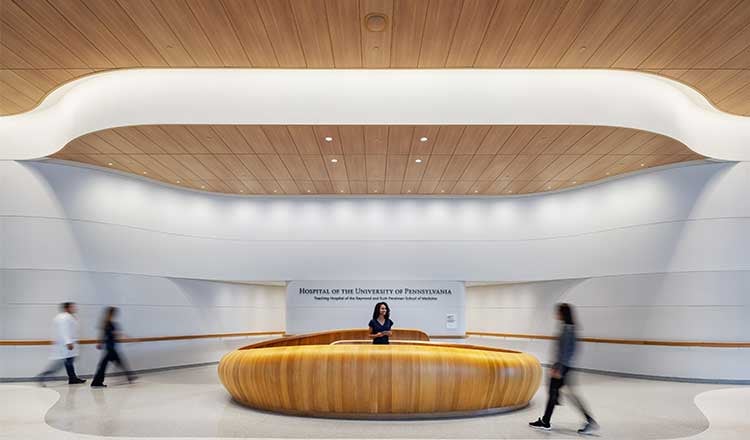 Lobby & Public Lighting Design: The lighting for public spaces was designed to maintain the building's architectural clarity through highlighting important moments. The design allows warm interior lighting to permeate through the façade; thus, creating a relationship with the exterior lighting and thereby drawing the interior spaces through the use of light into the surrounding gardens and terraces, complementing the interior and exterior finishes. To remain consistent with sustainability and efficiency targets, a lighting control system was implemented throughout the facility. The lighting control system uses daylight sensing techniques to either reduce or turn off the lighting in the morning, as well as occupancy sensors to control public areas.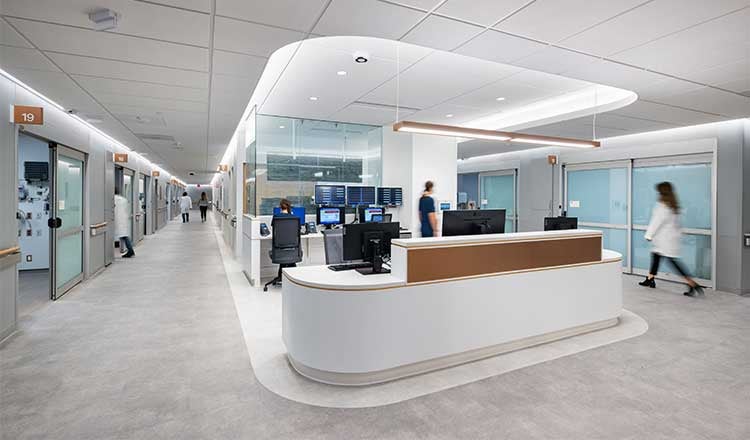 Clinical Lighting Design: The user journey typically begins in the waiting and reception areas of the emergency department where custom, glare-free light fixtures provide general illumination for the space. Downlighting and grazing lighting illuminate the reception areas while circulation areas are indirectly lit with coves for the comfort of patients during transport. The patient corridors use cove lighting on one side and custom wall washers that provide lighting only above each door for wayfinding. Patient rooms provide user-centred, multi-function custom lighting and controls to provide exam, ambient, chart and reading light for individual comfort and staff needs.
Receiving this high recognition from the Illuminating Engineering Society is a true accolade for HDR's lighting design team. The Pavilion is an exemplar across the healthcare sector and an illustration of how with the use of a holistic lighting design, elegance, beauty and visual delight can help support and aide the patient journey; as well as creating a calming work environment for staff and visitors.