Blue Grass Airport Runway 4-22 Rehabilitation
Blue Grass Airport Runway 4-22 Rehabilitation
Blue Grass Airport in Lexington, Kentucky, saved time and future maintenance during its major runway rehabilitation. The airport, with assistance from HDR, opted to close its only commercial runway for a weekend and pave it all at once. It's a strategic decision that was aimed at improving safety and efficiency for this project that takes place approximately every 15 years.
HDR has been involved in leading airfield upgrades at the airport since 2016. Our services have included project management, construction phasing, airfield design, airfield electrical system design, geotechnical engineering, surveying and construction management. Throughout the project, our comprehensive engineering and field services have brought additional value.
For example, our in-house surveying and geotechnical staff helped to quickly advance the field investigation scope early in the project. We performed drilling at night — at times suspending work to allow the University of Kentucky basketball team to take off or land — and we completed on-site field testing in less than three weeks, giving our pavement experts the important data they needed to evaluate the condition of the runway and then formulate a plan in coordination with our construction management experts.
The weekend closure of the airport's main runway in August 2021 was the culmination of much of these efforts. The $16.2 million project will improve the safety, performance and operational efficiency of the airport's runway pavement while also improving the energy efficiency and durability of airfield lighting systems.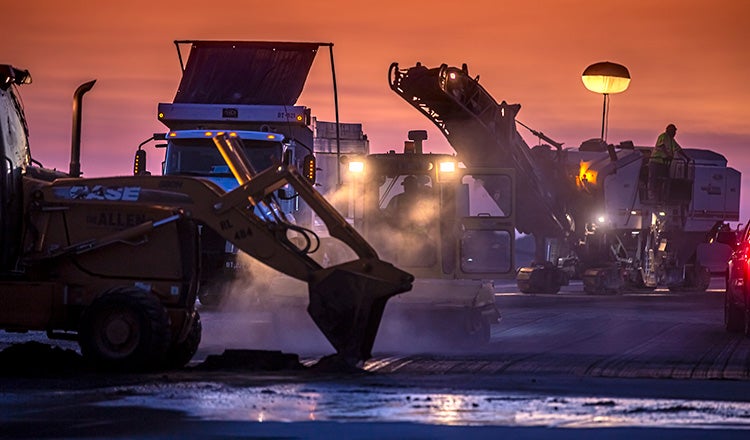 Compressed Construction Schedule
By compressing the work into one weekend, a more continuously paved runway was possible, with only four cold joints. This will extend the overall life of the pavement, requiring less maintenance and improving safety.
The project included a precise profile milling effort that removed up to 3 inches of overlay across the 7,000-foot runway, followed by the laying of over 21,000 tons of asphalt. Nearly every asphalt resource in the Lexington area was committed to the effort. The endeavour required extensive planning to ensure efficiency and safety, given the large number of workers and pieces of equipment. At the peak, over 300 construction crew members were working on the project at the same time.  
Everybody on site needed to know where they were supposed to be and what they were supposed to be doing, as well as understanding where everybody else would be. Workers served in 12-hour shifts, and every step of the work was precisely scheduled. To coordinate details, HDR led multiple planning workshops in the months leading up to the weekend closure, ensuring each contractor and everybody on site knew the detailed plan and all questions were answered. These workshops also provided a valuable opportunity to explore ideas for expediting the process while maintaining a high level of quality and safety.
With the runway closed, the airport also upgraded its edge lighting and signage, and a bed was paved for the Engineered Material Arresting System scheduled to be installed in 2022.