Igniting Connections that Enrich Our World
Great educational experiences elevate humankind and empower us to change the world. At the root of these experiences are connections — between people, technology, nature and ideas. We work alongside students, educators and administrators to plan and design spaces that cultivate these connections. We create educational spaces that are uniquely mission-driven and connected to their communities and the world at large.
Working Across the Education Spectrum
We've designed a vast array of spaces for all learners, from pre-kindergarten through college and university. Our portfolio includes constructed and renovated facilities of various sizes and scope. These spaces support new and emerging models as they relate to teaching, research and administration.
Designing With the Student at the Centre
No matter the scale, our focus is always on the student. We design facilities that put their personal, social, and learning experiences at the heart of every design decision. Our education team has helped create some of the most innovative student spaces in the world. We've created a building that doubles as the sustainability curriculum. We've envisioned how a journalism school can become a "teaching hospital." We're exploring how virtual and augmented reality will dramatically change the student experience. And we're committed to putting the next generation at the forefront when designing education spaces for the future.
Education Services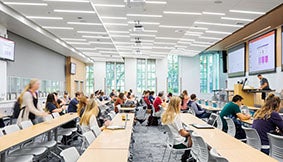 Our education experts offer solutions in the following areas:
Architecture
Interior Design
MEP and Structural Engineering
Site Design
Strategic Facilities/Campus Planning

Programming/Planning

Sustainability Planning

Visioning and Business Case Development

Facilities Standards and Guidelines

Facilities Assessment

Classroom/Space Utilization

Learning Environment Assessments

Change Management

Operational Strategies

Experience Design

Branding/Identity

Pre/Post-Occupancy Studies