NEWS
HDR United Kingdom Fund Addresses Food Insecurity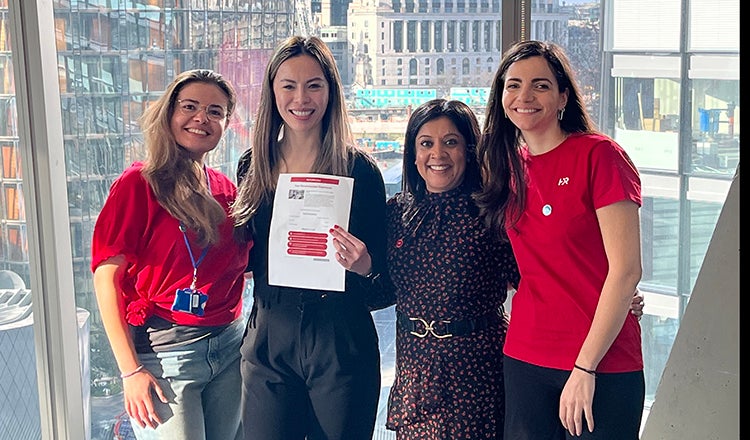 The first grants awarded by the HDR United Kingdom Fund will address food insecurity in communities across the U.K. 
Funded by U.K. employee donations, five grants totalling 10,500 pounds will contribute to food banks in the following areas with HDR offices — London, Croydon, Berkhamsted and Glasgow.
"In our busy lives, it is important to stop, take a step back and appreciate the little things we have," said Ghada Elsheikh, HDR senior electrical engineer, who helped plan fundraising activities across the country. "Not everyone is fortunate enough to go back to a comfortable bed and a warm meal. By generously giving back to the community we work and live in, we are making small but steady steps towards building a world of good."
After launching the fund last fall, U.K. HDR employees participated in the company's global Day of Giving in March. Grants are awarded to charities that support education, healthy communities and the environment, supporting causes important to employees.
"The HDR Foundation is starting to make a valuable impact in supporting local communities and charities where we live and work here in the U.K.," said Richard Whitaker, HDR U.K. managing director. "The HDR United Kingdom Fund gives us a new way to share in making great things possible within our communities, and that comes from giving back together to the causes that matter to our employees. I am hugely proud of what we have created to support local causes and thank everyone who has been involved to make this happen."
Read more about the latest grants.
About the HDR United Kingdom Fund
Funded and driven by HDR employees since 2022, the HDR United Kingdom Fund is a charitable fund held with the London Community Foundation, dedicated to serving communities across the U.K. in which our employees live and work. Modelled after the U.S.-based HDR Foundation, the HDR United Kingdom Fund provides grants to organisations that align with HDR's areas of expertise: education, healthy communities and environmental stewardship.
About HDR 
For over a century, HDR has partnered with clients to shape communities and push the boundaries of what's possible. Our expertise spans more than 11,000 employees in more than 200 locations around the world — and counting. Our engineering, architecture, environmental and construction services bring an impressive breadth of knowledge to every project. Our optimistic approach to finding innovative solutions defined our past and drives our future.