Article
Bridge Design Combining State-of-the-Art with Historic Grandeur
Replacing Pittsburgh's Greenfield Bridge With a More Community-Friendly, 21st-Century Structure
For over a century, Pittsburgh's Greenfield (Beechwood Boulevard) Bridge has linked the neighbourhood of Greenfield to Schenley Park, the city's second-largest municipal park. This bridge is neither ordinary nor "run-of-the-mill." It is one of the city's enduring historical and cultural symbols. During the bridge's glory days back in the 1920s, its majestic new period design boasted decorative urns, architectural pedestals and lighting fixtures to evoke a grand promenade. However, in the coming decades many of the bridge's distinctive motifs were gradually exiled to salvage lots whenever the aging bridge had to be renovated.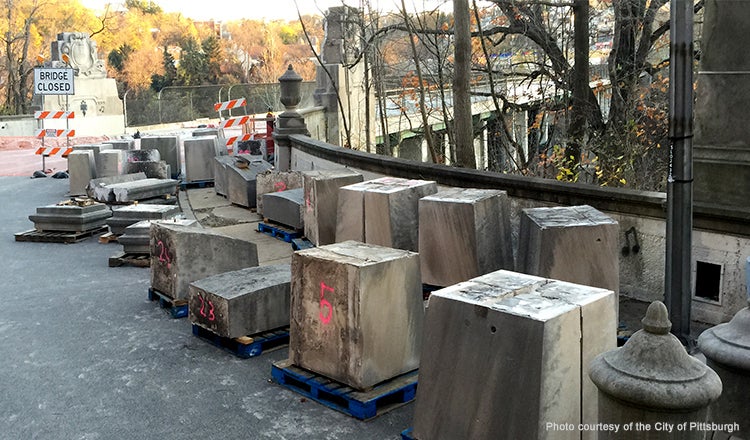 By 2012, it was time to completely replace the obsolete bridge. The city of Pittsburgh brought in HDR to serve as the new bridge designer. City officials presented our bridges and structures staff from Pittsburgh, Pennsylvania, and Weirton, West Virginia, a challenge that involved a delicate balancing act: recreate and erect a long-lasting landmark with a wider sidewalk and bike lanes to serve 21st-century citizens while minimizing impact on busy Interstate 376 traffic running under the bridge.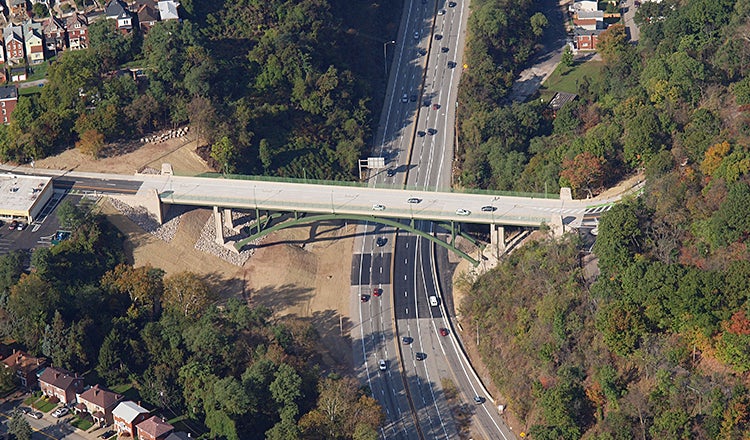 The bridge replacement focused on three core goals vital throughout all of its phases: 1) develop a context-sensitive design plan that would attract constructive, orderly and broad-based feedback to help gain and unify community support; 2) safely execute a rock-solid, innovative design melding state-of-the-art materials with reinstated fixtures from the original bridge; and 3) seamlessly communicate project news and construction schedules with the public and stakeholders to ensure smooth logistical passage for the project.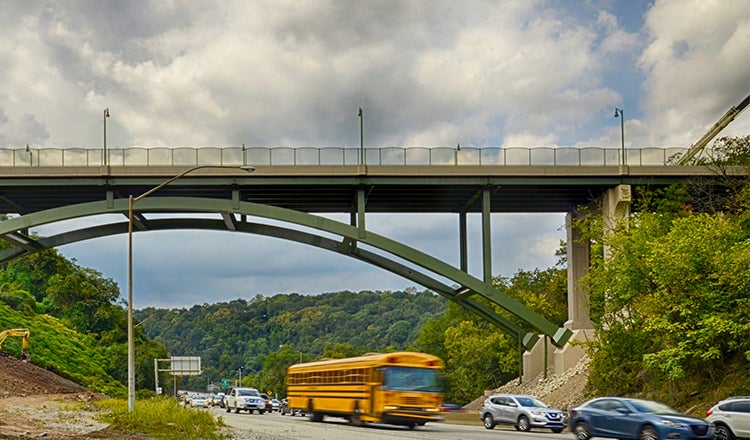 Our engineers had to make design decisions weighing various factors, such as the potential to disrupt the travelling public's life and how to best integrate historical components into the overall bridge design. By using a steel arch to echo the historical gateway design, we also cut down on the number of elements to lift and connect over a closed interstate, saving precious road closedown time. However, the bridge's fundamental safety and long-term structural integrity always remained our top priority. We performed detailed design and analysis research in advance using 2-D analyses and 3-D finite-element analyses. Then we applied those findings as we refined and reinforced our design. Our foresighted approach yielded dividends for the city. For example, we not only simplified and accelerated the bridge's erection, but also eliminated the need for costly fracture-critical inspections in the future.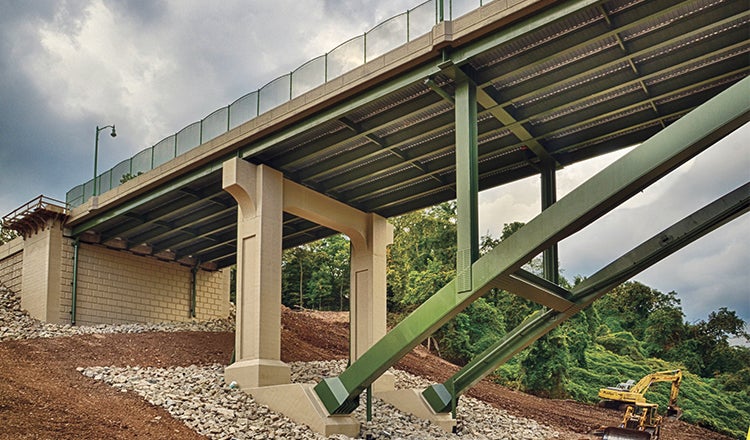 The National Steel Bridge Alliance awarded the Greenfield Bridge its National Long Span Bridge Award as part of its 2018 Prize Bridge Awards competition. This award gives recognition of innovative design and engineering, and honors significant and innovative steel bridges constructed in the U.S. It is the highest honor bestowed on bridge projects by the U.S. structural steel industry.
For an in-depth review of the project's achievements — which included a successful partial deconstruction and implosion of the old bridge — use your ASCE membership to check out "Replacing a Landmark," the article co-authored by HDR Project Manager William Beining and Senior Professional Associate Anthony Ream in "Civil Engineering," the magazine of the American Society of Civil Engineers.