Article
Designing for Health Sciences Education: Supporting Student Well-Being
This is the sixth and final article in the Designing for Health Sciences Education series. 
Today, support for student and faculty health and well-being are major goals of most institutions. This is especially true in the health sciences, where the rapid evolution of fields and the increased understanding of the pressures that students and faculty face have led to calls for transforming health sciences education altogether.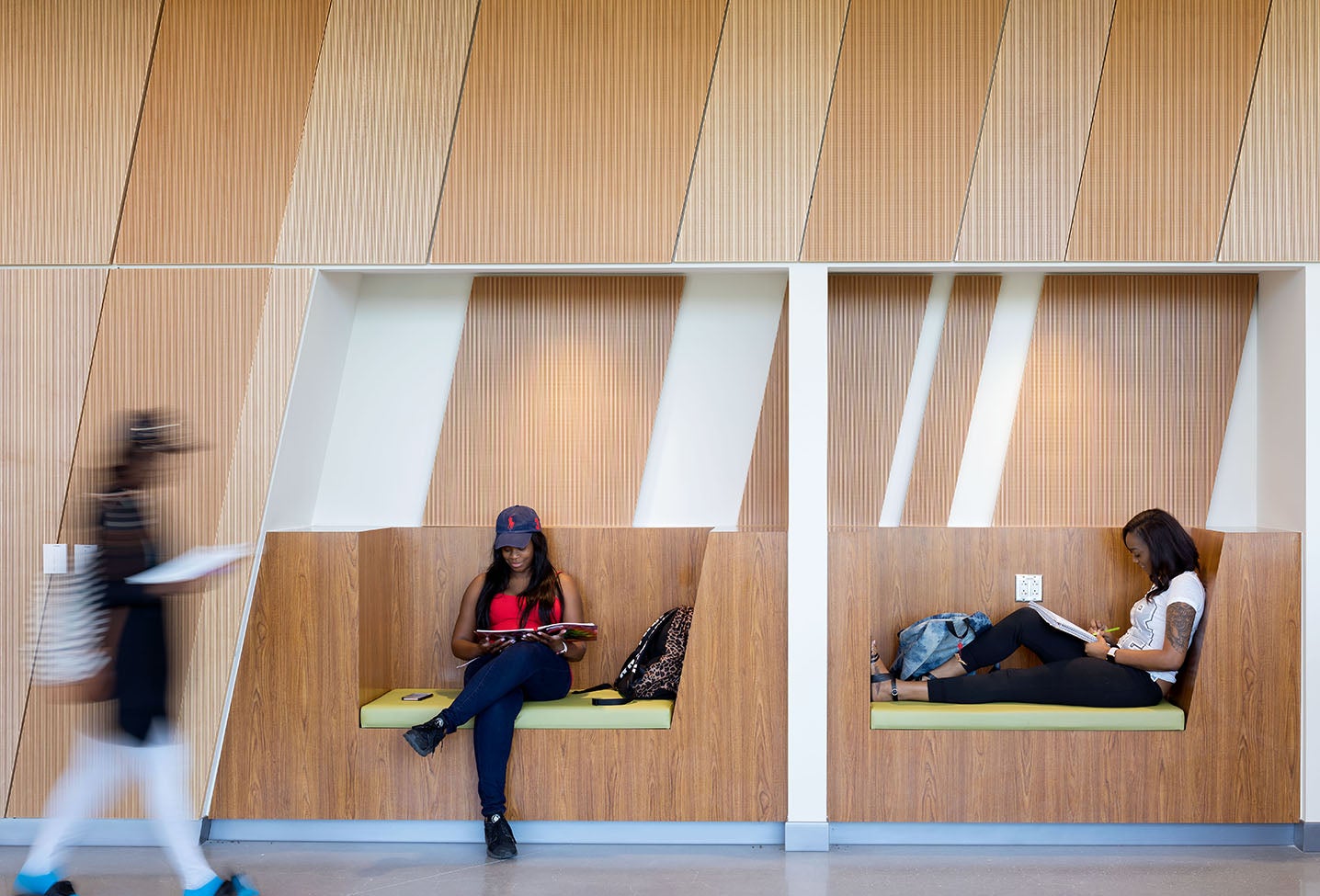 Elevating Awareness of Student and Faculty Well-Being
While Understanding Today's Challenges and Pivoting to the Future of Healthcare provide a more thorough analysis of transformation in both the healthcare industry and health sciences education, a few of the major reasons for increased emphasis on student and faculty well-being include the following: 
Earlier Exposure to Clinical Situations: Students are venturing into different clinical venues earlier in their education. They need to discuss their experiences with each other and with faculty mentors, advisors, and coaches in a safe space, and to have opportunities to relax and care for their own physical, mental and emotional well-being.
Increased Prevalence of Depression Impacting Both Students and Patients: According to recent research, over one quarter of medical students today must battle depression in addition to the simple stresses of their education. This psychological toll carries over to residents and fellows as well. In the AMA Journal of Ethics, Baker and Sen state: "… the literature has consistently shown a correlation between degree of burnout, distress and fatigue and the frequency of perceived or self-reported medical errors, suggesting that it might not only be the physicians who pay the price, but their patients as well." 1
Emphasis Within the Healthcare Industry: A previous "Triple Aim" for patient care involved: an ideal patient experience, at the lowest possible cost, while improving the health of the community. The newer Quadruple Aim expressed by the American Medical Association adds a fourth component: Care Team Well-being. This promising update recognizes the important premise long recognized by airlines ("place your own mask on before attempting to help others"):  In order to effectively take care of others, you have to take care of yourself. 
Awareness of these issues promotes a more student-focused attitude. Just as the student is taught that healthcare is patient-centred, administrators and faculty increasingly understand that health science education must be student-centred. Dean Jeffrey Flier of Harvard Medical School addressed their revamped curriculum with the following message to his faculty: 
Education is not about transmission of information, it's about transforming the learners.
Three things make a great clinical educator:  Think out loud, stick to the basics, and be kind.
Teach our students as though we might be teaching our own doctor. 2
Supportive Environments for Health Sciences Students and Faculty
While student and faculty health and well-being should be a top priority in all spaces within educational facilities, we highlight some key considerations below.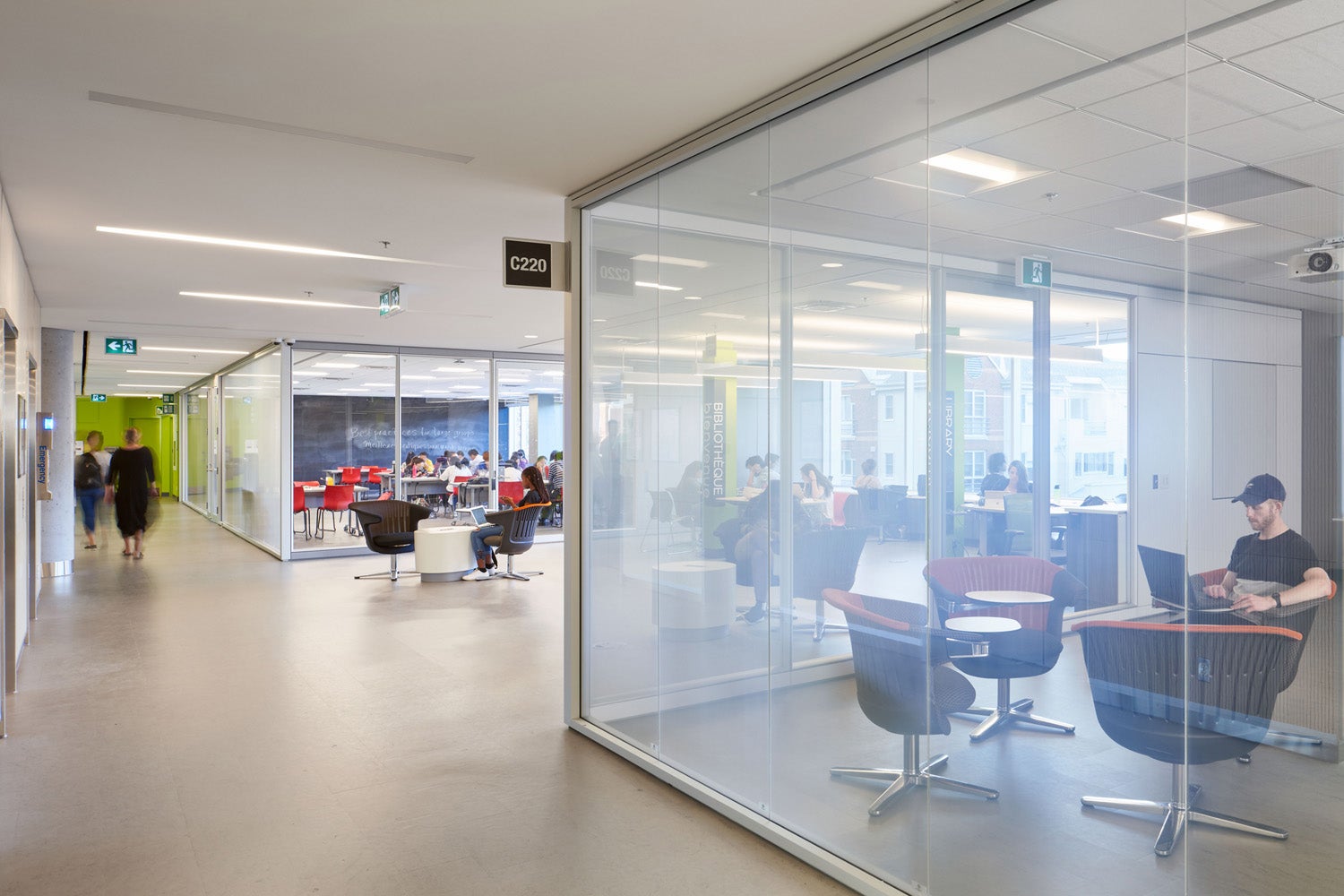 Study Space:  A variety of spaces throughout the institution, some geared for working alone, some for working together with study groups, should be included. These need to have adequate plug load and charging capability, and somewhere, there should "open lab" capability for students to be able to work on clinical skills outside class. These study spaces should be located throughout the campus and should have different atmospheres. Students are diverse, with different ways of learning. Some may need private "carrels" with no distractions; others study best when they can sit in the open at a table and see traffic and activity around them.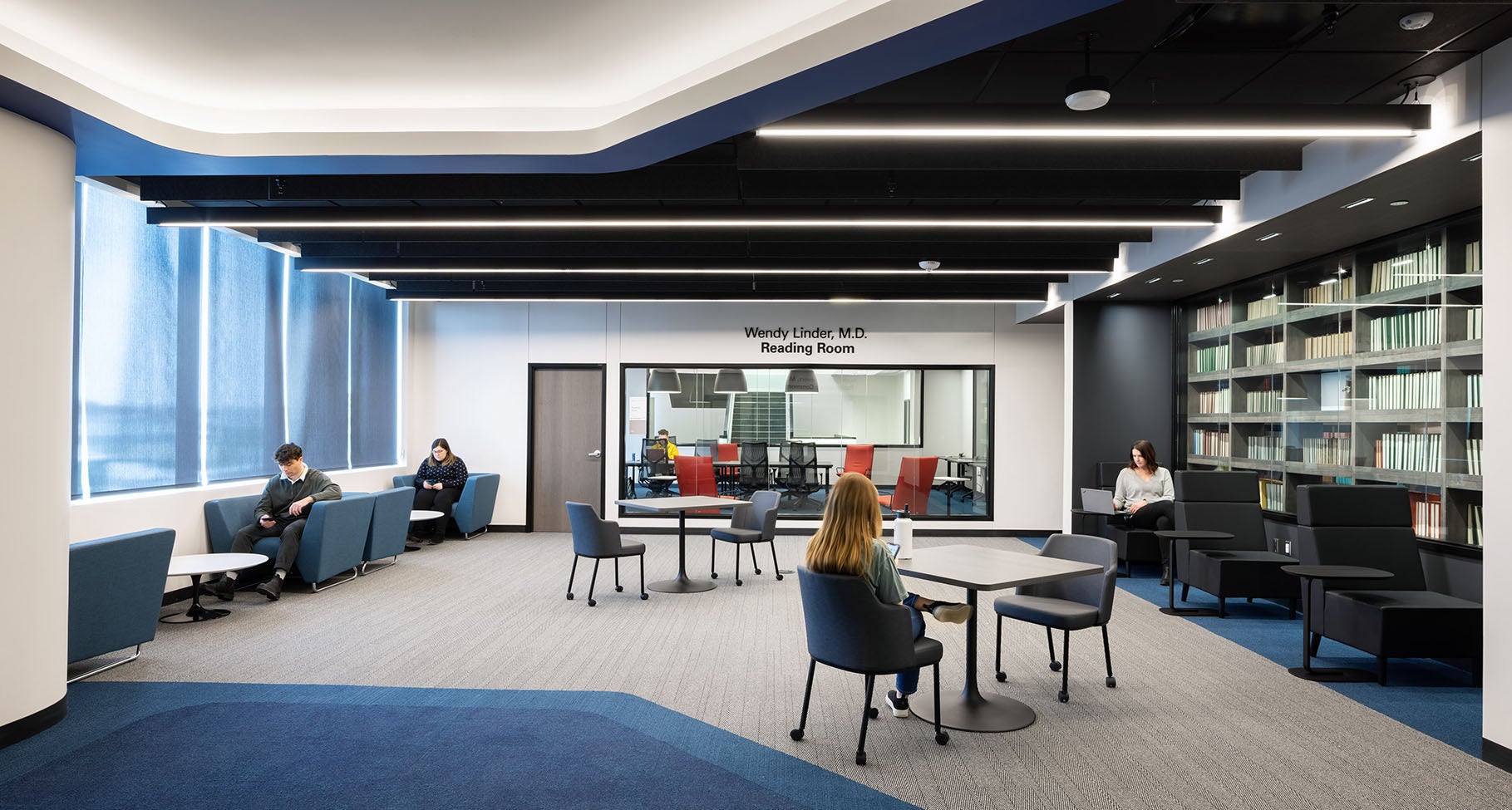 Health Sciences Library: The library is changing overwhelmingly from a book repository where quiet is the ultimatum, to an active, engaging environment where librarians are information specialists whose mission is to help students in many ways. Technology is rich and often the library contains classrooms large enough for a faculty member to engage a class in specialized medical technology. The library often contains a "maker space" or experimental space with 3D printing, specialized imaging and copying, etc.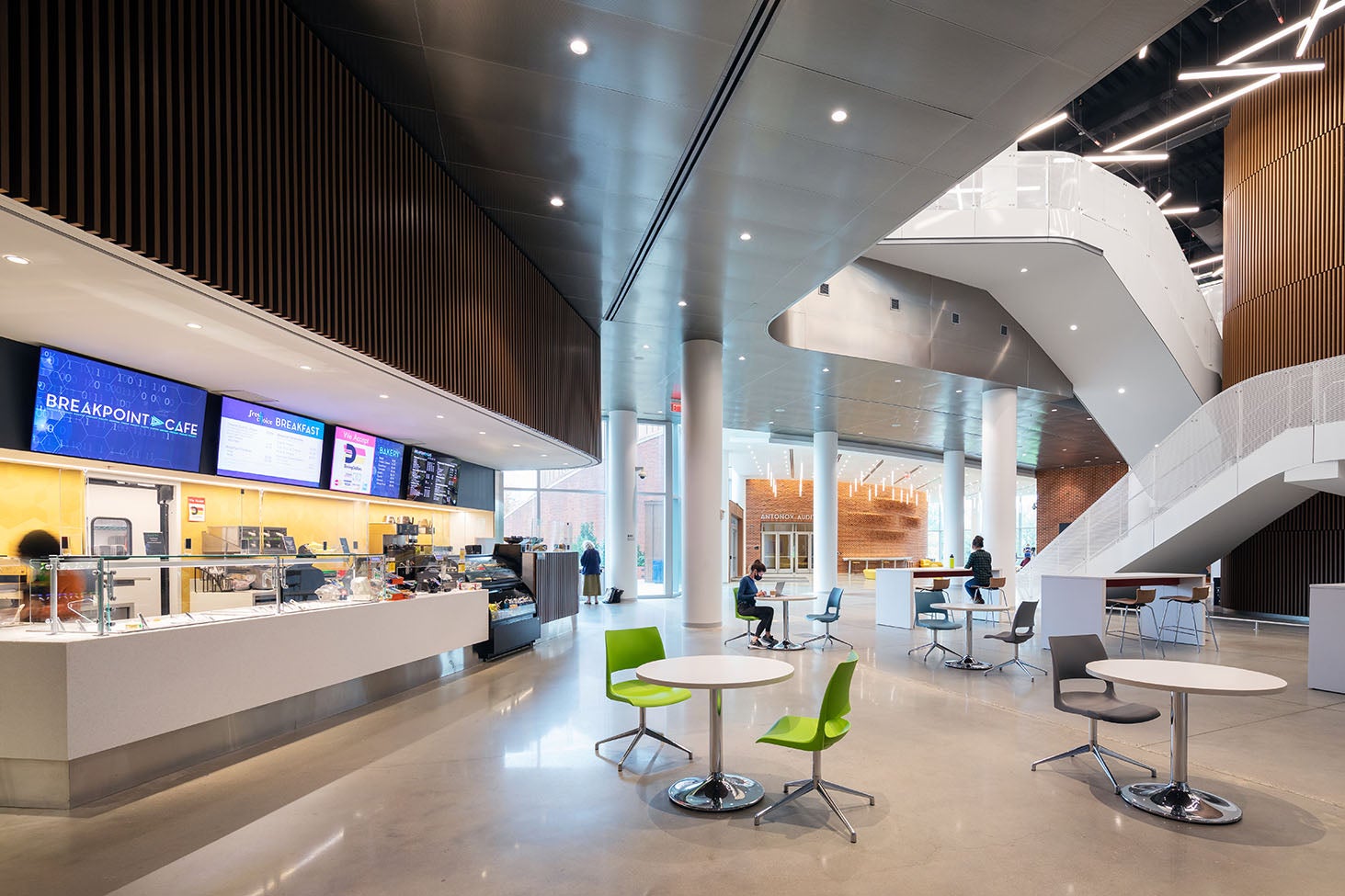 Food and Drink: Health sciences students are awake and studying all hours of all days. Often, food and drink options are limited to daytime hours, or healthy choices are not available. This is a recurring complaint from students at health science education facilities. Convenient, inexpensive and all-hours healthy food and drink options are more and more regarded as a necessity rather than a luxury.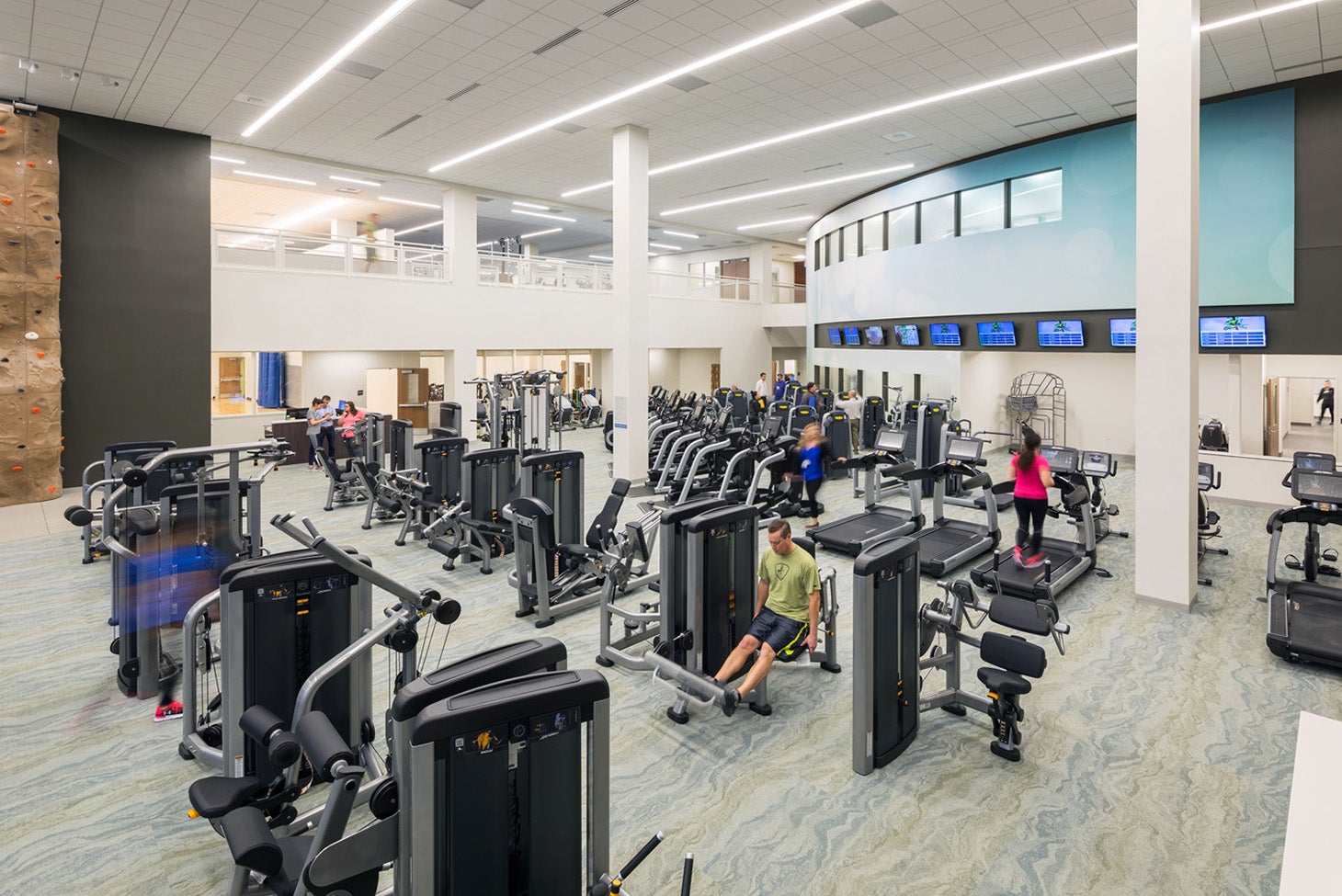 Health and Wellness Facilities: In addition to a student health clinic, fitness centers with showers, yoga/pilates facilities, and counselling facilities ideally are collocated with the medical clinic so that they are easily accessible by students. Both outdoor and indoor spaces where students can play sports and relax allow them to wind down and take needed breaks. It is well documented that people are more productive when they can step away from an activity they have been concentrating on and then come back to it. Having a central entrance for both mental health and physical health facilities helps remove the perception that seeking counselling somehow implies weakness and creates the image that both physical and mental health are important. If this collocation is not possible, ensuring that the facilities are located for easy access, even if separate, with positive, engaging features still helps support the health and well-being of the students.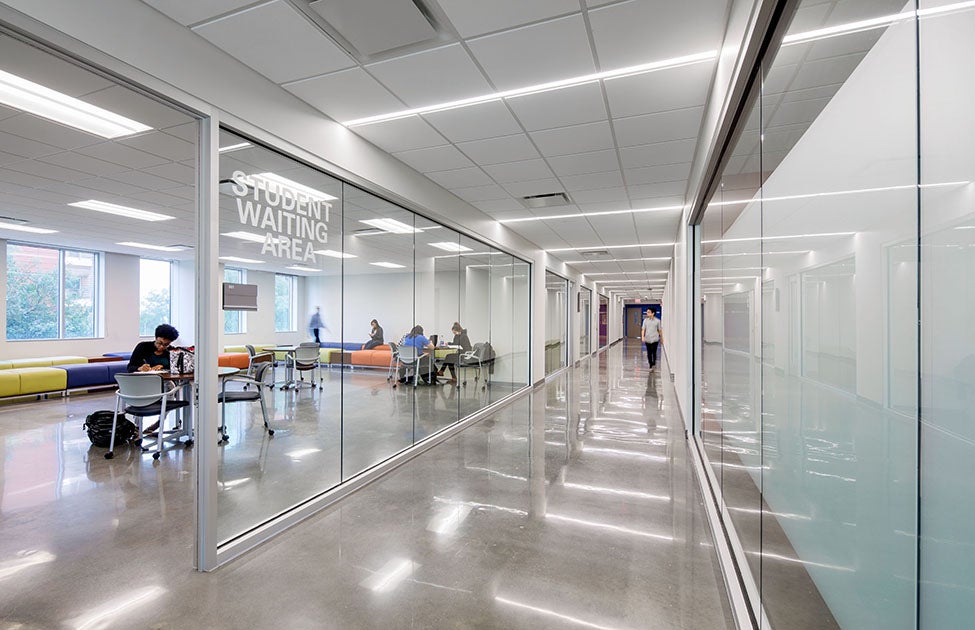 Student Services:  Another important aspect of student life is the series of steps one must take to become a student in the institution. Creating a simple and clear message for applying, enrolling, and visiting prior to acceptance can ease stress for applicants. Once accepted, students need clear and simple instructions for paying tuition and other bills; ways to engage with other students at all stages of the program; and connections for housing, places of worship, and student groups that support shared interests and lifestyles. If students must go to a physical location to accomplish some of these tasks, clear directions and appropriate staffing for busy times are essential. The more these services can be located in a "one-stop shop" for students, the less stress they are likely to cause. 
The vital neuroscience accomplishments over the past thirty years and our greater understanding of the physiological aspects of the brain have aided our understanding of how people learn. In addition, these neurological advances have shown us the crucial role that good nutrition, sufficient physical activity and sleep have on our ability to focus and to learn. Finally, understanding the detrimental effects of stress on both physical and mental health underscores the need for health care educational curricula to adapt to the information age and the advance of medical technology. Health science schools who can create and update curricula to help students reach this balance will produce healthy providers of care as well as life-long learners.
A 2011 song by the folk rock band Dawes says, "I want you to make the days move easy." Health sciences is a high-stress field, and being educated for service in this field has been and is a high-stress preparation arena. The more an educational institution can do to make their students' days "move easy," the better chance they have to succeed. 
References
Baker, Kathryn, and Srijan Sen. "Healing medicine's future: prioritizing physician trainee mental health." AMA journal of ethics 18.6 (2016): 604.

"The Future Is Now: Medical Education for the 21st Century." Harvard Medical School,  25 Sept. 2015.

https://www.youtube.com/watch?v=MRc9i85R2sY.

Webinar.