Article
Ending Global Sprawl: Cities and Global Sprawl
This article was originally published in Ending Global Sprawl: Urban Standards for Sustainable and Resilient Development, written by Peter Calthorpe and published by the World Bank's Global Platform for Sustainable Cities. Ending Global Sprawl explores forward-thinking planning strategies for the urban form. 
Chapter 1: Cities and Global Sprawl
There are currently 4.2 billion people living in cities across the globe and that number is projected to increase to 6.7 billion by 2050. Cities represent approximately 80% of global economic output and 70% of total energy consumption and greenhouse gas (GHG) emissions. Altogether, these figures present a stark reality: if cities fail, the planet suffers; if they succeed, our global population benefits. Cities bear this burden because, as densified centres of activity, the consequences of their economic, social, and environmental policies have an outsized ripple effect. The future health of our planet, therefore, is largely contingent on cities engaging in practices of good urbanism.
To better understand what constitutes good vs. bad urbanism, we must first understand what sprawl is:
Sprawl is a specific land-use pattern of single-use zones composed of isolated subdivisions, residential superblocks, office parks, and shopping malls strung together by arterials and highways.
Ending Global Sprawl seeks to define the global challenges of the three types of sprawl described below (and in more detail in subsequent chapters) and how its various manifestations contribute to social isolation, economic inequality, and environmental degradation.
Low-density sprawl, aka suburban sprawl, is defined by auto-oriented development patterns found in North America, Europe, and Australia. This version of sprawl was driven by a middle-class exodus from denser urban areas following World War II. It is subsidized by public investment in highways, underwritten by biased housing financing, reinforced by social stereotypes, and largely sustained by high-income families.
High-density sprawl is typically found in China and other points in Asia. It is defined by the rapid development of single-use superblocks that contribute to congested urban growth at the expense of the very things that comprise sustainable urban forms: local connections, walkability, and transit.
Low-income sprawl can be found throughout Latin America, Africa, and Asia. It is defined by self-built slums and other informal settlements that form along the edges of metropolitan areas, and are typically lacking in basic services like water, sewer, power, and transit. Such settlements are disconnected from economic opportunities and have negative environmental impacts, despite being low carbon.
Urbanism vs. Sprawl
In their most aspirational form, 'urban' settings represent economic opportunity, culture, vitality, innovation, and community. Ideal urban forms exist to bring people together in ways that create social, economic, and environmental synergies. In that regard, cities are our most potent weapon against climate change because they do so much more. Urbanism's compact forms lead to less land consumed and, consequently, the preservation of more farmland, parks, habitat, and open space. Sprawl in its various forms works to undermine the essence of great cities. Sprawl is defined by what's not there: a balanced distribution of jobs and housing, mixed-use communities, walkable streets, accessible public space and social services, and robust transit.
Less is More
As cities continue to grow, sustainable urbanism, as defined by the seven sustainable design principles in this book, can play a central role in addressing humankind's fundamental demands for energy, land, and resources. By adopting a context-driven, "less is more" approach to urban development that includes heightened transit investments, more walkable neighbourhoods, and more efficient buildings, cities can effectively produce cleaner, safer, and more equitable environments. This feedback loop effect yields ever-decreasing energy demands, irrigation needs, and GHG emissions.
At the human scale, the trade-offs are clear: less private space translates to a richer public realm, less private security translates to safer communities, and less auto mobility translates to more convenient transit and proximity to economic and social opportunities.
---
About the Author: Peter Calthorpe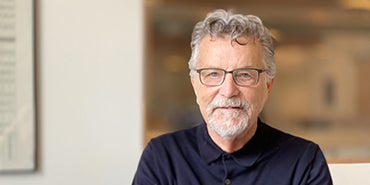 Peter's long and honoured career in urban design, planning and architecture began in 1976, combining his experience in each discipline to develop new approaches to urban revitalization, suburban growth and regional planning. In 1983, Peter founded the award-winning firm of Calthorpe Associates devoted to sustainable urban design and planning globally. In May 2019, Calthorpe Associates joined HDR. Throughout his career in urban design, planning and architecture, he has been a pioneer of innovative approaches to urban revitalization, community planning, and regional design. For his contribution in redefining the models of urban and suburban growth, he was awarded Urban Land Institute's prestigious J.C. Nichols Prize for Visionaries in Urban Development in 2006. He is one of the founders and the first board president of Congress for the New Urbanism. Metropolis Magazine claims: "The titles of Peter Calthorpe's books define the recent history of urban design in its most vital and prescient manifestations."
Download "Ending Global Sprawl: Urban Standards for Sustainable and Resilient Development"