Article
Ending Global Sprawl: Low-Income Sprawl
This article was originally published in Ending Global Sprawl: Urban Standards for Sustainable and Resilient Development, written by Peter Calthorpe and published by the World Bank's Global Platform for Sustainable Cities. Ending Global Sprawl explores forward-thinking planning strategies for the urban form. 
Chapter 4: Low-Income Sprawl
The most common form of sprawl occurs in the Global South, notably in Asia, Africa and Latin America. A majority of the world's low-income population (an estimated 1 billion people) currently live in urban slums, favelas, barrios, shantytowns and the like in developing countries, and that number could climb as high as 3 billion by 2050. Driving this growth of informal settlements are migrant populations seeking economic opportunity, safety and the sociability that cities can offer.
In these contexts, streets are undersized and unregulated, often overwhelmed by all travel modalities, congestion and air pollution; basic municipal services (e.g., water, sewer, drainage) are severely lacking; public transportation is uncoordinated and emissions standards for vehicles are practically nonexistent. The challenges to addressing low-income sprawl are staggering.
Urban Expansion in the Global South
The UN estimates that by 2050, nearly 90% of urban growth will have occurred in Asia and Africa. Chapter 4 cites the following data points to illustrate how this massive population growth is impacting cities in the developing world:
Since 2000, the population of low-income, informal settlements grew by on average by six million per year

From 2012 to 2015, of the more than 187,000 new city dwellers added each day, 91% of them were born in the Global South

By 2030, approximately 40% of the global population will need access to adequate housing
And while low-income sprawl isn't nearly as carbon-intensive as other forms of sprawl, the economic and ecological strain it places on entire urban areas is of critical concern. Poverty and slum revitalization, environmental remediation, economic integration, and access to basic public services are all urgent needs for billions of people. The two fundamental challenges for low-income populations in developing cities are:
The rehabilitation of existing informal settlements

Planning for new communities to accommodate growing rural migration
Upgrading the Old vs. Planning the New
Strategies for upgrading informal settlements in the Global South have evolved in past decades, owing to organizations like UN-Habitat who have adopted integrated, context-driven solutions that combine infrastructure upgrades with participatory economic and social empowerment programs. In instances where the projected upgrade costs exceeded available financing, co-production and shared land titling agreements have emerged as methods to introduce basic services with sweat equity.
Planning new informal settlements that don't succumb to slum-like conditions and pose public health risks requires proactive preparation and adherence to the sustainable and resilient urban design principles outlined later. Cities with an urban expansion plan in place will be well-equipped with a resilient response to the challenges of climate change and economic stress. Those without will be overrun with unplanned communities that will ultimately be more expensive to repair and move harmful to their inhabitants.
Integrated Solutions
It is imperative that low-income, informal settlements become vibrant and integrated into the life of their respective cities. For that to happen, improving the conditions of urban slums—either through upgrades or planned expansion—requires integrated solutions designed to support people's livelihoods, promote responsible governance, and minimize impacts on the surrounding environment.
Planning and land use policy should support reliable public transit, mixed-use development, safe and available utilities, and other services that enable informal settlements to become self-sufficient neighbourhoods. Realizing economic and social gains on this scale will require implementing the seven sustainable design principles outlined in "Ending Global Sprawl: Urban Standards for Sustainable and Resilient Development."
---
About the Author: Peter Calthorpe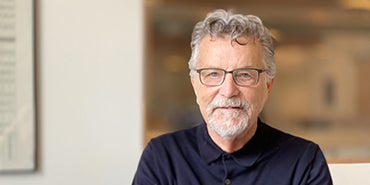 Peter's long and honoured career in urban design, planning and architecture began in 1976, combining his experience in each discipline to develop new approaches to urban revitalization, suburban growth and regional planning. In 1983, Peter founded the award-winning firm of Calthorpe Associates devoted to sustainable urban design and planning globally. In May 2019, Calthorpe Associates joined HDR. Throughout his career in urban design, planning and architecture, he has been a pioneer of innovative approaches to urban revitalization, community planning, and regional design. For his contribution in redefining the models of urban and suburban growth, he was awarded Urban Land Institute's prestigious J.C. Nichols Prize for Visionaries in Urban Development in 2006. He is one of the founders and the first board president of Congress for the New Urbanism. Metropolis Magazine claims: "The titles of Peter Calthorpe's books define the recent history of urban design in its most vital and prescient manifestations."
Download "Ending Global Sprawl: Urban Standards for Sustainable and Resilient Development"