Article
Grand Boulevards and the AB 2011 Revolution
A Framework for Workforce Housing, Environmental Repair and Economic Balance
The great American shopping strip mall is a relic. It was once the glue holding together the American Dream's new world of subdivisions, shopping centres, and office parks. It was the place to cruise, a new type of social space lined with landmarks, trademarks, and, yes, gathering places. But no more. Today we do our cruising online, and much of the brick-and-mortar commercial life of the strip is in decay. Its lanes are now stop-and-go, and not for social reasons.

One of the lessons of the mortgage crisis of 2008 is that Americans need more affordable housing options, especially near existing services, transit and jobs. California's housing deficit is over 3 million and growing; since 2008, housing production is half of the state's historical average, and restarting single-family subdivisions in more and more remote locations will not solve the problem. The next generation of housing in America should focus on workforce housing — the places and prices that make sense for struggling working families and the needs of singles, the elderly and empty nesters. Today only 18% of households are married with kids, and a smaller percentage of those can afford the price and the commute of a new single-family subdivision.
At the same time, we have overbuilt strip retail throughout our inner suburbs, historic cities and towns. America has six times more retail per capita than is average in Europe, and, to make matters worse, online shopping is accelerating. This leads to decay, declining strip commercial values, and diminishing local taxes. The days of spreading ever outward in the suburbs too far away from jobs and too expensive for many struggling working-class households are long over. The only rational direction is inward; infilling, repairing and enhancing our existing communities — and accelerating the transition from cars to walking, biking, and transit. But how and where?
The 'Grand Boulevards' concept combines these twin challenges into a simple, comprehensive solution: convert undervalued and underutilized strip commercial to mixed-use, mixed-income workforce housing. Depending on the size of the parcel, road size and proximity to transit, a rich combination of townhomes, live-work, missing-middle multiplexes, lofts, condos and midrise apartments are possible – many with ground-floor shops and services. At the same time, existing road spaces can be converted from auto-only asphalt nightmares into livable, multi-modal boulevards with new transit, bikeways, trees and generous sidewalks. Ribbons of compact, walkable environments will then reconnect our complex metropolitan regions, weaving between local communities and job centres while providing massive infill housing opportunities.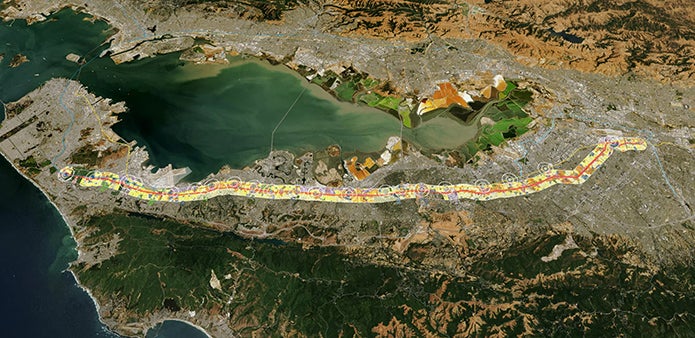 This infill housing strategy will upgrade the dying strip while distributing infill housing without disrupting stable neighbourhoods or displacing existing housing. And as a bonus, the increased property values will provide a tax windfall for state school funding and local public investments in transit, parks, affordable housing and services. While not invading stable residential areas or tearing down older affordable apartment buildings, this strip of commercial land will be rebuilt with mixed-use structures, keeping retail businesses on the ground floor while adding condos and apartments above.
For example, the underutilized commercial land lining the Inner Bay Area's 700 miles of arterials totals 15,400 acres. This land could provide up to 1.3 million new houses with 260,000 affordable units close to jobs and existing services. Compared to the impacts of an average Bay Area house, these Grand Boulevard dwellings would generate 55% fewer auto miles; cost 53% less in utilities and transportation; consume 39% less energy, demand 62% less water, and produce 50% less greenhouse gas emissions.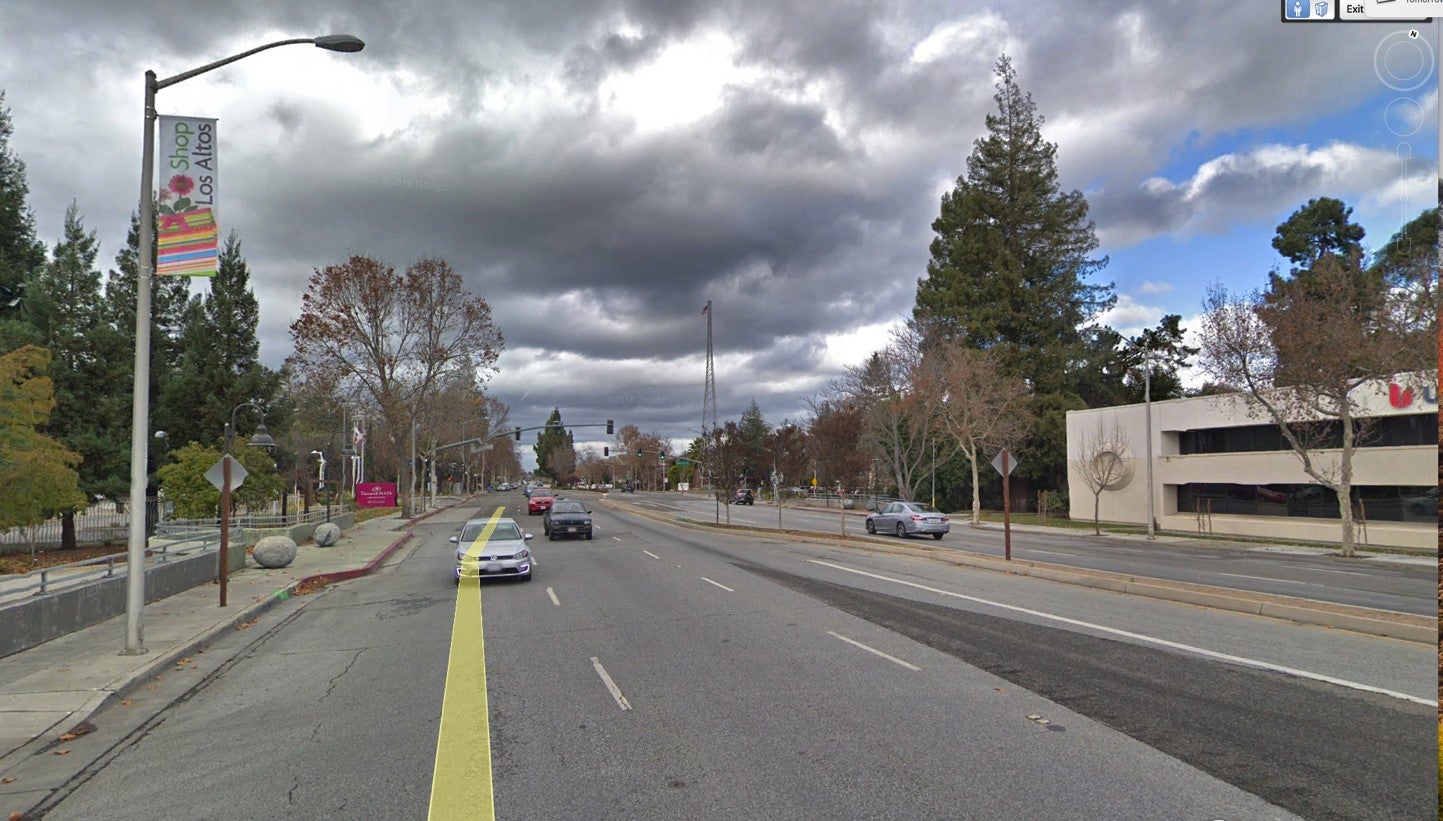 California State Legislation Passes
California's 'Affordable Housing and High Road Jobs Act' (Assembly Bill 2011) is the first major step to implement such a vision and can serve as a model for other states struggling with housing deficits, dying commercial strips, and the environmental costs of sprawl. This groundbreaking legislation allows 'as of right' and streamlined environmental reviews for various mixed-income housing on strip commercial land. It requires a range of minimum densities and maximum heights, market-driven parking allocations, fair labour standards, and mixed-income construction. And it includes urban design standards that will shape active, safe and livable environments.
Our study with UrbanFootprint finds that over 8 million units could ultimately be constructed statewide on 108,000 qualified acres of strip commercial land, with around 2 million units economically viable in today's supply-chain-stressed economy. As commercial land values continue to decline and construction costs normalize, many more may ultimately be built. If just 10% of these 'market feasible' units were produced annually, overall state production would more than double from current levels of 120,000.
In addition, 15 to 20% of all this new housing is required to be affordable, resulting in up to 400,000 total units for low-income households and potentially increasing annual production from the 2020 level of just under 17,000 to close to 60,000 per year — all without any direct government investment, allowing the state's limited housing subsidies to focus on homeless and very low-income needs.
The bill is revolutionary in many ways. It will reduce entitlement costs while supporting much-needed density, diversity and housing opportunities by overcoming local NIMBY opposition to infill housing through delay or exclusionary zoning. The law is the first state-level 'form-based code' that frames a range of height, setback and active street frontage requirements based on parcel location, size and proximity to transit. It sets minimum densities from 30 dwelling units per acre on small parcels to 80 dwelling units per acre near transit to ensure that the 'place value' of these sites is fulfilled. It allows the market to determine parking needs, minimizing housing costs in areas where reduced or auto-free living is viable. Finally, it supports the needs of construction industry workers by requiring prevailing wages, training and benefits — and a massive influx of new jobs.
Pushback from local government and NIMBYs was minimal, partly because the bill avoided any residential demolition or redevelopment in stable neighbourhoods. The local tax implications of the bill reversed the long-held notion that the cost of supplying services for new housing outweighs property taxes generated. A companion study by EPS points out that property taxes contribute, on average, 45% of general fund revenues to cities, approximately 2.5 times the contribution of sales tax revenues. Their analysis finds that the housing enabled by AB 2011 could have assessed values 20 times greater than existing commercial properties. Moreover, these tax increments can underwrite municipal bonds to pay for even more affordable housing, mobility improvements, expanded parks and local services — thus multiplying the impact of the bill.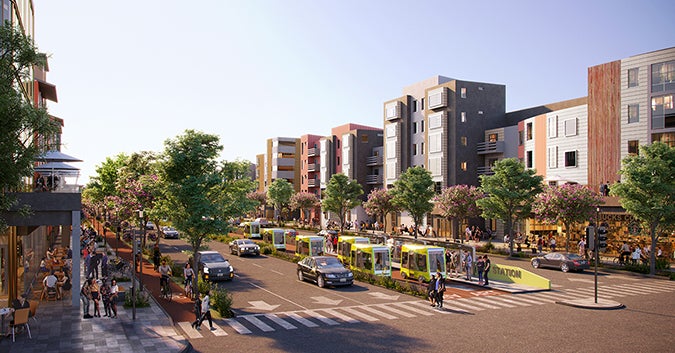 Next-Generation Transit
Too often, rail transit, light or heavy, is too expensive to span the needs of America's decentralized metropolitan regions. Bus service, while needed as a last resort for many, is too slow to be attractive. If regional transit networks are scarce, slow and expensive, they have little chance of moving people away from auto trips.
On Grand Boulevards, the next generation of transit could emerge to complement new density and higher activity levels. First, creating exclusive bus rapid transit lanes with faster electric buses would create a broader network of transit with more walkable accessibility. Then, replacing them with autonomous vans that use smart algorithms to cluster origins and destinations to provide on-call semi-express trips 24/7 would optimize the system. Faster and less expensive to build and operate than any current transit system, this new transit tech is currently being tested in Singapore. Called Autonomous Rapid Transit, Fehr & Peers, a leading transportation firm, estimates the construction cost at just 15% of most light rail systems, with half the operating cost, all while moving passengers 30% faster. Fast, cheap and ubiquitous may be just the ticket to get people out of their cars — especially if they live on the boulevard.
Grand Boulevards provide a place to live that is more affordable to the environment, working households and our cities. The aging strip across America is underutilized and undervalued, but it is an opportunity to solve our most critical housing and transportation crisis. We can transform the least-loved part of our communities into thriving, living assets. All we need is the political will and vision to support this transformation.