Podcast
Speaking of Design Ep. 16: Design 4 Others — Improving Healthcare in Rural India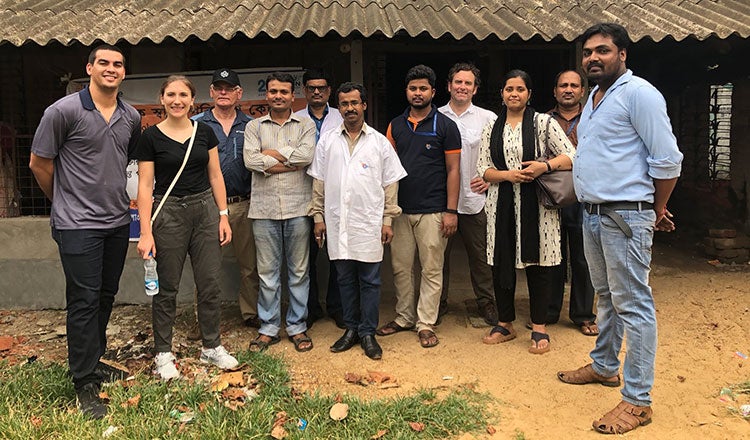 While the work of architects makes a difference in the world, rarely do designers get to stand shoulder to shoulder with the people whose livelihood depends on the very buildings they design. With that in mind, a group of architects from HDR formed Design 4 Others as a way to volunteer their design expertise to make a positive impact on under-served communities. In this episode, we'll learn more about how they're partnering with Construction for Change and iKure on a pro bono project to improve healthcare for rural community members in West Bengal, India.
Subscribe
---
Featured on this Episode
Jason-Emery Groën is a design director and leads our Kingston and Ottawa, Ontario, studios. He leads teams that have designed everything from high-end modern furniture and small-scale fixtures to complex multi-billion dollar healthcare campuses. "A project doesn't actually give back in a single instance," he said. "A project has the opportunity or the potential to touch hundreds, if not thousands, if not even tens of thousands of lives over the course of the existence of that project." More about Jason-Emery
---
Megan Gallagher is a health planner in our Chicago design studio. She pursued a career in architecture to blend her creative side with her upbringing in a family of engineers. The iKure health clinic near Kolkota is her first opportunity to volunteer on a D4O project, which has challenged the team to approach their design in resourceful ways. Megan said the experience will offer a new perspective on future health planning design projects.
---
Paul Howard Harrison is project designer in our Toronto design studio. After sharing a train ride with Jason-Emery on his first day at HDR, Paul became interested in D4O. His emphasis on computational research and data-driven design have contributed to the development of the iKure clinic, which is his first D4O project and first experience in designing for a healthcare setting.
---
Tim Hickory is the director of operations for Construction for Change, a pro bono construction company that empowers developing communities by partnering to build critical infrastructure that promotes education, healthcare and economic empowerment. 
---
Sujay Santra is founder and CEO of iKure and an Ashoka fellow. Following his father's health scare, he left a successful tech career to fulfill his vision to create a community-based, holistic healthcare model by using innovative technology and a hub-and-spoke system to bring healthcare directly to patients in rural India. More about Sujay
---
Credits: Produced by Danny Sullivan and John Tourek. Special thanks to Jack Hersh for co-writing this episode. Additional thanks to Rachel Coffee and Kristen Hartman.