HDR Global Headquarters
HDR Global Headquarters
Workplace Destination Energizes Mixed-Use Community 
HDR recently designed its new corporate headquarters in the Aksarben Village mixed-use development. Partnering with owner Noddle Companies, the 10-story multi-use building features a modern façade composed of a palette of clean, elegant materials.
The building's unique form is chamfered at the corners to maximize square footage on upper floors while opening walkable space on the ground level to activate engagement with the surrounding neighbourhood. Rather than having "front" and "back" sides, space that would have typically been used for a loading dock was reimagined as a retail alley that is home to stores, restaurants and a food hall called The Inner Rail.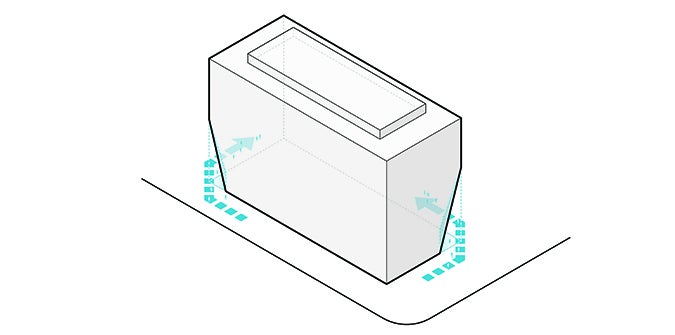 The interior of the building, including wayfinding and environmental graphics, continues a contemporary design aesthetic. By elevating simple materials, designers created a succinct visual experience. Each of the eight office floors features collaboration areas, amenities, work stations and offices that are flexible, expandable and have access to daylight. To improve synergies between groups, pairs of floors are connected by an open and centrally located stairwell. An artistic installation off each elevator bay features routed acrylic panels of sophisticated iconography that represent the markets HDR serves.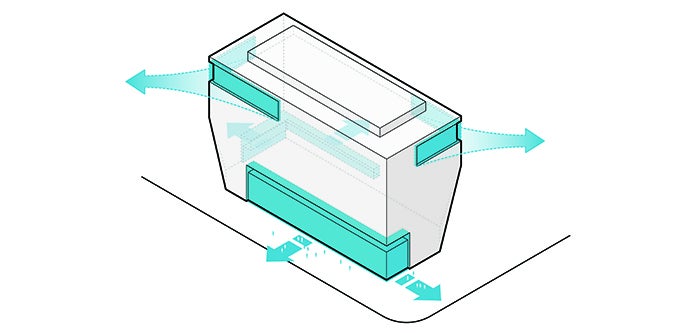 Awarded a LEED New Construction v4 Gold-level rating, design strategies adopted by the team included:
Chilled beam system for increased energy reduction, improved comfort, decreased floor-to-floor height, fewer air handling units, and less shaft space

High performance envelope featuring a 44% window-to-wall ratio 

Light occupancy sensors and daylight controls that help achieve a calculated lighting power density of 0.6 watts per square foot or lower

Documented Environmental Product Declarations for 41 different installed products, with 25% of materials sustainably sourced
These resulted in the building achieving: a 68% Energy Use Intensity reduction compared to the regional average; a 31% indoor water use reduction; an 87% irrigation reduction; and Lighting Power Density that is 38% better than code. Additionally, over 67 tons of steel was saved by constructing the building using SidePlate® steel connections, a first in Nebraska.
The building has also earned a three-star rating from Fitwel — the highest rating possible for this certification that optimizes buildings to support occupant health.