Interstate 4 Ultimate Improvement Project
Interstate 4 Ultimate Improvement Project
A Public-Private Partnership, Design-Build-Operate-Finance-Maintain Model
An ambitious project to reimagine an important strip of Orlando has come to life thanks to a flexible design team, alternative delivery and a massive effort.
The strip in question is a portion of Interstate 4 that provides a crucial link between Tampa to the west and Daytona Beach to the east. It brings travelers to some of the state's most popular destinations, including SeaWorld, Walt Disney World and Universal Orlando Resort. The project provided a signature corridor that boasts bold landscaping, accent lighting, illuminated fountains and enhanced aesthetics. Location-specific features such as murals and sculptures reflect the surrounding communities.
Priced at roughly $3 billion, the Interstate 4 Ultimate project reconstructed 235 lane miles of main line and 83 lane miles of express lanes through Florida's Orange and Seminole counties, installing four dynamic-toll express lanes in the median and rebuilding the general use lanes through the length of the corridor. Fifteen major interchanges were reconstructed; 13 bridges were widened; 74 bridges were replaced; and 53 bridges were added. Construction began in 2015 and is scheduled for completion in 2021.
A Custom-Built Team
When the project was awarded in April 2014, it was the largest public-private partnership in the country. The Florida Department of Transportation selected I-4 Mobility Partners as the P3 concessionaire. Several industry leaders formed the I4MP team to design, build, operate, finance and maintain the project through a 40-year P3 concession agreement.
Members of the I4MP team include Skanska Infrastructure Development (equity member); John Laing Investments Limited (equity member); SGL Constructors, which is a construction joint venture comprised of Skanska as the lead JV partner, Granite Construction Company and the Lane Construction Corporation.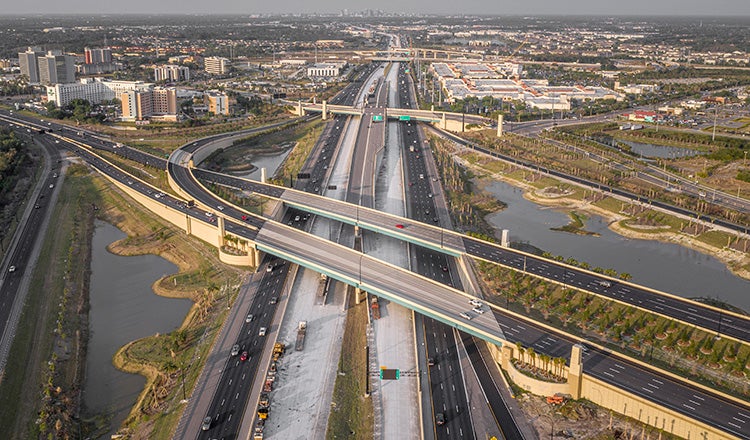 HDR oversaw design as the lead partner in a joint venture with Jacobs Engineering Group. Our team delivered all roadway engineering and design for traffic control, drainage, structures, intelligent traffic systems, signing, signalization, lighting, landscaping, aesthetics and utility relocations. Overall, 730 HDR employees from more than 50 offices had a hand in the project. The team also included small emerging and developing businesses, a priority for FDOT.
The department had planned for years to overhaul the corridor to relieve traffic congestion, enhance safety and create better connections. We helped the department advance its plan while incorporating alternative modes of transportation, sustainability, resiliency and low impact design — all with extensive stakeholder input so facilities have wide community support.
Flexible Design Services
A major challenge was maintaining traffic during construction on such a highly used interstate.
Working with the contractor, our team modified the approved maintenance of traffic plan as the project was under construction in order to better serve the community's needs. The new plan included additional phases which added temporary pavement, traffic shifts, as well as temporary ramps to create additional work areas for the contractor and to provide a smoother experience for drivers during the construction process.
Another benefit of the revised maintenance of traffic approach was critical path items could be constructed more efficiently which help mitigate construction delays. These changes also allowed the Contractor and design team to incorporate design changes requested by FDOT throughout the process, allowing the design to evolve as new requirements came along.
Bringing Innovation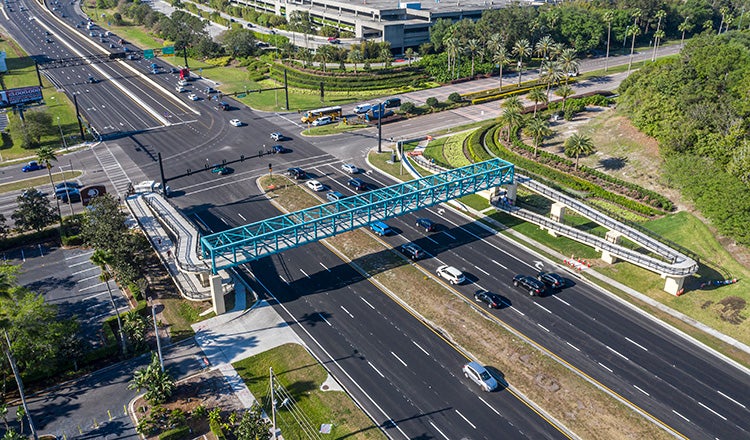 Florida DOT selected I4MP as the concessionaire based in part on alternative technical concepts developed by our design team. Among our 25 accepted ATCs is a pedestrian bridge across Kirkman Road, which improves non-motorized transportation access between the entrance to Universal Studios Resort and many nearby hotels. It reduces automobile traffic at a busy intersection while attracting tourism and enhancing safety for pedestrians and motorists — contributing to all three objectives.
In a design-build project, ATCs are very important because they help bring innovation. Our team identified this additional bridge early on as an important infrastructure piece to connect the pedestrian community, which is a significant theme for sustainable transportation infrastructure.
Connected Communities, Improved Economies, Enhanced Livability
Florida DOT adopted many additional, sustainable elements, emphasizing the deployment of multimodal facilities in concert with resilient, modern roadway infrastructure. For example, noncontiguous bikeways that existed in patches along the 21-mile corridor were lengthened and linked by new trails and designated bike routes. The project also promotes mass transit by allowing LYNX bus service to travel toll-free on the new express lanes.
Among the project's most innovative and unique features is a planned community gathering area beneath the I-4 overpass at Church Street in Orlando, called the "Under I" park. It is intended to be a front yard for the community, a place for connection and a source of enhanced livability that is fully ADA accessible.
Our design innovations contributed to the project being certified in January 2017 with an Envision Platinum rating from the Institute for Sustainable Infrastructure, becoming HDR's sixth Envision-verified project and reaffirming its leadership in sustainable transportation design.