NE Spring Boulevard Multimodal Corridor
NE Spring Boulevard Multimodal Corridor
New Gateway to the BelRed Community
Long used for light industry, the city of Bellevue, Washington, is transforming the BelRed area into a state-of-the-art, mixed-use and transit oriented neighbourhood. The gateway into this community, and the backbone for area development, is NE Spring Boulevard. This new five-lane, half-mile roadway includes five new intersections, two bridges crossing the East Link light rail line, a multipurpose pathway, cycle tracks, parking and drop off zones, and bioretention stormwater treatment.
HDR worked closely with the City of Bellevue to deliver this $57 million, one-of-a-kind urban corridor. HDR was selected as the lead designer, resident engineer and construction manager. Our work included traffic analysis and forecasting, grant assistance, intersection design, alternatives analysis, conceptual design and final design of multiple structures.
First Ground-Up Multimodal Corridor in Bellevue
While the state of Washington has been at the forefront of incorporating alternative modes of transportation, these projects are often an addition or revision to existing infrastructure. With NE Spring Boulevard, Bellevue took the opportunity to design a corridor with multimodal transportation at its foundation. The Complete Streets-focused design improves mobility for people who walk, bike, drive or take transit, while helping to unlock development potential in the area.
Bike lanes, rather than integrated into the roadway, are set back at the same grade as the sidewalks and buffered by an amenity zone. A multipurpose pathway links the area with downtown Bellevue, a product of collaboration with the Cascade Bicycle Club to construct more than 4,000 linear feet of multi-use paths to encourage cycling and other active and safe modes of travel.
Focus on Pedestrian and Cyclists' Experience and Safety
Intersection design across the corridor took on three separate approaches. At higher volume, non-motorized network intersections such as 120th and 124rd Avenue NE, protected intersections were used to create shorter, simpler crossings. Separate ramps for cyclist and pedestrians as well as dedicated crossings across each roadway were included in the design. At 122nd Avenue NE and 123rd Avenue NE intersections, raised crossing treatments create continuity for pedestrians and cyclists, while lowering vehicle speeds prior to the crossing.
A scramble intersection was the best fit at 121st Avenue, allowing the high volume of East Link light rail users to walk and bike safely and comfortably across the intersection for one complete light cycle as all vehicle traffic is stopped.
Safety was also prioritized in the materials, treatments and finishes used on the corridor. The final design utilized high contrasts to delineate distinct user spaces while also reducing long-term maintenance needs.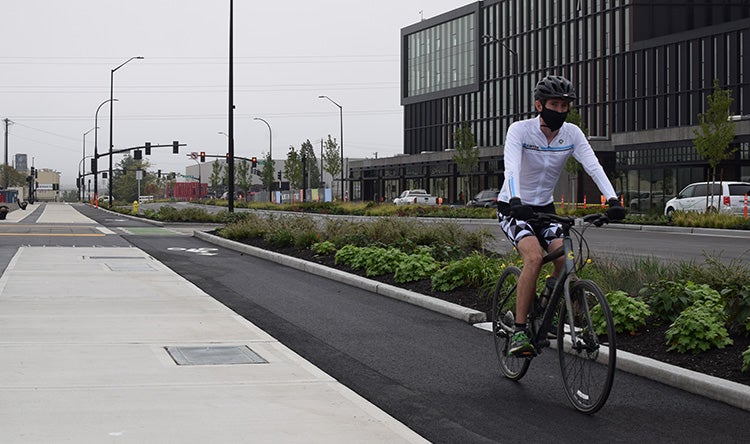 Bridging the East Link
Multiple Sound Transit light rail lines serving the East Link mainline and nearby operations and maintenance facility cross the NE Spring Boulevard alignment. This resulted in two grade-separated crossings of NE Spring Boulevard over the tracks. Following a value engineering study, the team selected a design with two bridges separated by an infill structure rather than a four-span bridge. Design of both bridges, skewed and on a curve, was accelerated to verify completion prior to East Link operations, reducing risk and project costs by $15 million.
The site for the bridge construction was also shared with Sound Transit for the construction of East Link and the 120th Avenue NE project by the City of Bellevue. Secondary access points to the site and a set of "off the ground" schedule milestones were established for the NE Spring Boulevard project so that impacts to the other adjacent projects could be avoided.
Sustainability and Environmental Solutions
As a green street, the team strove to maximize sustainability and environmental techniques. Stormwater pollutants are removed from runoff through an array of bioretention methods to improve water quality prior to discharge into conveyance systems and the downstream environmentally sensitive Lake Bellevue.
We planted 158 trees within the roadway section, helping to transform the historically industrial zone. The project also incorporated two charging stations for electric vehicles and smart infrastructure.
Complex Hurdles Overcome
The project team overcame significant hurdles including completely remediating a former industrial area to a multimodal corridor and an unexpected global pandemic. However, the team not only overcame these challenges, they constructed alongside private development and Sound Transit's concurrent work on the East Link Light Rail, to complete the project on time and on budget in October 2020.