Norfolk Southern Rail Corporation Industrial Site Development Tool
Norfolk Southern Rail Corporation Industrial Site Development Tool
Creating an Industrial Real Estate Platform for One of the Premier Transportation Companies in the U.S.
Business leaders' expectations are shaped by their experiences in the consumer world. While interest is high in rail-served sites and facilities to help businesses expand their supply chains, finding detailed information on available locations can be a labor-intensive and time-consuming process. To remedy this, Norfolk Southern took a customer-centric approach to create an on-demand, up-to-date real estate selection tool for their clients.
The result: NSites, developed by HDR's data solutions team using Esri's ArcGIS Experience Builder. This is the first interactive, dynamic mapping interface for collaborating with industrial developers provided by Norfolk Southern, and an industry-leading platform. This has transformed the marketing for these sites, which stretch across more than 20,000 miles of the company's freight rail infrastructure. It has also significantly reduced the workload on the railroad's Industrial Development team that was previously tasked with manually managing and creating materials on requests for information. Overall, the result was a dramatic process improvement for Norfolk Southern Industrial Development and an easier experience for their customers.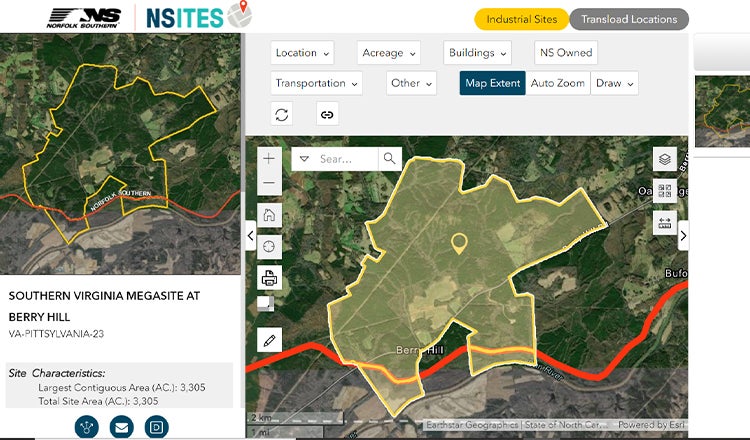 The site includes a landing page on the Norfolk Southern website that displays available sites for industrial development. Individuals can identify industrial and transload sites, and filter by state, size, nearby transportation such as an intermodal facility or a highway, and much more. They can also request more information and print out marketing materials directly from the site. The application also has a fully interactive, dynamic mapping interface that allows individuals to see how the railroad will interchange with businesses located the development site.
On the backend, the site features an internal site management interface that allows the Industrial Development team to keep the listings current and up to date. Several datasets and workflows were integrated into a managed process and simplified their customers' access to the most current data.
Progressive Railroading featured the site in a cover story on Norfolk Southern in its March 2022 issue.