Article
Ending Global Sprawl: High-Density Sprawl
This article was originally published in Ending Global Sprawl: Urban Standards for Sustainable and Resilient Development, written by Peter Calthorpe and published by the World Bank's Global Platform for Sustainable Cities. Ending Global Sprawl explores forward-thinking planning strategies for the urban form. 
Chapter 3: High-Density Sprawl
Found in China and other parts of Asia, high-density sprawl is defined by single-use residential blocks of largely identical units that are clustered into isolated superblocks. These are typically surrounded by major arterial roads at quarter-mile intervals, not unlike low-density subdivisions in Western nations.
High-Density and Low-Density
This type of sprawl could be considered the high-rise version of the American suburb, in which vast distances separate everyday destinations and the environment is generally hostile to pedestrians. High-density sprawl also relies heavily on autos, a condition that runs counterintuitive to sustainable development patterns in cities and further likens it to low-density suburban sprawl.
China's growth in this regard has been remarkable. From 2005 to 2017, the number of cars on Chinese roads grew tenfold, from 18 million to 185 million. To accommodate this growth, the country has built highways, ring roads and parking lots at record-setting rates, all while bicycle usage has dropped at nearly the opposite rate at which private car ownership has risen.
Density Isn't Enough
The origins of the superblock can be traced to Le Corbusier's 1935 manifesto Ville Radieuse, in which the famed modernist espoused buildings as "machines for living." China's development of superblocks in its most populous cities (Shanghai, Beijing, Guangzhou, et al.) has yielded environments that cater to automobiles, at the expense of nearly everything and everyone else. The following data illustrates how health and quality of life have been afterthoughts in China's decades-long campaign to build expansive urban environments:
By 2035, an estimated 74% of China's population will live in cities, up from 49 percent in 2010

In 2018 alone, 6,000 kilometres (3,700 miles) of national expressways and 20,000 kilometres (12,427 miles) of provincial highways were built

From 1995 to 2005, private car ownership in China rose from 4.2 to 8.9 million

From 1992 to 2004, bicycle-related mortality rates increased in Shanghai by 99%
Approx. 260,000 people die in China as a result of road accidents every year, or an average of 716 people per day, the world's highest rate
Density alone is not the signature characteristic of sustainable urbanism. The oversized arterial roads that surround superblocks were meant to move cars more efficiently while accommodating rapid growth in housing development. Instead, this kind of sprawl puts pedestrians and cyclists in harm's way, contributes to greater traffic congestion and air pollution, and lowers the overall quality of life. Achieving some measure of sustainable development within a dense urban context also requires prioritizing human-scale connections, walkability and a mix of uses.
China Is Changing Course
In 2014, China released its National New Urbanization Plan, which promoted "people-centred" development. In 2015, the Central Urban Work Conference met for the first time in 37 years, bringing together top central government leaders who formalized a "New Normal" for urban development. Then in 2017, China's State Council issued the first revision of its national urban design standards in 27 years. Taken together, these occurrences formed a national consensus that speed of development should give way to the quality of development. Each new plan, directive, and set of principles collectively stress the importance of smaller blocks, dense road networks, walkability and cyclability, public transit, human-scaled environments, and tempering growth to occur within the limits of a city's natural resources.
On a more granular level, many of the new directives — such as optimizing public transit so that all residents live within 500 meters of transit in urban centres and calling for existing gated superblocks to be opened up with pedestrian and public access, to name just a couple—are consistent with the seven sustainable design principles.
---
About the Author: Peter Calthorpe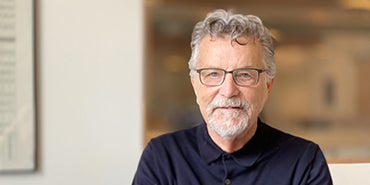 Peter's long and honoured career in urban design, planning and architecture began in 1976, combining his experience in each discipline to develop new approaches to urban revitalization, suburban growth and regional planning. In 1983, Peter founded the award-winning firm of Calthorpe Associates devoted to sustainable urban design and planning globally. In May 2019, Calthorpe Associates joined HDR. Throughout his career in urban design, planning and architecture, he has been a pioneer of innovative approaches to urban revitalization, community planning, and regional design. For his contribution in redefining the models of urban and suburban growth, he was awarded Urban Land Institute's prestigious J.C. Nichols Prize for Visionaries in Urban Development in 2006. He is one of the founders and the first board president of Congress for the New Urbanism. Metropolis Magazine claims: "The titles of Peter Calthorpe's books define the recent history of urban design in its most vital and prescient manifestations."
Download "Ending Global Sprawl: Urban Standards for Sustainable and Resilient Development"